« John Hayward/Doc_Zero Has Thoughts on "Establishment" GOP Liberals Always Stabbing the Right in the Back
|
Main
|
Donkey Cafe »
April 11, 2022
Quick Hits
Suburban Wine Aunts are a f*cking dumpster fire:
Suburban "moderate" men must be real simps and cvcks. Suburban "moderate" men, get your crazy bitches under control.
If you clicked on that, you only have yourselves to blame. Well, yourselves, and SMH.
Pennsylvania conservatives say they're baffled and bothered by Trump's endorsement of Oprah's favorite celebrity quack.

Rich people are fleeing New York and that's hurting its bond rating, which is, of course, based upon New York's capacity to repay loans through issuing bonds. Which are really just loans.
New York elected officials are scrambling to spin their disastrous population losses as something that can easily be reversed with just a few tweaks to the business environment, more federal aid and more spending from Albany and City Hall.

Sorry, the municipal-bond market appears to disagree.

...

Despite constant bashing from class-warfare-obsessed progressives, those much-maligned millionaires and billionaires generate most of the city's and state's tax revenues. Rich people were willing to pay high taxes and subsidize this largesse because the Big Apple was still the cultural center of the world, and because under Mayors Rudy Giuliani and Mike Bloomberg the streets remained safe.

...

Then voters elected as mayor -- not once, but twice -- comrade Bill de Blasio, who took spending to another level. He also let the city slide into chaos as he freed criminals and bashed the police, even before it was fashionable among those on the utopian left.


...

Wall Street giants began opening offices in places like Florida and Texas with no state income tax, and the rush for the exits continued. Census figures through 2019 show that millionaires have been leaving New York at an alarming pace.
In addition to all the taxation, of course, there's also the little matter that the left has turned New York into a hellhole of murder and random assault on the street by mentally-ill, racist skags, while simultaneously destroying all culture-based inducements to overlook quality-of-life by imposing Forever Lockdowns.
This guy makes a sharp point: Besides DeBlasio having simply flooded the market with NY bonds to finance his Red Reign, thus reducing the value of bonds, bonds are often bought just because the interest they pay is tax-free. Bonds pay less interest than the average stock would pay you in accumulated value and/or dividends (do companies even pay dividends anymore?), but the money you get from bonds is tax-free.
And that's a very nice advantage in a very high-tax city and state.
But, millionaires and billionaires are now fleeing to states with no state income tax, like Florida and Texas, which reduces municipal bonds' value as a tax shelter.
I don't think the cities are going to make it. They need to borrow huge sums of money to continue their profligate Communism In a Single City agenda, but they're simply not going to be able to borrow that money for much longer.
As expected, Emmanuel Macron and Marianne Le Pen advanced to the second tour of the French presidential elections, which will be held on April 24th.
Macron got 27% of the vote (split between 12 candidates), Le Pen got 23%. She begins as an underdog not just because she has a slightly lower vote share from the premiere tour, but because of the historical pattern I've pointed out: Le Pen can always get enough votes in a divided field to get to the second tour. She cannot actually win the second tour, because at that point, anyone who isn't committed to National Rally votes for the opposing candidate, who ever it is, and delivers a lopsided victory for her opponent. Something like 63% to 37%.
We'll see if enough people have gotten tired of "centrist" (left) rule, but I really, really doubt it.
She should just stop running, to give the right a chance at an actual victory.
Trans activist has ignorant thoughts:
Plastic Martyr
@plasticmartyr

I wonder how these conservatives would feel if we passed a law making it illegal to teach your kids about religion until they were adults.

The "Don't Say Bible" bill
So you're saying that if we ban talking about religion and the Bible in the schools, we can also ban talking about homosexuality and transgenderism?
I guess I can accept that.
It's like Titania McGrath had written it.
Disney's CEO (for the moment) Bob Chapek groveled to LGBT activists for not doing more to destroy Disney's market value:
Word has it that Bob Chapek is a moderate Republican. This is why all those nerd-culture channels have predicted that Chapek's reign would be less SJW.
But, as I've pointed out at great length, "moderate Republicans" are just neoliberal Democrats.
Via @neontaster: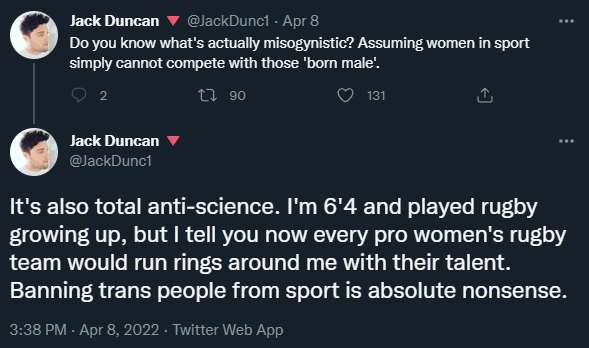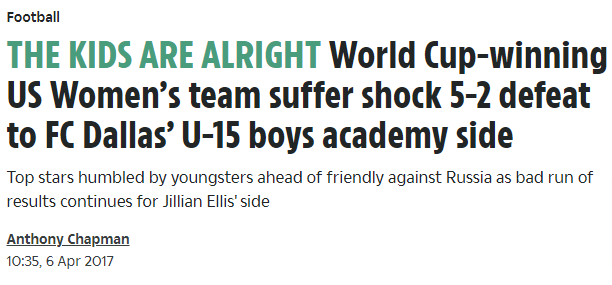 Dude I broke a guy's nose him in rugby and I wasn't even a real player. All I did was put my shoulder down and bull through him. (It wasn't really rugby. It was a mix of rugby and Australian rules football and 1910s American football (when people were being killed on the field) and just random ball-centered violence this group of kids created.)
The concept of beefy men running over girls in rugby is... well, the trans extremists' last stand will happen there. When people see all the blood and broken teeth, they'll finally say "Enough of this madness."
Then again, this has been going on for years:
But handball features boxing out and shouldering but not tackling and bulling through.
And yet the "moderate Republicans" continue pushing for Open Borders and Amnesty.
A CBS poll finds that the public is more concerned about inflation than they're happy that jobs that already existed are coming back after Biden finally winds down his lunatic lockdown regime.
Many do say the job market is good and that jobs have increased over the last year--– but it's still inflation driving views, and even those who say the job market is ok still don't rate the economy well. Americans are basing this on personal experience: two-thirds say higher prices have been difficult or even a hardship, and now forcing many to make cutbacks.

And while the White House has often stressed the jobs number, people's focus on prices continues to bring negative ratings for both the economy and the president's handling of it.

[E]ven those who rate the job market positively are slightly more inclined to say the national economy is bad, and they attribute that to high prices.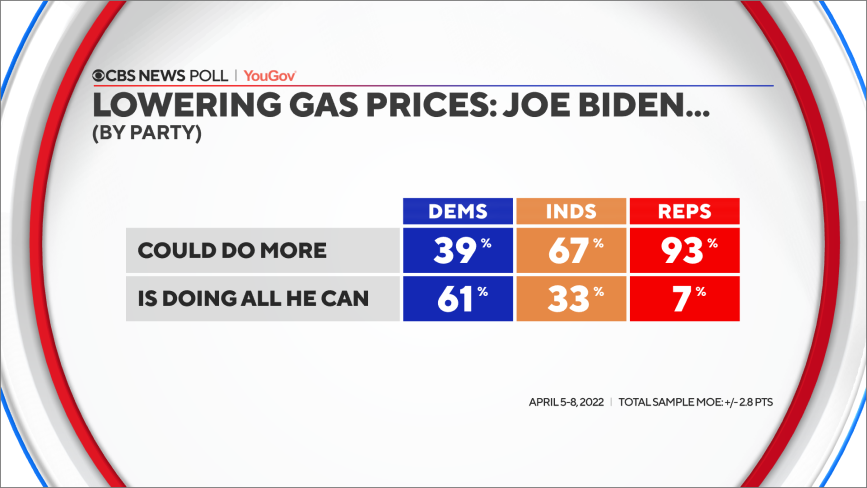 Don't worry, though: This soaring inflation is merely "transitory."
Right, Jen?
Libs of Tik Tok @libsoftiktok

Hi @JoyAnnReid, what is a woman? Can you answer the question?
Some of us are taking notes about the left's claim that some sexes and some races just aren't allowed to have an opinion on most issues.
Are you sure you want to be claiming that, Left? Because that could come in handy for the right as well.

posted by Ace at
06:20 PM
|
Access Comments