« Donald Trump Endorses Liberal Mehmet Oz in Pennsylvania Senate Race
|
Main
|
Climate "Scientist" (ahem) and Creator of the "Hockey Stick" Hoax Takes to Twitter to Shriek About Marriott Hotels Having FoxNews Playing on the Fitness Center TV »
April 11, 2022
Plot Twist: Elon Musk Will Not Take a Seat on Twitter's Board of Directors Censors
Update:
Alex Kantrowitz @Kantrowitz · 7h Elon switched his paperwork last week from passive to activist investor. He's no longer bound by the agreement that caps the amount of Twitter he can own. He seems mad. Only getting more interesting from here.
When Musk disclosed how much stock he owned in the middle of March, apparently he indicated that he was a passive investor who would not attempt to direct the company.
Maybe he did this to create the grounds for a non-hostile takeover? And maybe he was hoping Twitter would give him a board membership, with actual power, and realized they were just trying to make him irrelevant?
So now he's on record as being an activist investor.
Agrawal revealed that Musk was supposed to join the board on Saturday, but it didn't happen: "We announced on Tuesday that Elon would be appointed to the Board continent on a background check and formal acceptance. Elon's appointment to the board was to become officially effective 4/9, but Elon shared that same morning that he will no longer be joining the board. I believe this is for the best." Of course he does: Agrawal is open about his contempt for the parameters of free society, having famously said in 2018 that Twitter should "focus less on thinking about free speech" and more on "how we recommend content ... how we direct people's attention." Whereas Musk tweeted on March 26: "Given that Twitter serves as the de facto public town square, failing to adhere to free speech principles fundamentally undermines democracy. What should be done?"

Agrawal promised that he would still listen to Musk anyway: "We have and will always value input from our shareholders whether they are on our Board or not. Elon is our biggest shareholder and we will remain open to his input." Then Agrawal added ominously: "There will be distractions ahead, but our goals and priorities remain unchanged." There's your problem right there. "The decisions we make and how we execute is in our hands, no one else's." That is, not in Elon Musk's. Agrawal told Twitter wonks: "Let's tune out the noise, and stay focused on the work and what we're building."
But did Musk refuse the position because he saw it as a trap designed to limit his influence ?
That was all certainly a shot across the bow at Musk, but it could be one of Agrawal's last notes of defiance. Journalist Jordan Schachtel observed: "Elon Musk not taking a board seat is bullish for free speech coming back to Twitter. The board seat was a proposed tactic by Twitter's current execs & board to curb his influence (limiting his maximum shares to 14.9%). Musk can now pursue a hostile takeover if he so chooses. He acquired 9% of company shares from Feb to April. Will he get to 18% by June? Next SEC filing should be interesting to see! IMO this process is already happening. Shareholders don't care about the woke stuff. And given Elon's record of making shareholders rich, wouldn't be surprised to see SJW panic in Twitter exec world right now." What a wonderful thought. In a similar vein, the managing editor of New York Focus, Peter Sterne, tweeted: "Elon joining Twitter's board was contingent on him agreeing not to buy more than 15% of Twitter. Now he's not joining the board. So does that mean he can he [sic] buy as much of Twitter's outstanding stock as he wants?" We can only hope.
Jordan Schaechtel's thoughts are here.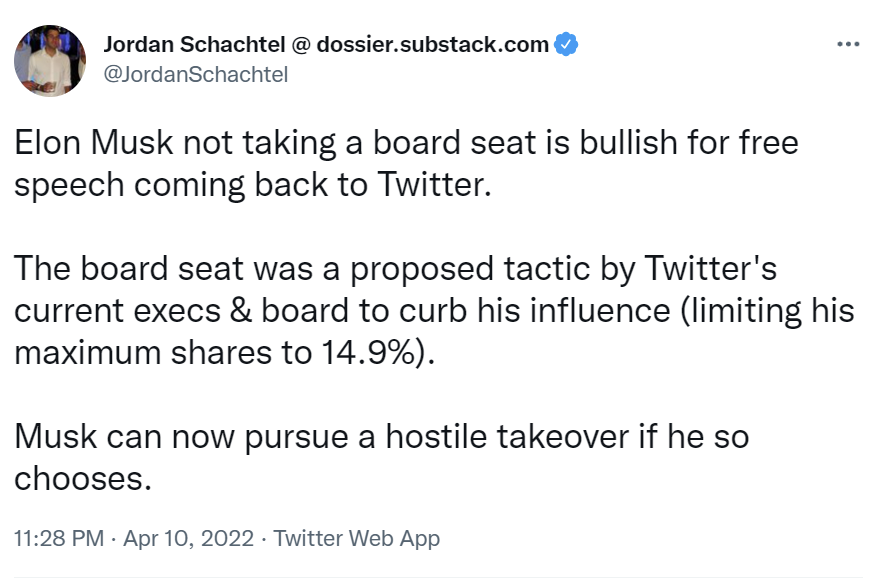 posted by Ace at
03:09 PM
|
Access Comments