« Beneath the Planet of the Libs of TikTok
|
Main
|
Wombat Wagon Cafe »
April 08, 2022
Quick Hits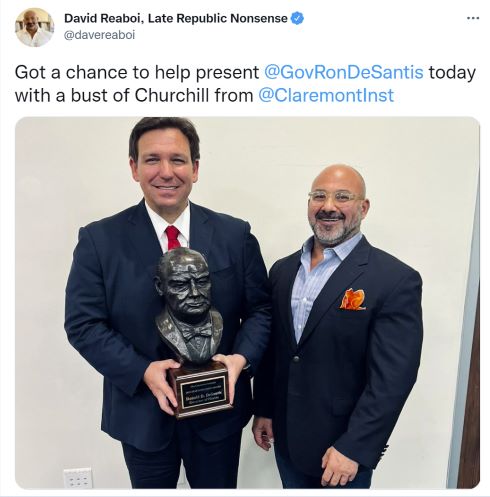 Last year Romney voted against KBJ for a position as a federal trial judge. All he had to do was hear she was soft on child pr0n and he raced to confirm her as a Supreme Court judge. OK groomer.
Are you a groomer? Take this quiz from the Babylon Bee and find out.

The bones of a dinosaur which might have been killed by the direct impact of the dinosaur-extincting asteroid may have been discovered.
Scientists have presented a stunningly preserved leg of a dinosaur.

The limb, complete with skin, is just one of a series of remarkable finds emerging from the Tanis fossil site in the US State of North Dakota.

But it's not just their exquisite condition that's turning heads - it's what these ancient specimens purport to represent.

The claim is the Tanis creatures were killed and entombed on the actual day a giant asteroid struck Earth.

Salon/Media Matters " " " journalist " " " Eric Boehlert is dead due to a bike accident.
I am bereft.
The Ample-Bosomed Queen is not taking questions from the peasants about zhir declaration that his media palz's censorship of the Hunter Biden laptop could have had no effect on the election, and polling data showing the opposite is a "preposterous counterfactual" because zee says so: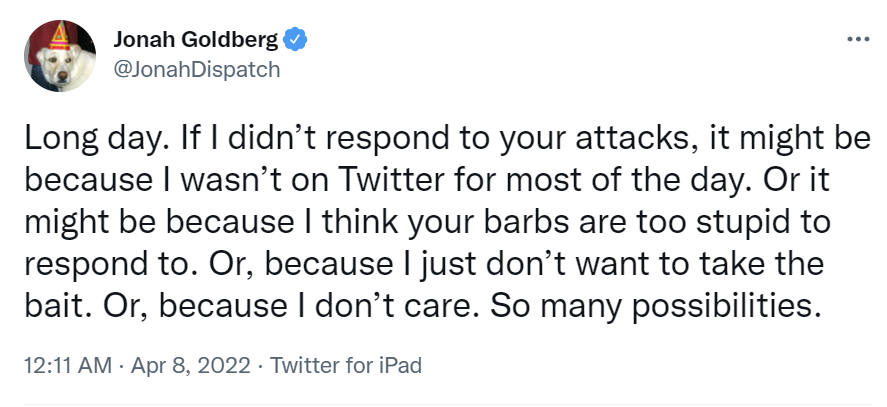 Earring-wearing nasty leftwing propagandist John Heilemann (well-named!) previews the Democrats' strategy for avoiding complete annihiiation this November: they're going to pursue a "dark" strategy of "scaring the hell out of voters."
Um, isn't that the Democrats' strategy every election?
MSNBC analyst John Heilemann revealed a "dark" strategy Democrats are considering using to curb potential losses during the November midterm elections on "Deadline: White House" Tuesday.

Heilemann said inflation is "psychologically the most devastating thing politically" and said the key to mitigating losses, according to the strategy, was to make Donald Trump the face of the Republican Party and then harangue attacks against him as an undemocratic force in U.S. politics.

"They have to scare the crap out of [the Democratic base] and get them to come out," Heilemann said. "[The Democrats] can't motivate them on the basis of hope or their pocketbooks or any of these accomplishments. They have to scare the crap out of them."

"The strategy that people are kind of thinking about now ... is we're going to have these [Jan. 6] committee hearings. Donald Trump's going to be in the spotlight ... Let's take Donald Trump, take that [Jan. 6] committee, the threat he poses to democracy, make [Trump] ... the face of the Republican Party, talk about Marjorie Taylor Greene, Lauren Boebert, Madison Cawthorn. Say this party is crazy town, it's Trumpist [and that] Trump is a threat to our democracy," he continued. "Democrats are thinking about what kind of strategy could incorporate those events in a way that would maybe at least point towards a path to limit losses, if not hold on to the house."

...

"There's never been a time ... where Democrats uniformly have been more ... convinced that they are going to lose the house in the fall and that it might be really, really bad," he said. "Right now, they look at the picture and say, 'It's brutal for us;' and that's partly about Biden's popularity and the party itself. It's just like it's the political picture couldn't be worse."
Pedro L. Gonzalez @emeriticus

The parents rights' movement finally found an effective battle standard in protecting their kids from CRT and LGBT ideology. Now conservatives--who have accomplished *nothing*--want to pull back the reins on the movement

The reason I don't call myself a conservative is precisely because conservatives will always stab you in the back at pivotal moments

As soon as real meaningful victories are being realized and the "center" is being pulled right, conservatives dutifully fulfill their function of calling us back
They're not conservatives, they are "neocons" which means "neoliberals." And they always have been.
Oh dear, the hits keep on coming. Jada Pinkett Smith admits to having a "mid-life" crisis around age 37. So Will Smith started planning her 40th birthday party three years in advance.
And she's... pissy about it.
The actor, who shares daughter Willow and son Jayden, 23, with Jada, explained how he had spent three years planning his wife's elaborate birthday bash.

'The day after her 37th birthday, I hired a team to orchestrate her 40th birthday.'

Turning to daughter Willow, he continued: 'I hired a documentary team, I traced mommy's family roots. Her 40th birthday was going to be my thing!'

Jada sighed: 'It was going to be a splash.'

The Fresh Prince Of Bel Air actor revealed he also hired R&B superstar Mary J Blige to perform at the party.

'It was going to be the thing that lifted her out of this mid-life crisis. It was going to be my deepest most beautiful proclamation of love.

However a disappointed Jada told the actor that the lavish event was the 'most ridiculous display of his ego'.

As daughter Willow sympathetically put her hand on her fathers arm, Will continued: 'Crushed, right? And to this day I know I was crushed because it was true. It wasn't a party for her.'
That's from that "Red Table" FaceBook "show" where Jada has people sit at Red Table to hear how they have disappointed her.
I know marriage is a sacrament but come on, even sacraments have their limits.
George Soros is funding 13 radical Democrats for Congress, but you can't notice this, because it's "antisemitic" (all of his paid media operatives claim) to point out that a radical anti-American socialist, who is not Jewish, is a radical anti-American socialist.
They didn't just kill the fox that dared to nip at some Democrats and journalist (but I repeat myself.)
They had to murder the fox's babies, too: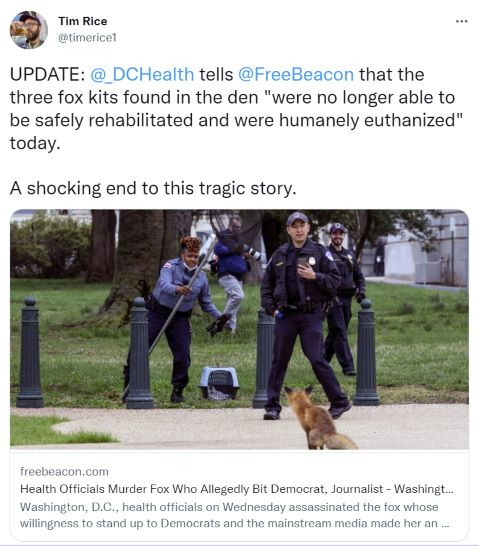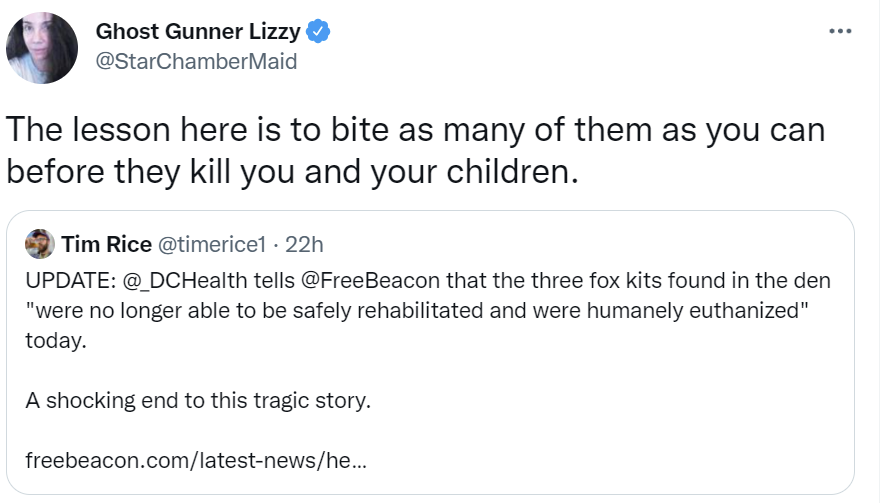 Jen Psaki defends giving illegal aliens free Bidenphones:
It's the final weekend of campaigning for the first round of the French Presidential elections.
The French presidential elections are run in what we'd call a "jungle primary" system; everyone runs all at once, and then the top two finishers go on to run against each other for the prize a few weeks later.

The general pattern has been that LePen can always win one of the top two slots, but cannot actually win the presidency, because everyone that isn't a committed National Front voter (now a National Rally voter) will flip to support whatever candidate LePen is running against. And so you'll have French Republicains or Socialists or whoever voting for Hollande or Macron to keep LePen out of office.

Instapundit wonders if a left-right coalition has now had enough of the establishment that they will unite to take down Macron in France.
He thinks the left and right might have so many grievances against the establishment -- some of them in common -- that they're willing to join together to vote LePen in. (It should also be noted that LePen is a more economically liberal, or softly socialist, than American supporters might realize.)
He also wonders if the same left-right coalition isn't coming to America.
It is, on both sides of the partisan divide: the NeverTrump Neocons are obviously now just adherents of a highly partisan and stupid Belligerent Boutique Liberalism, who now call people "racist" in addition to slurring them as "traitors."
And on the right side, actual conservatives are sick to death of being fucked over by mega-corporations and told by the establishment GOP that corporate citizens are the only real citizens.
And blacks and Hispanics are getting sick of the Democrats pushing a program of very weird Surburban Wine Mom sexual freakery as the height of Social Justice.
[T]he Cold War ended 30 years ago, and since then the establishment's track record hasn't been so good, and it's treated ordinary Americans with increasing disrespect. The result is that many Americans on the left and the right are starting to realize they hate the establishment more than they hate each other. This, of course, terrifies the elites.

The usual establishment move is to call its opponents on the right bigots while mobilizing those on the left to attack the right. It tried that in France with the yellow-jacket movement, with limited success: French geographer Christophe Guilluy observed, "Immediately, the protesters were denounced as xenophobes, anti-Semites and homophobes. The elites present themselves as anti-fascist and anti-racist, but this is merely a way of defending their class interests. It is the only argument they can muster to defend their status, but it is not working anymore."

In the United States, they talk a lot about white supremacy, but nobody really thinks that the United States is in danger from white supremacists -- whenever you hear of a white-supremacist "hate incident" nowadays, odds are it will turn out to have been faked.

The left is pushing "trans rights" and "transphobia" as a way of accusing their opponents of bigotry, but shockingly, the black and Hispanic voters that Democrats have always depended on aren't super excited about being in the vanguard on these issues.

Those voters are also pretty unexcited about the inflation, unemployment and crime that have resulted from Democratic spending, overregulation and "depolicing." Politico reports that Democratic focus groups are finding crime fatigue, pandemic fatigue, cynicism about politics and frustration that the Biden administration hasn't delivered what it promised.
John Sexton writes about polling showing that LePen could, possibly, win this time.
Though I don't believe it. The vain suburban bourgeoise French Wine Moms, like the American ones, will always vote in a way to cultivate their own sense of Propriety and Social Standing, and so we'll always see communists voting along with "capitalists" (as capitalist as people get in France) to vote for any candidate other than Le Pen.
You might wonder how Eric Zemmour is doing. Well, a quick look at the polls (sondages in France, if you want to google for it) says he's got between 9.5% and 11% support. That's not as bad as it may seem, because remember, the premier tour (first round) of voting is a jungle primary where maybe a 8-12 serious or semi-serious candidates are running, the two winners will probably get 21-25%.
But it's also not up at the level to get the ticket to the second tour.
Zemmour says the polls are always wrong since 1995, and I can't say he's wrong.
Here's a recent speech: "After everything that the Ministry of Education has forced you to submit to, it's a miracle that you're here [at Zemmour's rally]. Congratulation to you. You have resisted the propaganda. What force of conviction, what analytical minds!... I'm very sincere, I often wonder how you made your escape from indoctrination."
#based
or, en francais, #fondé*.
The premier tour is, eek, this Monday.
* Actually that's just a calque. I'm just kidding, taking the word I know for "to base" (fonder) and making it a past participle. WordReference does translate "based" as "fondé'" but they mean that as in "based on" or "founded on."
I don't know how the French would say #based or even if the concept yet exists in French. They do have "woke" in French (le wokisme), but I don't know if they have #based yet.

posted by Ace at
06:42 PM
|
Access Comments