« Verdicts In In Gretchen Whitmer Fake "Kidnapping Plot" Trial: Two Defendants Found Not Guilty, Hung Jury On Other Two Defendants
|
Main
|
Mitch McConnell Donates to Liz Cheney as Liz Cheney Courts Democrats For Her Primary Bid »
April 08, 2022
Elon Musk Is Causing Distress to Twitter's Censorship Queens
The "Disinformation" Conference Announces That All Mention of Their Own Peddling of Proven Disinformation Is Itself a "Disinformation Campaign"
Please think about the Censors!
News of Tesla (TSLA.O) Chief Executive Elon Musk taking a board seat at Twitter (TWTR.N) has some Twitter employees panicking over the future of the social media firm's ability to moderate content, company insiders told Reuters.

Within hours of the surprise disclosure this week that Musk, a self-described "free speech absolutist," acquired enough shares to become the top Twitter shareholder, political conservatives began flooding social media with calls for the return of Donald Trump. The former U.S. president was banned from Facebook and Twitter after the Jan 6. Capitol riot over concerns around incitement of violence.


...

Despite Twitter's reiteration this week that the board does not make policy decisions, four Twitter employees who spoke with Reuters said they were concerned about Musk's ability to influence the company's policies on abusive users and harmful content.

With Musk on the board, the employees said his views on moderation could weaken years-long efforts to make Twitter a place of healthy discourse, and might allow trolling and mob attacks to flourish.

...

On Thursday, Musk tweeted an image from 2018 of him smoking weed on the Joe Rogan podcast on Spotify, with the text: "Twitter's next board meeting is going to be lit."

...

Several employees were alarmed by the warm welcome Musk received from Twitter CEO Parag Agrawal and cofounder Jack Dorsey, which prompted them to hit the job market this week.

"Some people are dusting off their resumes," one person said. "I don't want to work for somebody (like Musk)."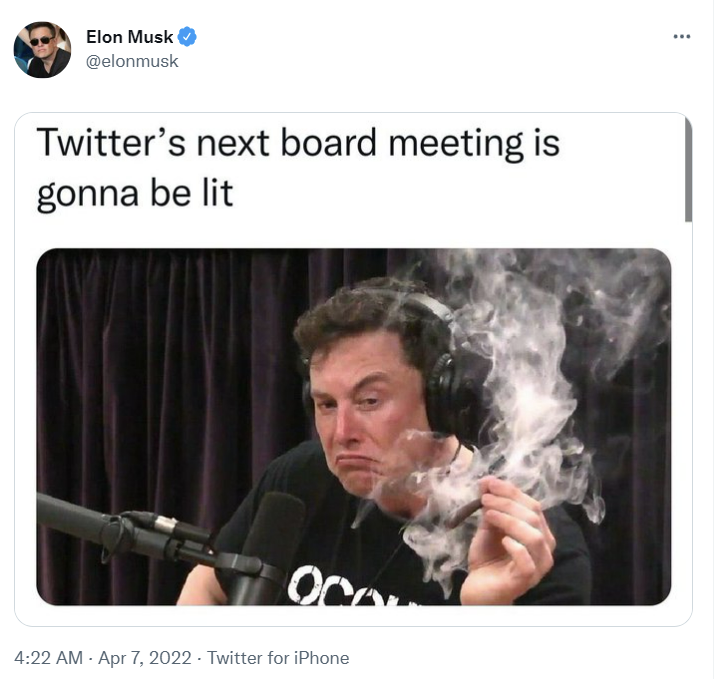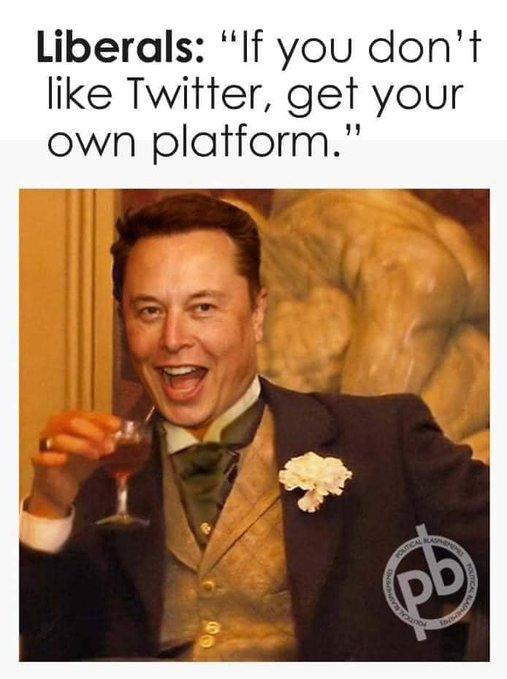 The first meme above is real, and posted by Musk; the second one is just a meme someone else created.
Earlier this week, Tucker Carlson said that The Regime's agenda is toxically unpopular and the stench of their disgusting incompetence is no longer capable of being ignored.
To remain in power, The Regime must simply outlaw any mention of its failures and treasons.
That's all The Regime does now. That's all it can do to save itself. All of its other priorities are secondary to the mission of self-preservation, and the mission of self-preservation requires endless censorship and Thought Surveillance.
He predicted that The Regime would start hurling accusations at Elon Musk, accusing him of being racist and sexist and homophobic and anti-trans and all the rest of it.
Despite him seeming like a fairly conventional freedom-oriented Silicon Valley normie.
They cannot allow their prize of Twitter to become a censorship-free space.
And guess what The Regime has begun doing?
Carlson from earlier this week, making his (very obvious) prediction:
Bonus: Confirming that "disinformation" is defined as "anything that undermines The Regime, no matter how true and accurate," the host of the "Disinformation" conference, Atlantic editor-in-chief Jeffrey Goldberg, has proclaimed that the questions posed to the panelists, asking them about the Hunter Biden laptop being real despite being branded as "disinformation" by the supposedly "disinformation"-hating media, were themselves just a new "Disinformation Campaign."