« Leftwing Journos, Including the Very Fat and Unhealthy Jonah Goldberg, Defend The Media's Decision to Suppress the True and Newsworthy Hunter Biden Emails -- At a Conference About Fighting Disinformation, No Less!
|
Main
|
Wolf and Bat Cafe »
April 07, 2022
Quick Hits
The heroic fox who bit Capitol Hill staffers and one Congressman was executed, supposedly to "test it for rabies."
Do you believe that?
Because gosh I sure don't.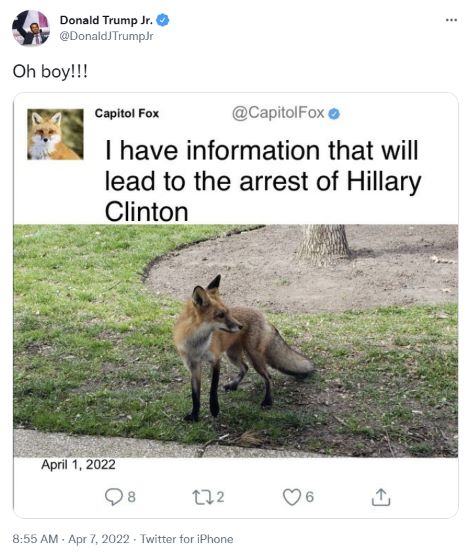 Unbelivable: GEICO had invited Linda Sarsour to speak, to show its support of Middle-Easterners.
And its hatred of Jews.
Corporations only look to leftwing grifter organization to find out who the "haters" are. Part of this can be blamed on Conservative, Inc., which does not challenge this status quo, which does not demand its own input be taken into account, and which continues to protect big corporations as if they're paying for their rent and food.
Which is, of course, exactly what they're doing.
WHAT THE FUCK ARE YOU GREEDY, GRIFTING INCOMPETENTS DOING WITH THE MILLIONS OF DOLLARS OF GRIFT FLOWING INTO YOUR ACCOUNTS, BESIDES REPLACING THE POOLS IN YOUR YARD WITH LARGER, MORE EXTRAVAGANT POOLS?
Hey Conservative, Inc. -- why is LibsofTikTok, a single woman who gets no money through grifting the conservative movement, doing one hundred times more than you are? Why is Christopher Rufo, just one guy with a laptop, doing more than all of your combined?
Why is James Lindsey, who is not even a conservative, doing more to advance the conservative movement than all of Conservative, Inc. combined?
Hell, why are Matt Taibbi and Glenn Greenwald, two men of the left, doing more to advance the conservative (or, at least: the anti-neoliberal) position than all of the "conservative" media taken together?
Let's just take a guess here:
Is it because you yourselves are neoliberal and have always had more kinship with the neoliberal left than the conservative right?
DEFUND
CONSERVATIVE, INC.

Look, Fat, reducing your obesity one class from "Morbid Obesity" to "Normal Obesity" would improve your resilience against covid by more than another booster -- it would double or triple it -- and I don't see you signing up for Jenny Craig.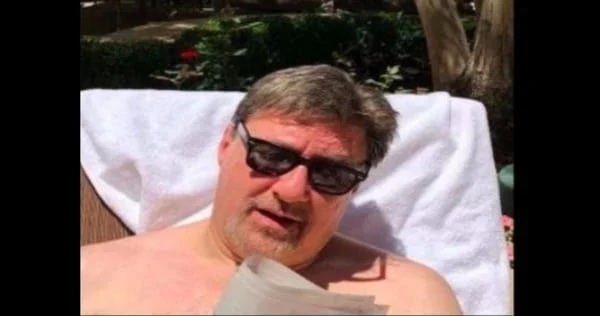 I'm so sick of the obese bragging about getting vaccinated -- How proud they are of the one fucking health improvement measure they've achieved since they were in high school.
Chief Impact Officer BT
@back_ttys

The guy's twitter account is basically an MSNBC bumper sticker generator.

This lemon bouffant narcissist thinks that students in school are just Instagram followers for teachers:
Robby Soave
@robbysoave

Everyone defending the Florida law along the lines of "Yes, it should be normal for your kids not to know anything about their teachers lives" is being very weird.

Like, if this is something that bothers you, you should probably just homeschool your kids-- can't imagine the public school system can live up to your expectations.
Yes, people should be forced to homeschool their kids -- while continuing to be forced to pay for public schools -- if they don't want teachers instructing their kids in Homosexual Theory and Transgender Science.
Hey, Groomer -- kids don't care about adults. They don't think they're "cool." They don't wonder about what their lame adult teachers get up to in the bedroom.
You groomer sissy.

With the rare exception of the Hot Teacher. But this is very, very rare, as any scroll through Libs of TikTok will demonstrate.
It's groomer-friendly narcissists like you who imagine that kids should be obsessed with you.

Classrooms are not an opportunity for social-media obsessed teachers to pick up a free 30 followers. They are there to learn about math and reading and geography, not who their outrageously gay second-grade teacher went "paddleboating" with this weekend. (Whatever "paddleboating" means these days.)

Regarding Jonah Goldberg blowing off that kid and his polling numbers that 20% of Biden voters may have changed their votes based on the laptop, in favor of his partisan hunches:
Stephen L. Miller @redsteeze

If you are appearing alongside Barack Obama at a conference on Disinformation, you are a Democrat, the end. It's time to stop this righteous conservative act and admit it.

...

Goldberg just writing that kid off is how he lost an entire generation of conservatives. He's where he belongs now. Sitting alongside Barack Obama without a hint of irony at a conference on "Disinformation". I'll take the students in that room.
Let me expand on that:
NeverTrump claims they're Real Conservatives. They say they only oppose Trump.
Well, Trump is out of office, but these "Real Conservatives" continue defending Biden, supporting Biden, defending the leftwing media, defending the tech monopolies, defending CRT, and defending grooming.
And attacking Ron DeSantis, of course.
I'm sorry -- what "principled anti-Trump" rationale do David French, Jonah Goldberg, AllahPundit, Steven Hayes, Bill Kristol, and the rest of left-liberal grifters have for that?
Weird how they're now on to the "Conservative Case for Grooming Kindergarteners" while asserting "No serious you guys, we're the real conservatives here, we're just against Trump and 'populism.'"
They're all Jen Rubin. All of them.
But at least Jen Rubin isn't still calling herself a "conservative."

Chad Pergram
@ChadPergram

Rep. Fred Upton (R-MI), just announced his retirement on the floor rather than run for re-election this fall. Former chair of the Energy and Commerce Committee. Was one of 10 GOPers who voted to impeach Trump during the 2nd impeachment trial
"Fusion Ken" Dilanian admits that sometimes the "intelligence" agencies put out claims not because they're true, but just to shape opinion and behavior.
And he says it like it's a good thing.
Say, I think that a whole conspiracy of FBI and CIA agents did that in 2016-2019, didn't they? Something about an "insurance policy." Just pump out a lot of lies to get people to do what you want them to do.
In other words, a propaganda disinformation campaign targeting the citizenry of the United States.
And Fusion Ken claps.
I mean, he was a key part of the Russiagate hoax. So he's a major part of this conspiracy against the people of the United States.

Two flashbacks that are worth the click.

posted by Ace at
06:01 PM
|
Access Comments