« THE MORNING RANT – Do The "Read Banned Books" Activists Support Students Reading "Rush Revere" and "When Harry Became Sally"?
|
Main
|
We Need a Wellness Check for Will Smith »
April 08, 2022
Greg Abbott: I'm Going to Bus Biden's Million-Illegal-Alien-Rush Right to Washington, DC
Biden, the worst "president" in American history, is set to let Title 42 lapse.
Title 42 allowed for rapid deportations of illegals due to the covid emergency. Aliens were not permitted to remain in the US awaiting their deportation trials, which most of them never showed up for. Instead, they were just kicked out.
Illegal aliens have been avoiding coming to the US for the last few months, knowing they could be deported immediately. Instead, they've been camping out in Mexico on the border, waiting for Biden to fire the starting gun and say "Invade!"
Biden and the Open Borders Democrats (and Open Borders Pseudoright) cannot stand the idea of rapid deportations of those criminally present in the country, so Biden will fire the starting gun on May 23rd and say "Ready... Set... Invade!"
(Earlier I wrongly said the date would be May 1.)
Gregg Abbott claims he'll be loading up the illegal aliens rushing the border in Mexico and shipping them right to Washington DC.
But is he bluffing?
Texas will begin busing migrants to the steps of the U.S. Capitol and inspecting vehicles driven in from Mexico, Gov. Greg Abbott announced Wednesday in what he called an "unprecedented" response to illegal immigration.

Details of the plan, such as the cost and the logistics, are thin.

Abbott acknowledged the additional inspections -- meant to root out smugglers bringing drugs, immigrants and other "illegal cargo" through the international points of entry -- will "dramatically slow" traffic from Mexico, which is the state's largest trading partner.

State officials also said they will charter "as many buses as we need" to transport migrants who volunteer to make the journey nearly 28 hours from the border to Washington, D.C. Texas also will offer flights to migrants willing to leave the state, the governor said.
Who "volunteer"? "Will offer"?
This is all fake. They will not "volunteer" to leave. Texas is a good place for an illegal from Mexico to settle, as there's already a Texican culture and they can cross the border whenever they want to see their families.
Maybe some illegal aliens from South America -- from far enough from America that you really have to take a plane to get back home anyway -- will take him up on his "offer."
But otherwise -- this is just yet another Stunt Lie lie from another corporate cvck.
Abbott, a Republican who is seeking reelection this year and has made border security the top issue of his campaign, said the federal government already provides migrants with transportation to San Antonio.

"Let's continue the ride all the way to Washington, D.C.," he said at a news conference in Weslaco in the Rio Grande Valley.
Oh wow, more empty rhetoric from corporate cvcks to Con the Rubes. This all seems so familiar.
This might be slightly more useful:
The latest measures escalate Abbott's clash with President Joe Biden over how to handle illegal immigration. Already, Abbott has sent thousands of state police and Texas National Guard soldiers to the border to arrest migrants on trespassing charges. The governor also has committed $1 billion to erecting a barrier along the state's border with Mexico after Biden issued an order to discontinue construction of a wall begun by former President Donald Trump.
He's also imposing an onerous regime of inspections at the border, meant to slow down traffic to a crawl.
But I don't think most of the illegals will be coming by highway. And even if they do -- once you catch them, then what? Then they get to stay in the country forever, awaiting a deportation hearing they're not required to attend or abide by.
Meanwhile, Biden is already implementing his order to end deportations -- illegally, because courts have repeatedly told him he cannot unilaterally end Title 42, as Congress passed it as a law under Trump.

He's telling ICE to dismiss older deportation cases. If you got here a year and a half ago, yay, you get to stay despite being here illegally.
Because our Usurper Tyrant says so.
Biden administration tells ICE prosecutors to DISMISS cases of migrants who didn't cross border recently or aren't threats to public safety as country braces for influx when Title 42 is dropped

Biden's team sent a memo Monday to ICE prosecutors instructing them to consider dismissing older cases of immigrants who are not public safety threats

Comes after DHS Secretary Mayorkas released new rules in the fall deprioritizing deportation of nonresident criminals who are not a threat to public safety

There are around 1.5 million cases pending in immigration court, which officials claim is unsustainable as many take years to even be heard

Since Biden took office, CBP has encountered more than 2.2 million migrants and the border -- and that number could as much as triple with the end of Title 42

...

An internal memo issued on Monday to Immigration and Customs Enforcement (ICE) prosecutors was obtained by BuzzFeed News, and details the latest effort from President Joe Biden's administration to reshape the immigration system.

...

From February 2021 -- the first full month of Biden's presidency -- to the end of last Fiscal Year on the last day of September 2021, at least 1.44 million migrants were apprehended or encountered.

So far in Fiscal Year 2022, which started on October 1, 2021, encounters have reached 838,635.

The new ICE memo on Monday could possibly be a way to cut the growing court backlog, which has only been exacerbated over the last few years.
Yes, it "reduces the case backlog" for deporations by just stopping deportations.
This is like saying you can really clear up the criminal court dockets by legalizing crime.
Which we're also doing.
Thanks, NeverTrump! Have I said "thank you" lately?

Trump's former Border Patrol head says this will be a disaster.
On the heels of GOP states filing a lawsuit against the Biden administration for its plans to terminate a Trump-era directive responsible for deporting roughly 1.7 million migrants, former U.S. Border Patrol Chief Rodney Scott tells The Daily Wire that Democrats are unleashing a "tsunami" of illegal aliens into the U.S. that will "keep coming and coming and coming."

...

Speaking to The Daily Wire, Scott, who was Border Patrol chief under both the Trump and Biden administrations, said repealing Title 42 will only make the currently drastic conditions worse. But he also said that Biden's poor border response is better illustrated by his rollback of other policies that are not related to a temporary health regulation -- which he argued still should not be rescinded at this point in time.


...

Upon Title 42 officially ending, claims for migrants will be processed under Title 8. This will allow the individuals to wait in the U.S. for their court dates. Over 2 million illegal aliens have crossed into the U.S. since Biden took office, according to U.S. Customs and Border Protection data.

"Revoking Title 42 will create an unprecedented surge at the southern border and it will overwhelm law enforcement agencies and non-governmental organizations as well," the Republicans who filed the lawsuit argue. "The U.S. Department of Homeland Security, (DHS), estimates getting rid of Title 42 will result in as many as 18,000 migrants per day -- which could mean 540,000 migrants in a single month."
Republicans are asking why Biden is ending the covid measure of Title 42 when the Biden Tyranny continues other covid mandates and "emergency" provisions.
"The administration has decided to prioritize rescinding this order over rescinding mask and vaccine mandates for the American people," they write, before warning about more chaotic scenes at the border.
Indeed, given the fact that Typhoid Nancy Pelosi has infected half of DC with covid, this would seem like something that can and should be delayed.
But Biden is rushing to let in a flood covid-infected aliens while still mandating that Americans wear masks on airplanes.
There is at least some good news regarding this looming Democrat-Made disaster:
Of all of Biden's very unpopular arch-progressive policies, the left-leaning pollster Morning Consult finds this is the most unpopular.
A majority of registered voters (56%) oppose the decision to remove the border controls implemented by the Trump administration, the largest backlash against a Biden administration policy among dozens tracked by Morning Consult since January 2021.

...

From day one, Morning Consult survey data has shown Biden's executive actions on immigration to be his most unpopular, and even when the president was enjoying favorable approval ratings early on, voters tended to disapprove of his handling of the issue. For example, a March 2021 survey found that just 40% of voters approved of Biden's immigration handling, 18 percentage points lower than his overall approval rating at the time.

With the political environment now in a much more dire state for Democrats due to persistent inflation, immigration threatens to transform the upcoming midterm elections from a defeat into a catastrophe. Among 14 issues tracked on a biweekly basis, the latest survey found that 55% of voters disapprove of Biden's handling of immigration -- a figure only exceeded by the 57% who disapprove of his handling of the economy.

Nearly 4 in 5 Republicans (77%) strongly disapprove of Biden's tack on immigration, as do 39% of independents, ranking it among the two worst issues for both groups along with the economy. Immigration is also a source of consternation for Biden's base: The 66% of Democrats who approve of his handling of it is the second-smallest share after gun policy, and among that share, 44% only somewhat approve of his handling there.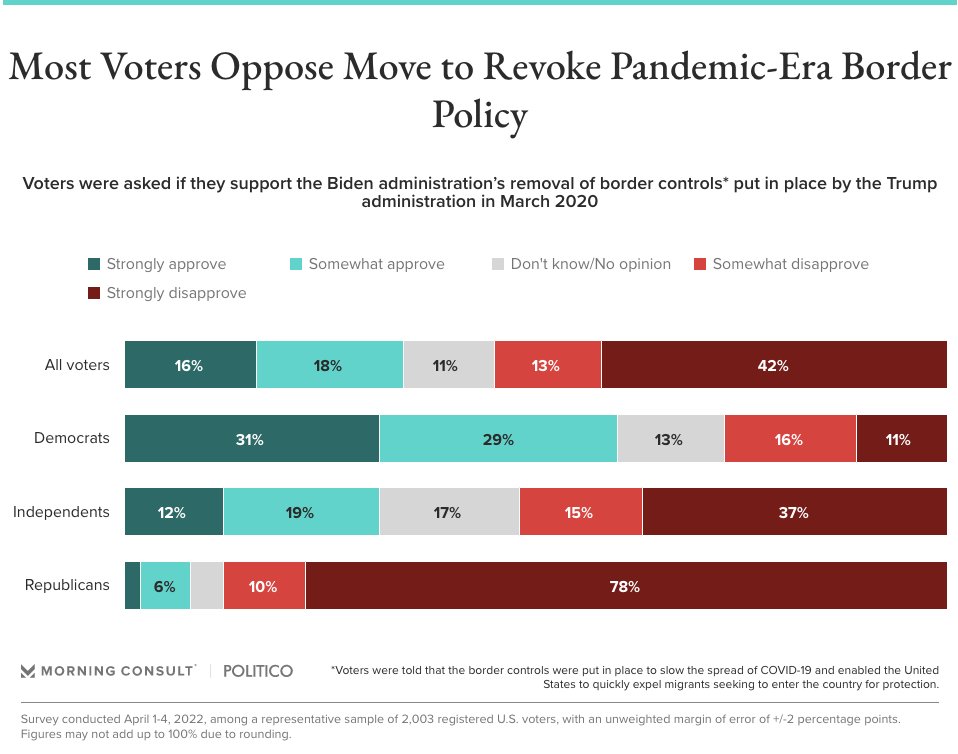 Democrats are urging Biden to reverse his decision -- or, at least, they want to be seen pretending to urge him to reverse his decision, so when the voters pass judgment on them in November, they can say, as Obama did about the government passing out mortgages to people with no income before the housing crisis, "I wrote a letter."
Oooh, did you now? You wrote a whole letter? Well look at you, Mr. Decisive Letter-Scribbler!
Democrat Georgia Senator Raphael Warnock and Democrat Senator Jon Tester have issued sharply Worded Statements protesting (or, "protesting") the decision.
Joe Manchin calls it "frightening decision."
Mark Kelly and Krysten Sinema published a joint statement criticizing the mad rush to throw open the borders. Mark Kelly is up for reelection this year. (Corrected; I thought Sinema was up for reelection too, but she's not up until 2024.)
At least Sinema actually backed this sentiment up with some kind of action -- she drafted a bill with Republican Senator Lankford to block the ending of Title 42.
Five Democratic and six Republican senators will introduce a new bill on Thursday that would prevent the Biden administration from lifting Title 42 without a detailed plan in place to stop an expected surge of migrants at the border.


...


Vulnerable Democrats also worry it will create a political firestorm, and provide Republicans with fresh ammunition just months before the midterms.
Sen. Kyrsten Sinema (D-Ariz.), who drafted the proposal in conjunction with Sen. James Lankford (R-Okla.), told Axios she met with Homeland Security Secretary Alejandro Mayorkas last week and again on Wednesday morning.

"It is evident that the current preparations and plans for the end of Title 42 aren't adequate," she said.
The Biden Tyranny responded by saying he was going ahead with Open Borders, and if people didn't like it, they should pass his version of Comprehensive Immigration Reform.
Which is itself... Open Borders.
A White House official told Axios: "On the president's first day in office, he sent an immigration bill to Congress that invests in smart solutions, effectively manages the border and addresses the root causes of migration. Those that are concerned about [the U.S.] immigration system that [are] holding up COVID funding should pass it."
Hey NeverTrump, this is the guy you propagandized for, right?
Eh, don't bother trying to shame NeverTrump about Open Borders policy -- they're all enthusiastic supporters of Open Borders. They just don't like being called out for it.
Meanwhile, the government is giving every illegal alien a free phone.
Supposedly this is intended to increase compliance with showing up for deportation trials-- when they don't show up for their trials, we can text them and say "U okay boo?"

And then, you know, they will continue not showing up. But at least we know they're okay.


posted by Ace at
12:08 PM
|
Access Comments