« New York City Fires Lawyer and Mom for Asking the Mayor Why the City Continues to Forcibly Mask Toddlers
|
Main
|
Sarah Palin Is Running to be Alaska's Sole Congressman »
April 05, 2022
Elon Musk Now on Twitter's Board of Directors;
Twitter's Muzzling of the Babylon Bee Might Have Been the Last Censorship Straw for Musk
Seth Dillon of the Babylon Bee reports that Musk contacted him shortly after Twitter locked the Bee's accounts, and the accounts of its editors, to verify that Twitter had really taken this action.
He "mused on that call that he might need to buy Twitter."
And then he bought 9.2% of it.
Seth Dillon @SethDillon

Musk reached out to us before he polled his followers about Twitter's commitment to free speech. He wanted to confirm that we had, in fact, been suspended. He even mused on that call that he might need to buy Twitter. Now he's the largest shareholder and has a seat on the board.
Twitter's foreign CEO Parag Agawal "welcomed" Musk to the board.
Yeah, I'm sure it was a really warm welcome.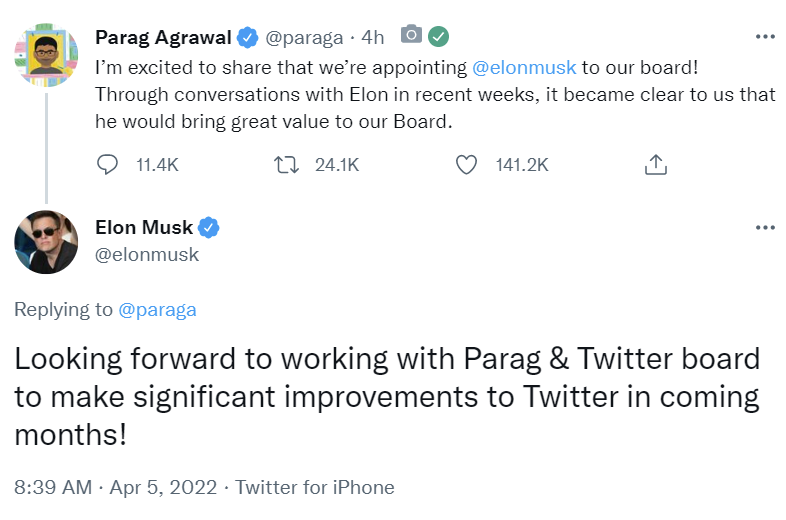 Parag Agrawal @paraga

I'm excited to share that we're appointing @elonmusk to our board! Through conversations with Elon in recent weeks, it became clear to us that he would bring great value to our Board.


He's both a passionate believer and intense critic of the service which is exactly what we need on @Twitter, and in the boardroom, to make us stronger in the long-term. Welcome Elon!
We decided to appoint him to the board just because he's an "intense critic" and we felt like we needed some diversity on the board.
Oh, and also, he's now the largest stakeholder in the company. That might have also been a factor.
The neoliberals are suddenly changing their position on whether mega-corporations and hyper-oligarchs should have complete control over what Americans are allowed to say and hear: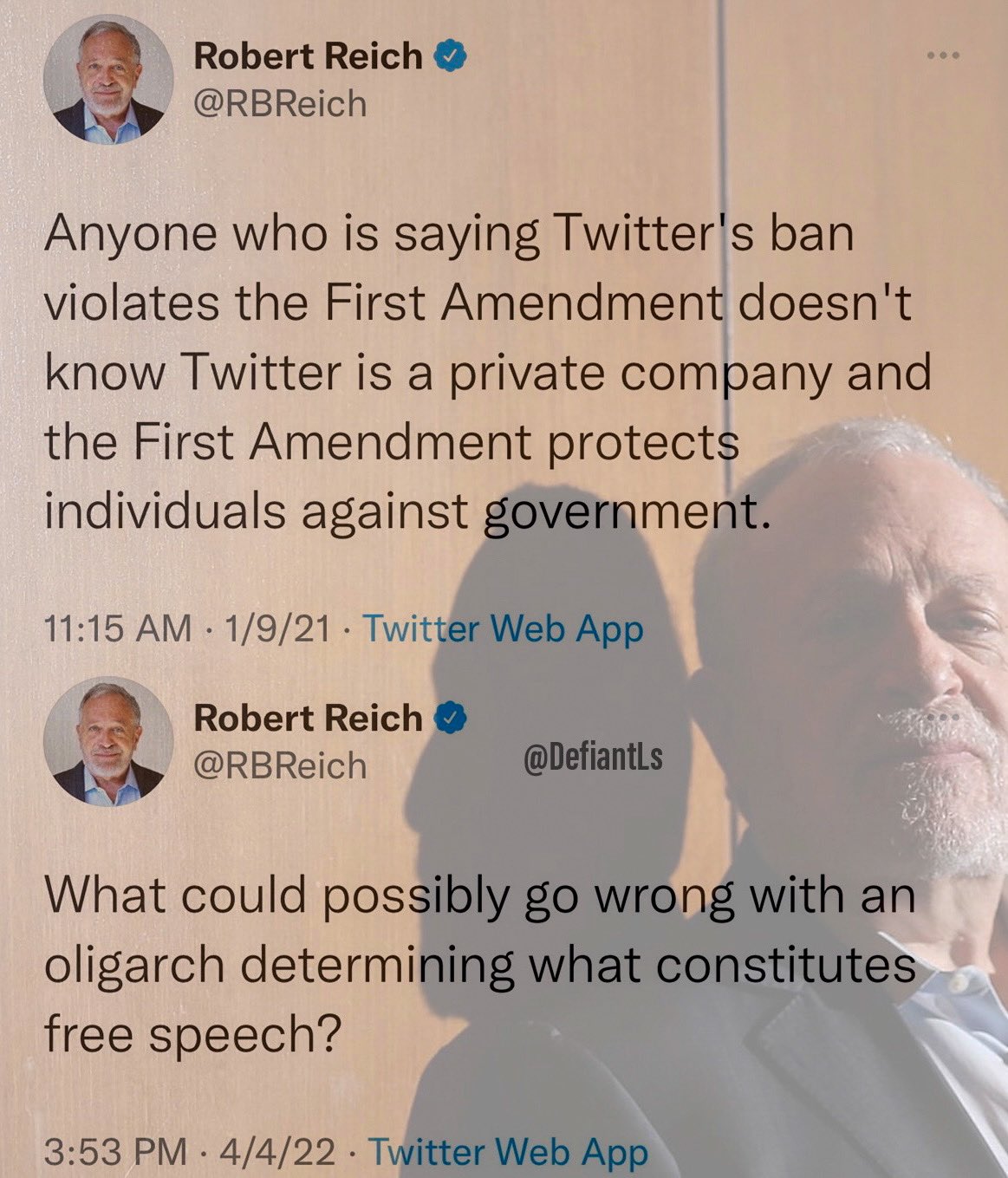 I can't wait to see NeverTrump and Conservative, Inc. start questioning whether hyper-oligarchs who do not donate to them should control the American political discourse.
As Tucker Carlson has been hammering, Agrawal is a foreigner who came to this country as an adult and has no appreciation for the American love of free speech.
He is loudly hostile to it, in fact. Jack Dorsey, the previous CEO, was hostile to free speech too, but he at least pretended to care about the First Amendment.
In fact, he just expressed regret for his role in the corporatization of speech: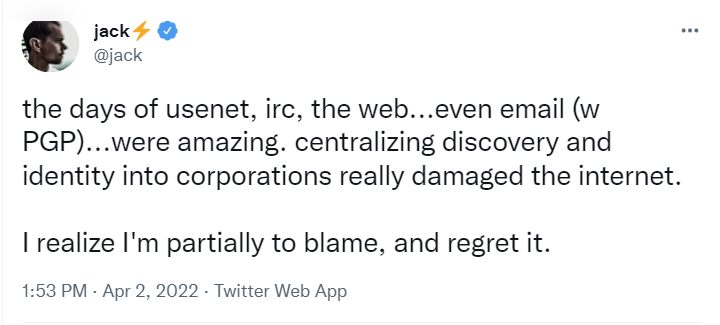 Agrawal proudly announces that Twitter will be moving away from any consideration of the First Amendment.
The important thing, he says, is not who can speak.
It's "easy" to speak on the internet, he says.
Twitter's mission will be determining "who can be heard."
He really said that. He won't stop you from speaking -- he'll just stop you from being heard. That's all.
And David "Blessing of Liberty" French cheers.
Obviously, this anti-American foreign invader and subversive needs to be fired post-haste.

One good point I saw made on Twitter: I don't know what Musk will be allowed to do as a board member.
But... will he be allowed to see "The Algorithm" that all the Tech Monopolists have marched into Congress and testified was politically neutral and therefore any shadow-banning or throttling of speech was just dictated by some machine coding without human intervention?
Because if he is allowed to see that: Hooboy.
And I can't wait until he's invited to testify about it in front of a Republican-controlled Congress.
An awful lot of criminal lies have been told under oath* about this Algorithm.
I think that tech CEOs will be more circumspect about what they tell Congress, knowing that Musk can blow the whistle on them.
And yes, I believe "The Algorithm's" basic features are widely shared between these Monopolists -- they have the same people working for them, who migrate from company to company, and they act as a Cartel with shared interests.
SOON:

* Or maybe not technically "under oath" -- but lying to Congress is a crime whether you're formally put under oath or not.

posted by Ace at
02:14 PM
|
Access Comments