« Mid-Morning Art Thread
|
Main
|
Elon Musk Buys 9.2% of Twitter, Becoming Its Largest Shareholder »
April 04, 2022
THE MORNING RANT: Solomon Islands Welcomes Chinese Navy To South Pacific; North Carolina Announces Incentives For Vietnamese Unicorn Factory EV Factory
*****
China's South Pacific Hegemony Keeps Growing
About six weeks ago I wrote about the South Pacific nation of Kiribati not only aligning with China, but also allowing China to build an airstrip that is closer to Hawaii than California is to Hawaii.
Well, more bad news, China is continuing to expand its control over the South Pacific. Australia, New Guinea, and Indonesia are about to have Chinese naval ships docking in their neighborhood.
Solomon Islands inks security deal with China, ignoring Australian protests
Solomon Islands has initialed a security deal with Beijing, paving the way for China to take its first major stake in the Pacific and testing Australia's century-long influence over the region.
The Solomon Islands are just to the east of New Guinea, and only 1,100 miles to the northeast of Australia. That's about the same distance as Los Angeles to Seattle – not a significant nautical distance.
If finalised, the draft agreement would allow Chinese navy ships and defence forces to be based in Solomon Islands to protect billions of dollars in Chinese infrastructure investment in the developing country.
Take a look at the map below. With the waters of Kiribati and the Solomon Islands now subject to Chinese military control, China can be as dominant in the South Pacific as it wants to be.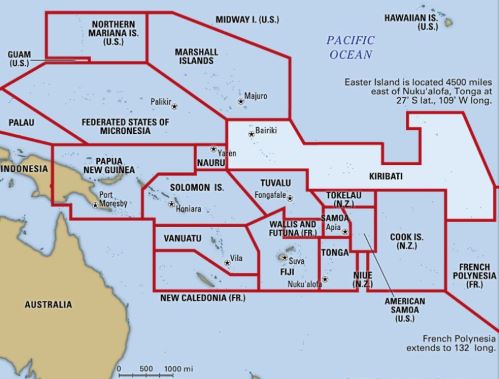 Lieutenant General Greg Bilton, the Australian Defence Force's Chief of Joint Operations, told reporters in Canberra on Thursday that any stationing of Chinese navy vessels in the Pacific nation would "change the calculus" for Australia's defence forces.
Changing the calculus doesn't change the fact that Australia's Navy is highly distracted by enforcing the culture war.
"Members of the Australian Defence Force have been told to use the term partner instead of husband or wife, and ask colleagues, 'what is your pronoun?'"
…as is the US Navy.
US Navy Removes Gendered Pronouns From Its Ethos [Post Millenial 10/22/2020]
The Navy has now removed gendered words including "brotherhood" and "man" from its official SEAL ethos—changing them to "citizen" and "warrior" instead.
The US Navy has also had an awful run of mishaps and collisions the past few years. This rather significant story somehow didn't receive much attention a few months ago.
How could the USS Connecticut sub crash into an undersea mountain? [Navy Times – 11/03/2021]
How could a $3 billion Seawolf-class boat, considered one of the Navy's most formidable and advanced, crash into an undersea landmass?

The Navy has yet to explain what sort of damage the secretive sub sustained, but it was enough to force the ship to surface and limp back to Guam for repairs.

The Japan-based U.S. 7th Fleet said in a statement last week that it is determining whether anyone will face disciplinary action for the mishap.
I am deeply concerned that a military confrontation with China in the Pacific Ocean is not too far over the horizon. I am also deeply afraid that we will not be prepared for it.
*****
North Carolina Throws $1.2 Billion At Proposed Vietnamese EV Factory
Just 10 days ago I wrote about all the collapsing electric vehicle makers that fleeced investors with crazy promises regarding production volume and consumer demand. Some are still struggling to bring their very first car to market.
But there is an infinite supply of suckers who just want to believe in EV fairy tales. The latest is an EV startup, Vinfast, from Vietnam. It has seduced the usual collection of gullible elected officials, including North Carolina governor Roy Cooper.
Incentives package worth $1.2 billion draws electric car plant to NC [Richmond Observer – 03/31/2022]
Don't worry, you regular investors have the opportunity to lose money too.
Vingroup plans U.S. IPO for automaking arm in late 2022 [Reuters – 12/04/2021]
Vinfast only built its first gas-powered car in 2019, in Vietnam.
I have known plenty of people who got the auto dealer bug. They were desperate to own a car dealership, and kept pinning their hopes - and upfront investments - on foreign manufacturers who were promising to bring their cars to the USA.
Some like Daewoo did briefly arrive in the USA before failing. Others like Chery and Crosslander just kept pushing their arrival back another couple of years, while never actually making it here. And none of them were startups trying to open all-new factories. They were actual car manufacturers with functioning plants, just struggling to make their existing cars street-legal in the US.
If North Carolina wants to attract foreign companies to come build manufacturing plants in the Tar Heel State, I'd recommend they focus on something like Taiwanese microchip companies rather than Vietnamese unicorn hustlers.
(buck.throckmorton at protonmail dot com)


posted by Buck Throckmorton at
11:00 AM
|
Access Comments