« Rachel Walensky and the CDC Allowed Teachers Unions, Not "Science," to Dictate the Nation's School Closing and Masking Policies
|
Main
|
CNN Is Already Planning Layoffs At Streaming "Service" CNN+;
To Raise Easy (?) Cash, CNN Will Turn Its First Half Hour of "Content" Into NFTs and Sell Them to Braindead Partisans »
March 31, 2022
Are You Ready For... Headphones With A Built-In Air Purifier/Covid Mask?
Dyson, the vacuum maker, knows what opportunity smells like.
When there are a lot of AWFLs -- Affluent White Female Liberals -- with a lot of disposable cash and a lot of unmedicated hysterias and neuroses, you tap that market.
You tap it hard.
The voluntarily mentally ill will spend any amount of money to self-medicate with their Mental Illness Drug of Choice.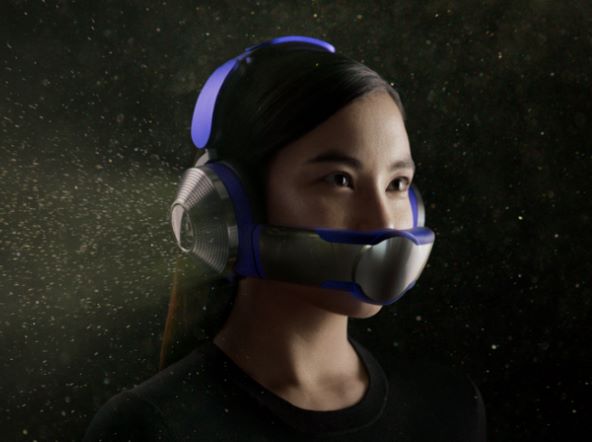 Virtue signaling never smelled so crisp and clean.
Maybe they should come with a magnetic disk so you can slap on a magnetic symbol of whatever Current Thing you're supporting this week.
Dyson is amping their offerings with the launch of their air-purifying headphones titled the Dyson Zone.

The Dyson Zone will offer buyers with both pure air and pure audio revolutionizing the tech space for good. Though, there's still a lot more to be discovered about Dyson's latest launch, like what the headphones do, how they works, when they're set to be released and more....

What is The Dyson Zone?

The Dyson Zone is the brand's first ever take on a wearable purifier. It captures city pollution, gas, allergens and particle matter, all while cancelling unwanted noise and offering pure, high-fidelity audio.

But this invention wasn't born overnight. Instead, teams across the UK, Singapore, Malaysia and China came together alongside decades of research, six years of development and more than 500 prototypes to create this groundbreaking offering.

One can only assume this is a response to the ongoing Coronavirus pandemic, but we have to remember quality air has been a vital necessity since years prior. In fact, the World Health Organization (WHO) estimates that "9 in 10 people globally breathe air that exceeds WHO guideline pollutant limits," according to the brand's press release.

Hot Air should definitely get one of these for AllahPundit, like they got him an iPhone after he whined about wanting one for a year.

Thanks to naturalflake.

posted by Ace at
01:27 PM
|
Access Comments