« The Morning Rant: Minimalist Edition
|
Main
|
NBC "News:" Narrow-Minded Misogynists Have Always "Policed" the Gender of Female Athletes, So It's No Surprised Misogynists Are Policing the Gender of a Man Named Will "Lia" Thomas »
March 24, 2022
Polls: Biden Drop to Record Low in Two Polls; No Bump from the SOTU, No Rally-Round-the-Flag Effect From Ukraine
Note that the below average of polls from RealClearPolitics shows a small sudden boost for Biden-- that's all due to the Fox poll, as usual, being more favorable to Democrats than any other poll.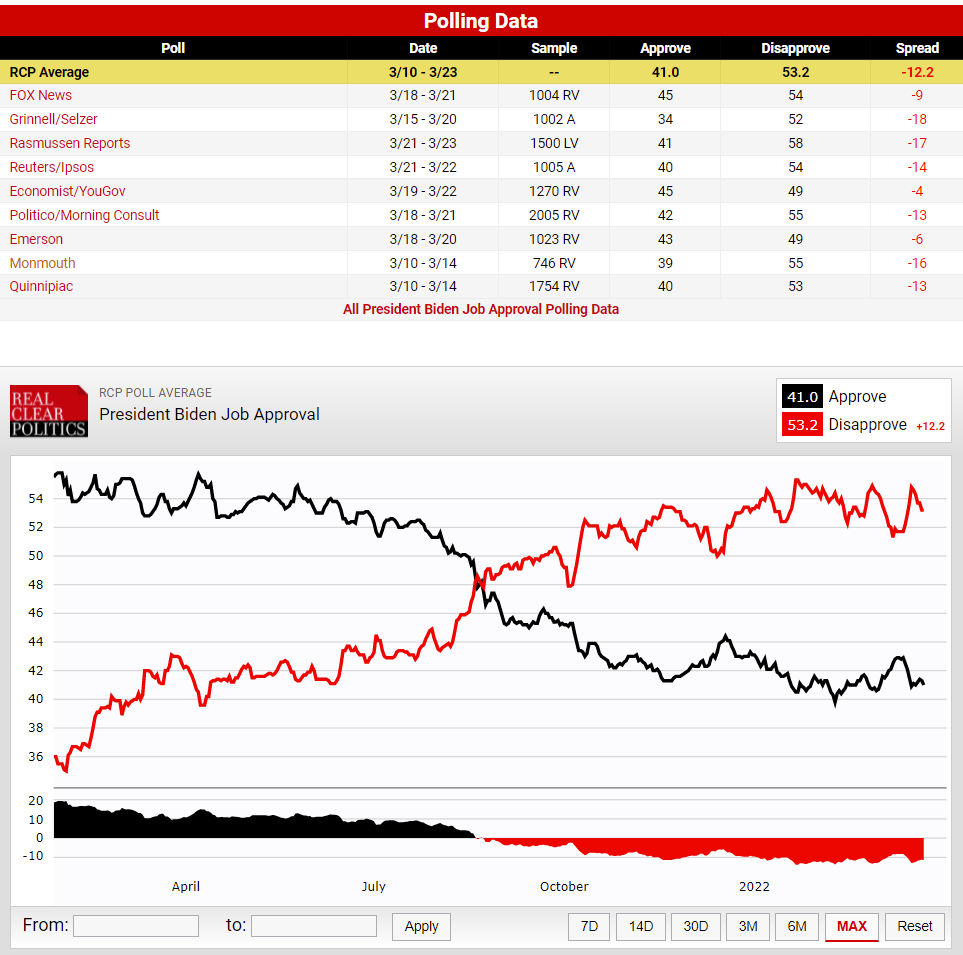 Note that Fox News continues employing a pollster named Arnon Mishkin, a longtime Democrat pollster and Democrat donor and Hillary Clinton supporter. It was Mishkin who made the early call in Arizona, and Mishkin who generally won't call races for Republicans, while making quick calls for Democrats.

Mishkin is Fox's in house pollster and analyst. He doesn't actually run the Fox News poll, I don't... think. But I can't imagine Fox's top poll guy doesn't have substantial influence on how that poll is constructed and weighted.
Fox "News" is totally a conservative network, though. We should definitely keep supporting it.
Turning to less Democrat-skewing polls run by people other than the very conservative Fox News: the Reuters Ipsos poll finds Biden at a new low of 40% approval.
U.S. President Joe Biden's public approval rating fell to a new low of 40% this week, a clear warning sign for his Democratic Party as it seeks to retain control of Congress in the Nov. 8 election, according to a Reuters/Ipsos opinion poll.

The national poll, conducted on March 21 and 22, found that 54% of Americans disapprove of his job performance as the country struggles with high inflation and Russia's invasion of Ukraine has pushed geopolitical concerns to the fore.

Biden's approval rating, down three percentage points from the prior week, mirrors that which his Republican predecessor, Donald Trump, received at this point in his presidency, as both stood at 40% in mid-March in their second year in office.

Trump's approval rating sank as low as 33% in December 2017.
I think Biden can match that.
Actually, the Selzer poll now finds Biden at 34% approval.
Biden's approval ratings have dropped from 37% to 34%, with 89% of Republicans saying they disapprove of his performance, the poll shows.

On the war in Ukraine, 72% of Americans support supplying Ukrainian soldiers with U.S. weapons, and 77% of Americans support allowing Ukrainian refugees to resettle in the United States. The poll shows 70% oppose sending U.S. troops to fight in the war in Ukraine.

Biden gets low marks for his handling of the war, with 37% approving and 48% disapproving.

"We see broad support for the approach the president has taken -- sending weapons but not troops -- but the population doesn't want to give Biden credit for it," said Grinnell College Associate Professor Danielle Lussier.

On the economy, the poll shows only 27% of Americans believe the economy will get better in a year's time. That's a drop of 20% from 12 months ago. Additionally, 58% of Americans believe that the economy will be worse in a year than it is today. That's the highest number in the history of the poll.
The Stelter poll, on the other hand, finds Biden at 100% approval. That poll also finds "enthusiastic approval" for donuts and french fries and arteriosclerosis.
Ryan James Girdusky @RyanGirdusky (Selzer poll - national) Do you approve/disapprove of the job Biden is doing?

Overall: 34/52
The approval ratings for subgroups are interesting:

GOP: 6/89.The 6% is all the NeverTrumpers paid by leftwing media to attack Republicans.
Dems: 70/13. This is very low rating from his own party.

Indie: 31/52. Obviously very bad.
Men: 33/56; Women: 36/48. Women as usual are more leftwing than men, but women sure don't like Biden much, either.
This is interesting:
Under 35: 27/51; Over 65: 38/51. Biden is collapsing with young voters. But I think that this might be an example of a subgroup in a poll being too small to get an accurate poll reading. That seems too low. Still: Interesting.

White: 31/59; Non-white: 40/39. Obviously that non-white number is terrible for a Democrat.

Suburban women: 52/31. Suburban Karens to the rescue. Note that NeverTrump and Conservative, Inc. think we must abandon all conservative positions in order to appeal to suburban women, who are among the most leftwing voters in the country. It just so happens that NeverTrump and Conservative, Inc. happen to share the politics of suburban women, so don't trust them when they claim we must move left to "win." What they really mean is: the GOP must move left in order to attract us NeverTrump/Conservative, Inc. people as voters, because we're Democrats in all but name now.

Evangelical: 26/66; Midwesterners: 32/56. Biden totally won Wisconsin, guys.
The Associated Press/NORC poll has Biden at 43% approval.
Note that the leftwing AP poll still shows Biden in a worse position than Fox's poll does, which has him at 45%. Yay Fox.
Also note that Biden had 43% approval from this poll before Putin took him up on his offer to minorly incursify Ukraine.
So Biden's got no rally-round-the-flag effect. And you know they were counting on that.
Most voters think Biden is doing too little and not being tough enough.
As President Joe Biden meets with key allies in Brussels to coordinate a stronger response to Russia's monthlong assault on Ukraine, a new poll shows Americans have yet to rally around his leadership.

Concern about Russia has swelled and support for a major U.S. role in the conflict strengthened in the last month, but Biden's negative approval rating has not budged, according to the poll Thursday from The Associated Press-NORC Center for Public Affairs Research. Few are very confident that he can handle a crisis, and a majority thinks he lacks toughness in dealing with Russia.

Only 43% of Americans approve of Biden and a similar percentage approve of his handling of the relationship with Russia. Both measures are little different from an AP-NORC poll conducted days before the Feb. 24 invasion.


...

Only about a quarter are very confident that the president has the ability to handle a crisis, promote U.S. standing in the world or effectively manage the U.S. military, though most have at least some confidence.

Fifty-six percent of Americans think Biden has not been tough enough on Russia, while 36% say his approach has been "about right."

Even among members of his own party, Biden faces pressure to do more. The poll shows Democrats are closely divided over the president's response, with 43% saying he hasn't been tough enough. Somewhat more, 53%, say it's been "about right."
Meanwhile, the most pressing issue in the country remains Brandon's runaway inflation, which is killing him with Latinxes and Latinxas.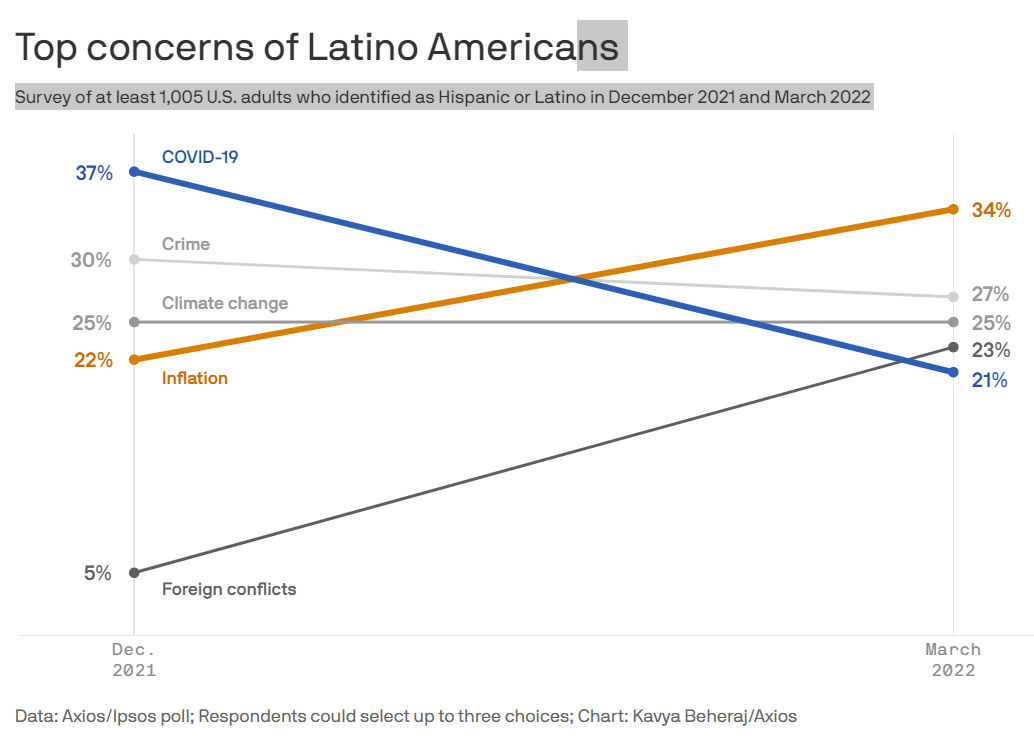 Why it matters: The survey does not show a mass defection to the Republican Party. But two trends since our last survey in December are hurting President Biden and his party: a waning intention to vote in the midterms, and a new GOP advantage on which party is better for the economy.
Unsurprisingly, a new GOP poll finds that voters feel the Democrat Party is "out of touch" and "condescending."
"Battleground voters continue to hold Democrats responsible for the negative impact that record-high inflation, soaring crime, and the crisis along our southern border are having on their lives. Additionally, these voters overwhelmingly support Republicans who are focused on addressing these issues," said the polling memo, which was written by three top national polling outfits for the National Republican Congressional Committee.

The poll holds significance, the NRCC said, because it surveyed voters in 77 battleground congressional districts that Biden won in 2020 by 5 and a half points.

Here are the highlights we just received from the NRCC:

President Biden's job approval is 15 points underwater, with only 40% of voters in these key districts approving of the job Biden is doing, while 55% disapprove.

Republicans lead the generic ballot by 4 points, despite Biden winning these battleground seats by over 5 points in 2020. Republicans have seen a 7-point improvement on the generic ballot since February 2021.

Overall, 75% of swing voters in these districts agree that Democrats are out of touch with everyday people and are condescending toward voters.

Economic issues dominate the issue matrix, with 46% of battleground voters indicating that they are most concerned about an economic issue.

Some 26% of battleground voters say inflation and the cost of living are the most important issues for Biden and Congress to work on, and 15% are most concerned about jobs and the economy. 52% of battleground voters blame high gas prices on the Biden administration and Congressional Democrats' unwillingness to allow more oil and gas production in the United States, compared to only 31% who blame the war in Ukraine and sanctions on Russian oil and gas.

About 75% of battleground voters are more likely to support a Republican candidate who will fight to lower the price of groceries and gas.

Exactly 78% of battleground voters are more likely to support a Republican candidate who will work to stop dangerous cartels from bringing drugs into America.

A huge 80% of battleground voters are more likely to support a Republican who will advance energy innovation that will lead to economic growth and lower energy prices.

And 73% of battleground voters favor increasing oil and gas production and exploration in the U.S., with a majority (54%) strongly in favor. Less than one-quarter (23%) of battleground voters oppose increasing oil and gas production and exploration in the U.S., with just 13% strongly opposed.
81 million votes, folks.
I mean, 81 million vote, folx.
(Have you guys seen that? For some reason the lunatics and trans fascists are insisting 1, that we say "folks" instead of "mean and women," and 2, that we spell "folks" as "folx," just to emphasize that Trans Lives Matters.

posted by Ace at
12:40 PM
|
Access Comments