« Have We Changed the Clocks for the Last Time?
|
Main
|
Quick Hits »
March 21, 2022
A Single Female Swimmer Speaks Up About Allowing A Man to Beat the Shit Out of Women in "Women's" Sports
But just one. We've heard a lot of anonymous complaints from female swimmers. They don't want to speak up, because they know the trans extremist lobby and the woke political left will impose a lifetime of professional consequences on them for telling the truth.
Will her courageous example encourage others to speak up?
Is the woke wall of silence finally beginning to crumble? Swimmer says Lia Thomas stole her place in NCAA finals and blasts athletics body for letting controversial transgender sportswoman compete

Virginia Tech swimmer Reka Gyorgy wrote a letter to the NCAA criticizing its rules that allow UPenn's transgender athlete Lia Thomas to compete

Gyorgy argued letting Thomas compete against women was 'disrespectful' to biologically-female swimmers

The fifth-year senior alleged that her spot in the NCAA 500 yard freestyle finals was stolen from her because Thomas was permitted to compete in the division

She has called on the sports authority to review its policies and 'open their eyes and change these rules in the future'

Gyorgy's letter was made public just days after the National Women's Law Center was blasted for dismissing critics of Thomas as 'misogynists'

By NATASHA ANDERSON FOR DAILYMAIL.COM and ALASTAIR TALBOT


A Virginia Tech swimmer bumped out of the NCAA finals by transgender swimmer Lia Thomas claims her spot was stolen and has publicly blasted the collegiate sports authority for letting the controversial athlete compete in the women's division.

Hungarian-born swimmer Reka Gyorgy penned a letter to the NCAA arguing that although she is convinced Thomas is 'no difference than me or any other D1 swimmer' who was striving to be the best in her field, allowing her to compete is 'disrespectful' to biologically female swimmers.

She wrote: 'I swam the 500 free at NCAA's on March 17th 2022 where I got 17th which means I didn't make it back to the finals and was first alternative. I'm a 5th year senior, I have been top 16 and top 8 before and I know how much of a privilege it is to make finals at a meet this big.


'This is my last college meet ever and I feel frustrated. It feels like that final spot was taken away from me because of the NCAA's decision to let someone who is not a biological female compete. I know you could say I had the opportunity to swim faster and make the top 16, but this situation makes it a bit different and I can't help but be angry or sad.

'It hurts me, my team and the other women in the pol. One spot was taken away from the girl who got 9th in the 500 free and didn't make it back to the A final preventing her from being all American.

'Every event that transgender athletes competed in was one spot away from biological females throughout the meet.'


The Hungarian Olympian spoke kindly of Thomas and her efforts, but lashed the NCAA for putting both of them in what she said was an untenable position.

...


'The NCAA knew what was coming this past week. They knew opinions and minds will de divided and chose to do nothing,' she slammed.

'This week has been more about reporters, media and division in our sport than things like two women going under 21 seconds in the 50 freestyle, three women going under 50 seconds in the 100 butterfly and the first woman IN HISTORY to go under 48 seconds in the 100 backstroke.

Gyorgy argued that the outcome of Thursday's race was 'not a specific athlete's fault' but instead the 'result of the NCAA and their lack of interest in protecting athletes.'
I don't think other swimmers will join her. She's from Hungary, one of the most #based countries in the world, so she already has some built-in resistance to this bullshit.
In addition, if the worst happens and she's debanked and made unemployable by the left, she can always just go back to Hungary, where the left's ability to coerce others into accepting their religious dogmas is much diminished.
Meanwhile, the leftwing propaganda organ NBC went into truly Orwellian mode to propagandize for "Lia," using filters on Thomas that would make a Instagram model blush, to make him appear more feminine.
And more... glowingly angelic.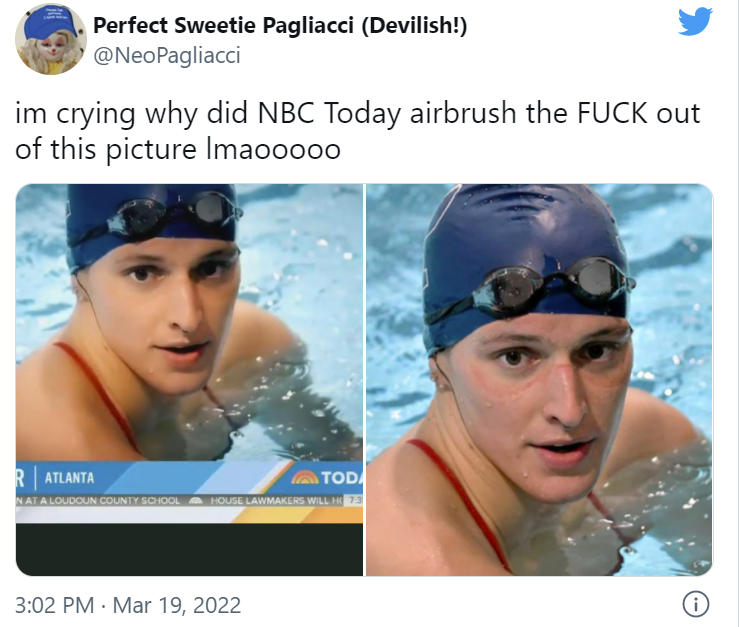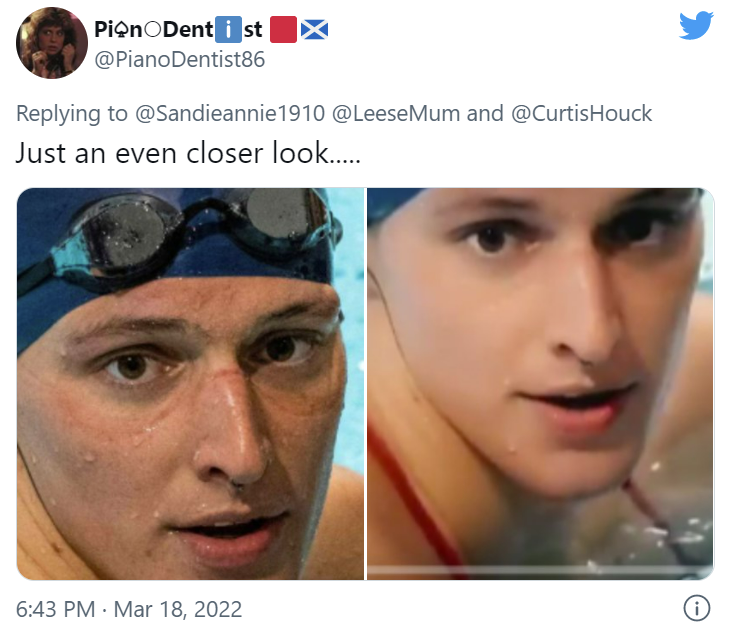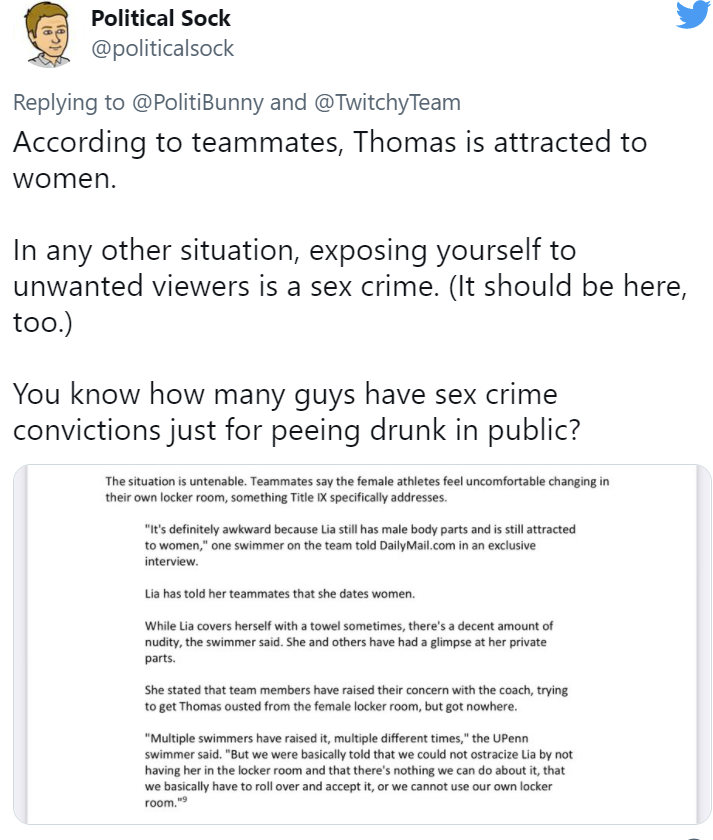 I don't know if this reply is fully serious;
GAGirl1967 is ready for spring @Tamzilla_52

Replying to
@libsoftiktok

This is internalized misogyny and I am outraged that women would call this transphobic.
"Internalized misogyny" is something leftwing feminist idiots talk about. I don't know if this person is joking in using the left's language, or if she really is a feminist who is outraged that Men are displacing actual Women in Women's Sports and women's places generally.
Those do exist, of course. They're slurred as "TERFs" by the trans extremists.

posted by Ace at
04:00 PM
|
Access Comments