« Mid-Morning Art Thread
|
Main
|
Biden Considering Easing Sanctions on Venezuela To Get More of Their Oil;
No Plans to Ease Sanctions on US Oil Industry »
March 07, 2022
The Morning Rant: Scattered Buck Shots (3/07/2022)
Collapse of Small-Cap Stocks Is Twice As Bad As The Dow Jones Correction
If you're watching the value of your 401K, you've probably noticed that it's taken a hit recently. If it's invested in an index fund tracking the S&P 500, it's probably down about 10% from its peak. As of last Friday's close, both the Dow Jones Industrial Average and S&P 500 are down 10% from the market top, what is known as a "correction."
The S&P is composed (approximately) of the 500 largest companies by market capitalization, weighted according to their size. Just four stocks - Apple, Microsoft, Amazon, and Google – account for more than 20% of the weighting in the S&P.
So how are the stocks of smaller companies doing? Not good. They are in a full-blown, price-collapse, bear market.
The Russell 2000 is an index of smaller publicly traded companies. Specifically, these are the companies ranked (approximately) 1,000 to 3,000 in market capitalization.
The Russell 2000 Index fell more than 20% from its market peak, and is currently 19% below its peak.
It has been well documented how the pandemic-era assault on Main Street businesses benefited Monster Tech, while simultaneously setting the stage for a negative economic ripple effect, due to the loss of economic activity from all the shuttered small businesses.
As the collapse of "small-cap" stocks reveals, unglamorous businesses that are the daily engine of our economy are under a lot of stress.
*****
The Chamber of Commerce Is Irretrievably Lost
Remember how we used to mock hyper-PC campus activists? We stated that they'd have a rude awakening when they hit the real world. They didn't. Not only have those woke activists conquered academia, media, and every other source of influence in their march through the major institutions, they have also taken over outposts such as suburban Chambers of Commerce in deep red locales.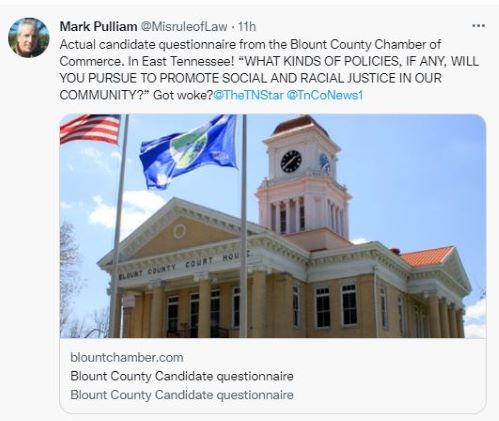 Blount County, Tennessee (Maryville) is a conservative, suburban area outside of Knoxville. Its Chamber of Commerce is asking candidates for local office to complete a questionnaire about their positions on various issues:
The Blount County Chamber of Commerce is compiling profiles of all the candidates running for office in 2022. We ask that you complete this short questionnaire so the information can be shared with the community via social media and the website. Deadline for submission is March 11.
That would seem helpful. So, what are the questions? Here's one:
What kinds of policies, if any, will you pursue to promote social and racial justice in our community?
The Chamber of Commerce is lost. Like the Salvation Army and other once-beneficial organizations, it has been hopelessly infected with left-wing rot. It cannot be saved.
Defund the Chamber of Commerce.
*****
Helen Thomas Would Be Proud
You'll never guess what journalistic beat Christiane Saddamanpour Amanpour is covering in regards to the Ukraine-Russian War.
Actually, I'm joking. You know darn well what story she's trying to find a way to tell – "Israel and those awful Jews."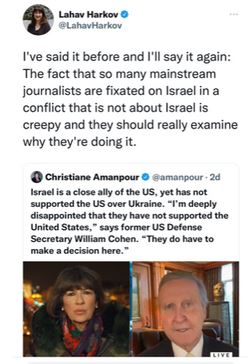 If Amanpour were reporting on a pie-baking contest at a county fair, she would still find a way to make it about Israel. You know, I'm starting to think she may have a disturbing obsession with Jews. Helen Thomas would be very proud of Christiane.
*****
Can We Tear Down The Lenin Statues Now?
Just in case you missed it, this excellent comment is from our own K.T. in her Saturday morning post "Is Putin Leaving Lenin To The West?"
With all the hostility toward things Russian lately - Russian cats, Russian salad dressing, Russian junior athletes, etc., I haven't seen any news of hostility toward statues of Lenin in the USA.
K.T.'s comment encapsulates a lot about the phoniness of the SwarmThink* we're all seeing right now. There is a lot of public posturing about Russia, but not much renouncing of the communism that Russia inflicted on so much of the world in the 20th Century. (*SwarmThink is not an original term of mine. I'm swiping it from Walter Kirn.)
*****
That's all for today's Rant. Thank you for paying a visit.
(buck.throckmorton at protonmail dot com)

posted by Buck Throckmorton at
11:00 AM
|
Access Comments