« Saturday Gardening, Puttering and Adventure Thread, March 5
|
Main
|
Weekend Hobby & Bodging Thread »
March 05, 2022
The Ace of Spades Pet Thread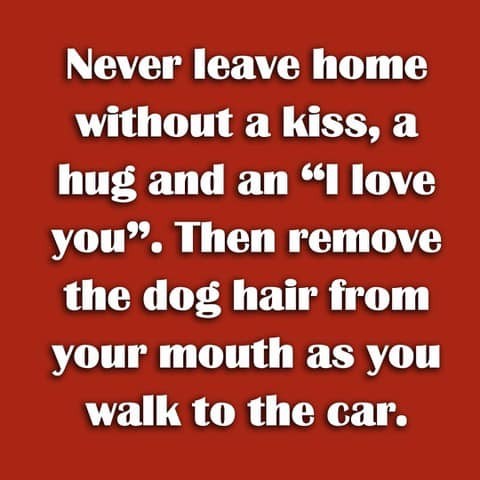 ***

Good afternoon folks and welcome to the almost world famous Ace of Spades Pet Thread. If you are a regular you know what you are supposed to do. For our new friends, kick back and relax...........And enjoy the world of pets.

***

From a Moron whose name is David.........Funny video.
Meet The PetMorons
Hey MisHum!

This is Waraiotoko. I wanted to show off our pooch on the pet thread for next weekend, if ya don't mind. Walker is a pittie coonhound mix, plus a bunch of other things that only his mother knows. I leave it to you to edit and curate which pictures of this handsome little goofball you may or may not choose to put into the pet thread. My GF is the photographer. If left up to me, these would all be pictures of half a blurry ear or a lingering fart cloud.

Thanks for all you do at the HQ! - Waraiotoko
Wow, the photos you submitted were great. Really tough to pick just one. But, I did. Such a look on Walker's face. Thank you for your kind words and a wonderful pet thread contribution.
***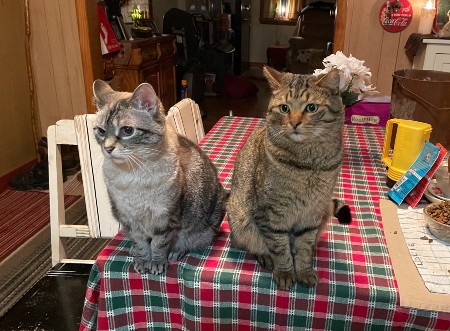 Hi Mis Hum,

Here is a pic of our two cats waiting for their morning treats. The one on the left is 13 year old Kimba. She was found along with a dead kitten beside the railroad tracks. She was pure white when found, hence the name Kimba, the white lion. On the right is Louie. He was found with a litter of abandoned kittens 2 years ago. The little girl that found him told us his name was Louie. We live in old farmhouse out in the boonies. Their job is to keep the unwanted critters away from the house. We love the pet thread.

Thanks, Eskimo
This photo proves they have you trained correctly in the art of snack distribution. Great photo and a wonderful story with a happy ending. Thanks for sharing.
***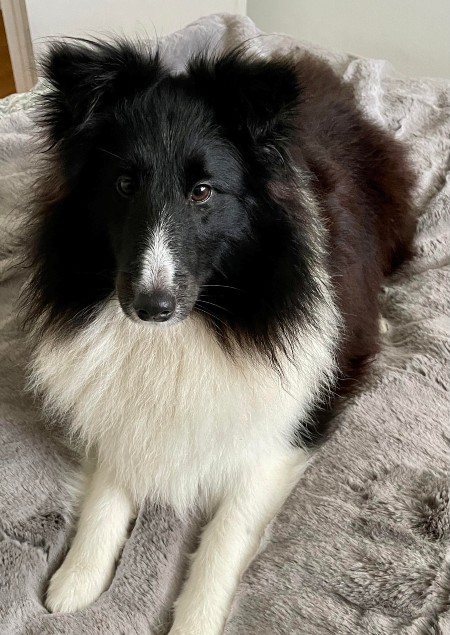 Good Morning all you Morons!

Behold the year-old Bi-Black Sheltland Sheepdog, Bella.
So beautiful it hurts, so smart it's scary. Who-lotta 20# doggeh.

Her first trick was learning how to play dead in response to my question - "would you rather be dead, or a democrat" ? Yep, she's really smart.

Our 7th rescue Sheltie.

The only salve that soothes the loss of one of these gifts from God, is bringing home a new one. Like Ben Franklin said "beer and dogs are proof God loves us."

Good news is, we'll see 'em all again at the rainbow bridge.
Let's go morons!
Sundog424
My goodness what a big heart you have rescued 7 dogs. Bella certainly is a beautiful dog and looks like she is in a wonderful home. Thank you for your contribution.
***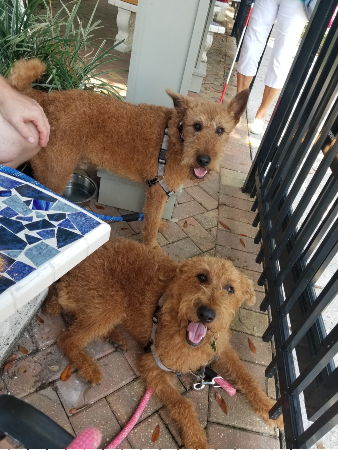 Howdy Mis. Hum.

Long time lurker. With St. Patrick's Day around the corner and my hometown of Savannah, GA being the epicenter of celebration, I wanted to include my two Irish Terriers, Rory (ears up) and Gracie (ears down).
Nicknamed the Daredevil, the Irish Terrier was originally the poor man's dog. While Irish land owners had Setters or Wolfhounds, the farmer had the Irish Terrier. They could hunt vermin, act as watchdogs and mixed well with kids and adults alike. During the First World War, the Irish Terrier was used as a courier for messages. Fightin' Irish? The original Notre Dame mascot was the Irish Terrier.
All that aside, these two are thick as thieves. Rory is the drill sergeant and head of security. He loves to play fetch, and is quite the cuddle bug. Gracie is the free spirit nature child, perfectly content to chill out on the back deck and just watch the world. Both are hell on wheels during a squirrel invasion. Thanks for The Pet Thread! It's a great get away from the rigors of the serious world.

Sincerely,
John Juan
Great looking dogs. And thank you so much for sharing a little history about this little seen breed. They sound like fun and loving pets to have in the home. Thanks again!
***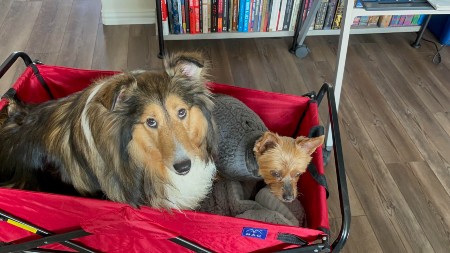 Lily and Pinky have been on the thread before, but figured I'd send an update - Lily the Sheltie has been trying to lose weight for years but we've been fighting major food allergies resulting in pyoderma, ear infections and swollen paws - because normal Sheltie shedding wasn't enough, the allergies kicked her hair loss into overdrive. We finally identified the allergens and her hair was growing back when her right kneecap decided to blow out this past Saturday - luxating patella. One emergency vet and four regular vet visits later, she's back to her normal weirdo self but just can't walk very far. The cold laser therapy she's getting is really helping and she got a sweet new wagon to boot. She has surgery in a few weeks, and by that time I'll have serious biceps hauling her around the house. Really recommend the laser therapy, I was stunned at how quickly she got back to her normal personality. Anyway, Miss Pinky is pretty apathetic to Lily's condition, as she isn't getting as much attention. Wish us luck, the surgery recovery time is eight weeks...

Thank you and always enjoy the pet thread! Lurker jerake75
Best wishes for a quick and successful recovery. 8 weeks is along time to keep an active pooch down. They look quite content in this photo. Thanks for making the Pet Thread a part of your life.
***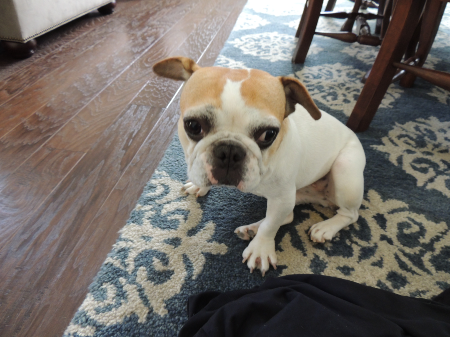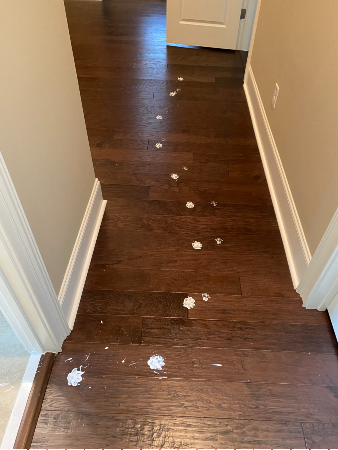 Hi – for your consideration . . . I read Ace of Spades daily and sometimes comment as Eternity Matters.

This is Daisy, our French Bulldog we had to put down a year ago due to serious health issues. She was my napping buddy through many rounds of chemotherapy. She entertained us all day long and was such a blessing. This is her, along with a picture of some "artwork" she did. My wife had a pan of paint on the floor and Daisy underestimated her long-jumping abilities. Regards,
Aren't napping buddies the best? A true dog lover of course would take photos of the art work and smile about it. So sorry to hear that Daisy is no longer with you. Thank you for your patronage here at the blog.
***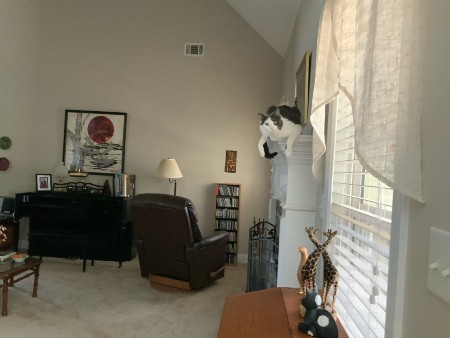 Jack at two years and 75#, with his 90# brother, Winston, whom we inherited from my niece. The night before, they were at each other's throats over a chew toy. Gotta love the Doggos. - John
Ah the joys of 2 males in the house at the same time. Good luck with the sibling rivalry in the years to come. They look like they have a rough life at your home. Thanks for sharing.
***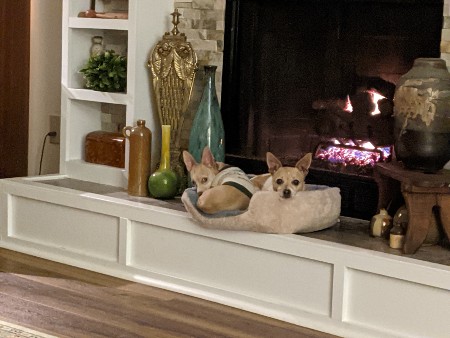 This is Cori & Flynn. They are great little lap dogs, and love to pile on whenever I'm sitting or laying down, to such a point that I never get to sit in a chair all by myself. This picture of them in front of the fireplace is an extremely rare event. Usually it's the cat who loves to lay in the pet bed and soak up the heat.That night was kismet - I had my phone nearby and they stayed put as I fumbled to get it open and ready for a shot. They are such dear hearts, glad I can share this with you. Thanks, Danabird of Lilburn.
We are certainly happy you were able to take this photo and share with us today. The only thing missing is a bottle of Puppy Bubbley. It looks like the critters have a wonderful home to reside in. Thank you.
***

The In-box was quite full this week. It looks like everyone has cabin fever and is busy taking photographs. Nothing wrong with that at all. Thank you.
If you have something you wish to submit, videos, pet photos & stories. Feel free to contact us here at petmorons at gmail dot com.
Have a great week!

posted by Misanthropic Humanitarian at
03:00 PM
|
Access Comments