« With Reports of Russia Attacking a Nuclear Reactor, Biden Sends His A-Team to Poland, and His A-Team Is...
(checks notes)
No this can't possibly be right
Kamala Harris?! AGAIN?!
|
Main
|
Northwest Missouri State University Announces "Womynx History Month" »
March 04, 2022
US SENATOR LINDSEY GRAHAM CALLS FOR THE ASSASSINATION OF NUCLEAR-ARMED DICTATOR VLADIMIR PUTIN
JJ covered this earlier, but I wanted a crack, too.

Serious people, everybody.
Let's listen to these Serious People.
Everyone gather round, we're going to listen to some Serious People now. Crowd in.
Do I want Putin assassinated?
Yes I do.
Do I hope that "Brutus" conspiracy forms among the oligarchs?
Yes I do.
That is probably our best chance of avoiding a (hopefully limited) nuclear attack on Ukraine at this point.
As Russia's war on Ukraine continues, some experts warn Russia might escalate the conflict further either in Ukraine or against the western nations supporting it, with the goal of forcing those nations to capitulate to its demands.

This strategy, former Defense Intelligence Agency officer Rebekah Koffler told Fox News, is called "escalate to de-escalate." It has roots in Russia's planning for a war against the United States, Koffler said, but similar thinking is now standard throughout Russia's military planning.

During a theoretical war with the U.S., Koffler said, Russia would strike first by "popping a low yield tactical nuke thinking that it's going to be such a psychological shock that the conflict would end."
Perversely, the better the Urkranians do on the ground, the likelier they are to get nuked.
Because Putin cannot afford to lose. Dictators are not voted out of office; they are deposed, often in a hail of bullets.
And he knows that's how dictators go out, so he's willing to do just about anything to win.
So yes, among the nasty outcomes that Brandon and the Neocon Brain Trust have handed to us with all of their usual Genius Scheming, a Plot of the Oligarchs to kill Putin would give us best and least radio-active outcome.
And I can say that without a care about protocol.
Because I'm a second-tier blogger who says "fartclam" and not a sitting representative of the United States fucking government.
I'm not so sure it's a smart idea for a US Senator to start calling for the murder of a Russian president, though.
Could have some ramifications.
I'm not even sure why Lindsey Graham, aka Thunderlips, The Ultimate Male, even thinks he had to say this. Literally every single person on the face of the earth has thought, "Gee, sure seems it would be a pretty neat outcome for everyone if Putin just sort of died, huh?"
Literally zero people have not thought that.
(To be honest I think that about the Door Dash guy who delivers my food to the house three doors down and makes me fucking put my shoes on and walk. So maybe I'm the wrong N=1 sample for this.)

But neocons always have to show off how tough they are, especially bloated, sweaty, obviously High-T alpha male like Lindsey Graham.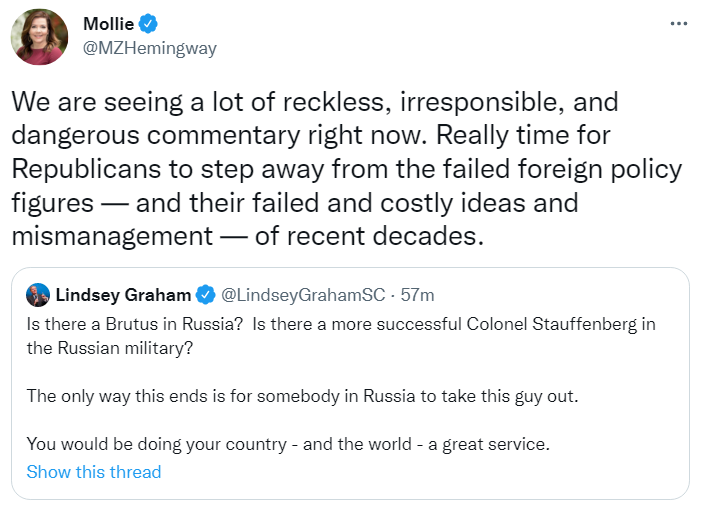 This is what I mean by the "Snarling Braindead Maximalist Bellicosity" of the neocons. They are never not in Snarling Braindead Maximalist Bellicosity mode.
We've got so many Tough Guys among the Top Men of the Neocon Brass.
It's just so unbelievable with these sky-high levels of testosterone we lose every fucking war they get us into, huh?
I'm so fucking sick of it. Five failed fucking wars. They'd trip over their own dicks if they weren't so meek and shriveled.
Who the FUCK do they think this Effeminate Fatguy Softbelly Macho posturing still sells to?
Oh-- and by the way, Graham of course called for the assassination of the psychologically-disturbed (supposedly, according to our propaganda, anyway) leader of a nuclear armed country on Twitter.
But dum-dum radio clown Sean Hannity called for the US to assassinate Putin (ooh, that's even spicier than calling for Russian oligarchs to do it!), right after Hannity the Master Strategist floated the idea that NATO could bomb Russian convoys and then just all put their fingers to their noses and say "Not Me!"
But you know, Sean Hannity's a talk radio dum-dum.
Lindsey Graham is a Senator. Theoretically, we are supposed to pretend to believe that we think he knows better.
But I guess Lindsey Graham was jealous of the Tough Guy admiration his butt buddy was getting. And maybe he was drunk and just wanted to show off for his Twitter hook-ups.
And maybe he thought that openly announcing the Letter of Marque on Vladimir Putin's life on Twitter makes it all the more serious.
Hey everybody!
Is everyone enjoying your Serious Discourse?
Is everyone enjoying your Nice Tweets?
Hey Lindsey, why don't you stuff that blown-out gray tubesock you call a fartclam and shut the fuck up for once?

Are there any patriotic Mark Antonys in America who can open the oppo research files on Linsdsey Graham and finally expose the miles of kompromat that Russia and every other intelligence service (and the Democrats, and the media) has on this leftwing mole?
What would we do if all the Serous People all fell down a well and we never heard their Serious Thoughts and Serious Words ever again?
I dunno, but I'd sure like the chance to find out.

"Tubesock" line stolen from Bad Words.