« Mid-Morning Art Thread
|
Main
|
With Reports of Russia Attacking a Nuclear Reactor, Biden Sends His A-Team to Poland, and His A-Team Is...
(checks notes)
No this can't possibly be right
Kamala Harris?! AGAIN?! »
March 04, 2022
The Morning Rant – Friday 03/04/2022
JOURNALISTS ATTEMPT FOREIGN PRONUNCIATIONS: KEEV, CUTTER, AND NEE-KUH-DAAG-WUH
Other than being adamant that no US blood should be spilled in Ukraine, I have little to say about that conflict, because I do not understand the geo-politics of the region. (Neither do the tens of millions of foreign policy experts on Facebook and Twitter.) I pray for all the innocents in harm's way, and I'll be thrilled if this results in Putin's political demise. I have special enmity for Putin because he funds what I perceive to be the greatest threat to my liberty, specifically, radical environmental groups who seek to impose energy scarcity on America.
That said, can I take a moment to chuckle about our pretentious media suddenly adopting a new pronunciation for Kiev, excuse me, "Kyiv," which is how the city is spelled in Ukrainian, except not really, because the actual Ukrainian spelling uses the cyrillic alphabet, and looks something like "Київ."
Anyhow, our sophisticated, cosmopolitan journalists are all now saying "Keev" rather than "Key-Ev." Being a Google-trained scholar of Slavic languages, I just researched how Kyiv is actually pronounced in Ukrainian. Apparently, it's supposed to be more like "Key-EVE." Oh well, at least our television journalists are trying.
Do you remember a few years back during one of our many Middle Eastern wars, when journalists in near-unison discovered a new pronunciation for Qatar? It actually evolved over a few short weeks from "kah-TAR" to "KOTT-ur" to "Gutter" to "Cutter." With so many options, I choose to pronounce it the same way Horshack pronounces Mr. Kotter's last name.
But my all-time favorite episode of "journalists attempt a foreign pronunciation" was when Nicaragua was in the news due to President Reagan funneling arms to its anti-communist guerrillas. (Imagine that, we armed the good guys rather than actually fighting their battles for them.) The very cosmopolitan journalists of that era opened up their "Spanish For Dummies" book, and suddenly started pronouncing Nicaragua as "NEE-kuh-DAAG-wuh."
I just hope there isn't a war in Mexico any time soon. I'm not sure my ears can handle all the TV news readers suddenly sounding like Peggy Hill when talking about "MEH-Hee-coe."
*****
JOURNALISTS vs STATISTICS
Speaking of journalists who aren't very bright…
Ace had a little fun yesterday mocking the "fact checkers" at Politifact, who ruled Maria Bartiromo's claim that "We have doubled our (oil) imports from Russia in the last year" to be "Mostly False."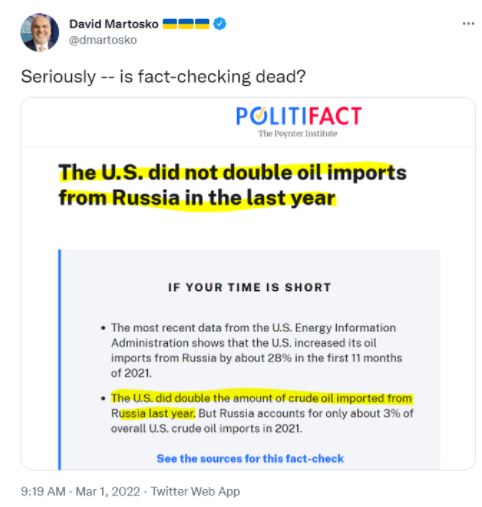 As Ace noted, Politifact acknowledges that crude oil imports have technically more than doubled.
The U.S. more than doubled its crude oil imports from Russia, to about 208,000 barrels a day in the first 11 months of 2021, from 76,000 barrels a day in 2020.
Politifact's awful fact-check goes beyond silly partisanship. This article sounds like it was written by someone who does not even have an elementary understanding of math and statistics.
"But Bartiromo's broader point was about the extent of U.S. reliance on Russian oil, which remains fairly modest. Russia accounted for only about 3% of overall U.S. crude oil imports in 2021 — a 2 percentage point increase from 2020."
In a battle between statistics and prominent journalists, the journalists don't stand a chance. It's actually kind of funny that we have elite "fact checkers" who think "doubled" is just a euphemism for "a really big amount," and since Politifact determined that the increase in crude oil imports was not really big, they ruled that "doubled" is therefore a "mostly false" description.
It's also quite scary that most of our political class, including NeverTrump faux-conservatives, holds such excruciatingly ignorant journalists like this in high regard.
*****
That's it for today. How 'bout we end today's time together with a little bit of Peggy Hill's confidently incorrect Spanish?
(buck.throckmorton at protonmail dot com)


posted by Buck Throckmorton at
11:00 AM
|
Access Comments