« The State of the Union is...
|
Main
|
Rising Joy: Joy Behar Falls, Face-Plants on the Set of "The View"
Video Added »
March 03, 2022
Vicious Repeat Offender Attacks Jewish Man, Screaming Antisemitic Slurs At Him, Then Smears His Own Feces In the Face of a Woman For Not Talking to Him; Released Within Hours With No Bail Needed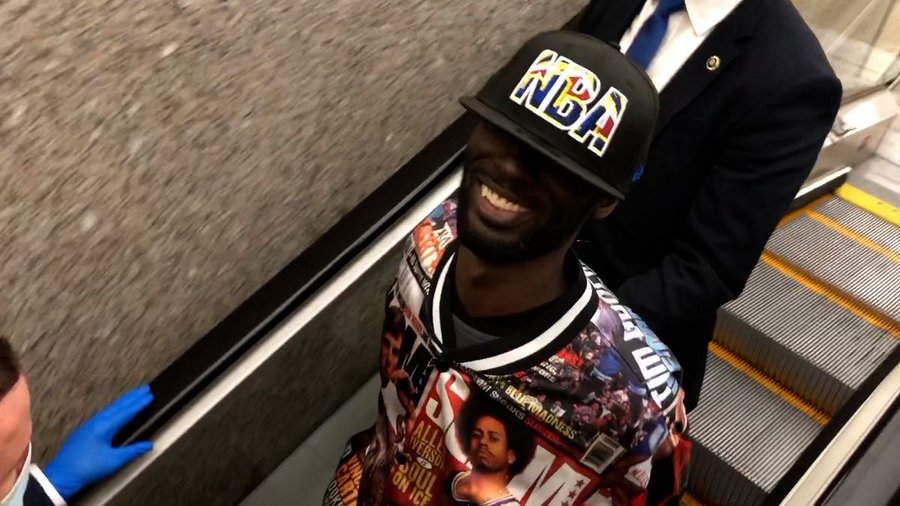 This isn't even really the Soros DA Alvin Bragg's handiwork. This is the law as New York voters want it.
He grinned and said "Shit happens" as he left court.
After smearing his shit in an innocent woman's face.
The sicko who allegedly smashed his own feces in a Bronx straphanger's face joked with cops that "s--t happens" before sneering to a Bronx judge, "F--k you, bitch."

Frank Abrokwa, 37, was busted Monday at his homeless shelter in connection to the revolting Feb. 21 attack, according to cops and police sources.

Upon arrest, he made light of the attack, quipping to cops, "S--t happens. Haha. This is a s--tty situation. Haha," Bronx Assistant District Attorney Grace Phillips said during Abrokwa's arraignment late Tuesday.

Abrokwa -- apparently impatient because Brooklyn detectives showed up to arrest him for an unrelated hate crime from September -- also made a scene in Bronx Criminal Court.
By the way, he's not mentally ill -- another report describes him as "perfectly lucid."
He's just a man who's realized there literally are no boundaries, and he can do whatever he likes without consequence.
And the state will, I'm sure, keep paying him his welfare and disability and providing him with his homeless hotel and state crack smoking facility.
Phillips requested an order of protection for the 43-year-old feces victim -- prompting an outburst from Abrokwa, who told the judge, "I don't know that b--h," referring to the victim.

...

He then lashed out at the judge, lamenting, "Why am I being mistreated by the system?"

"I'm being respectful. I'm talking to my attorney," he snapped at the jurist. "You're talking to her. Not to me. F--k you, bitch."

...

Horrifying video of the attack shows Abrokwa allegedly slapping a bag filled with his own crap in the victim's face -- and then rubbing it on the back of her head -- as she sat on a bench at the Wakefield-241st Street subway station.

Just before the attack, Abrokwa approached the victim and said, "Hey mami, how come you don't want to talk to me?," Phillips said.

A month ago, he threatened to murder an elderly Jewish man.
He'd already racked up a long record:
A criminal mischief bust in a Brooklyn LIRR station. A man sucker-punched in the Port Authority Bus Terminal in Midtown. A Bronx hardware store owner threatened with a screwdriver taken off his store's rack. Another victim punched in the face multiple times on a Harlem subway platform.

After each of these arrests he walked out of court without bail.
He has over ten charges.

Abrokwa was indeed turned over after the hearing to Brooklyn detectives for the unprovoked attack on a 46-year-old Jewish man. According to cops, he called the man a "f---ing Jew," then spat at his target before taking a swing at him.

This article discusses that attack more.
"He singled me out because he noticed I'm Jewish," said Minkowitz. "It's not even like I said something to him. I was minding my business and looking at my phone. Everything happened so quick. ... A person comes up and spits on me. I said, 'What the f--k is wrong with you?' And he said, 'F---ing Jew.'

"I got spit on for being a Jew. Just because I'm wearing a yarmulke, I should be treated like this?"

Minkowitz, his shirt covered in spit, recalled dropping his coffee as he fled the assailant. Police said the suspect announced "I'm going to kill you!" before taking a swing at the Brooklyn man.

The victim said he remains shaken by the anti-Semitic incident just a block from his office.

"You just can't forget something like this," said Minkowitz. "It was disgusting, like a big glob of spit. We both picked up our hands as if we were going to fight but it wasn't a fair fight. He was much bigger than me."


He recalled the younger attacker raising his fists in a boxer's stance before the confrontation ended.

"They made it a lawless city," said Minkowitz. "There's no law in this city. I'm glad he's caught. I feel terrible for that woman. I'm very disappointed with how the city is handling these situations."
Although the prosecutors, supposedly, argued for bail, the judge denied the request.
They really couldn't have charged him with a felony? For attacking a woman with shit? There's nothing on the books about assault with a "noxious substance"?
While Abrokwa faced misdemeanors typically not eligible for bail under the state's recent bail reform laws, the prosecutor tried to convince the judge he should he held on $5,000 cash or $15,000 bond, arguing the attack was part of a pattern of behavior.

But Licitra said since she didn't have video or victim depositions to review in his other recent arrests -- two in Manhattan, one in the Bronx -- she didn't have a legally sufficient reason to order him held.

Abrokwa was charged with misdemeanor assault with intent to cause serious injury, as well as other misdemeanors and violations, for the grotesque subway ambush. The Bronx Defenders, which is representing Abrokwa, declined comment.
So he walks again.
And he'll never even go to trial for these misdemeanors, just like he's not gone to trial for the previous ones.
Here's an idea: When you have a monster like this, you mobilize the DA's office and you stage a trial immediately. You have the witness right there. You have the videotape. You have the criminal in custody.
Empanel a jury and go.
If you can't get bail, then just go to trial. Bang. Go.
How much prep do you have to do when this monster is on video smearing shit in a woman's face?

posted by Ace at
02:40 PM
|
Access Comments