« Should Ukraine own Russia?
|
Main
|
Ace of Spades Pet Thread »
February 26, 2022
Saturday Gardening, Puttering and Outdoor Adventure Thread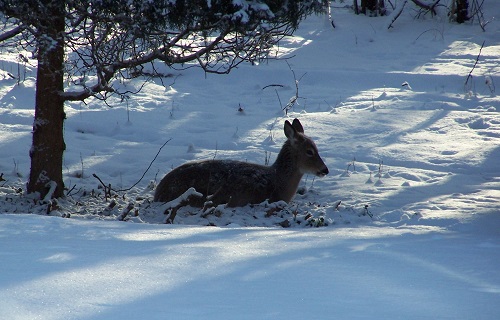 I forgot to send this picture from Valentine's Day. A few of the local herd bedded down in the back yard early one morning. We've trimmed up the evergreen (arborvitaes and firs) because the deer have eaten the greenery off the bottoms. Now they have a protected place to contemplate the world. Obviously we don't grow much in these parts at this time of year.

Keep up the great work on the gardening thread. It's always a good read.

Regards,
George V
Well, you grow what you can grow. A lovely photo.
Below, a very special wildlife video:

I've got another slomo video of birds around our feeders made up of clips I recorded here in the great white north since last summer.

Your previous Gardening & Puttering thread included photos of a red bellied woodpecker. I'm not sure why that's their name, I don't see any red on the belly. It must be that "red headed woodpecker" was already taken. I'd never seen them until about 3 years ago. Now they are with us year round, I assume because our wild critter food budget probably exceeds our grocery bill. As you can see in the video, their job is boss of the feeders. Also appearing is a baltimore oriole trying to figure out how to get sugar water out of a hummingbird feeder.

As always thanks for doing this, always interesting & informative.

PointyHairedBoss
Too great to describe.
Edible Gardening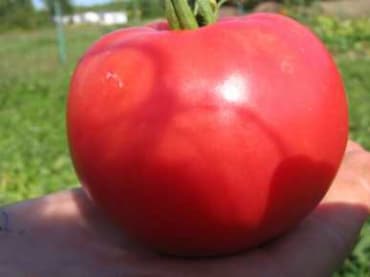 Rose de Berne, grown with compost
(not in a compost cage)
This tomato is known at "The Brandywine of Europe", though it is smaller. Probably easier to grow.
The tomato above was grown by The Famous Pat*, who also gave us some pointers on making compost at the end of 2020. There's still time.
Speaking of European tomatoes, I have grown some 'Cosmonaut Volkov' tomatoes from their seed that were so good they made your eyes roll back in your head. Didn't last all season in our heat, though. They were named after a cosmonaut who died upon landing, by his friend, a Ukrainian horticulturist during the Soviet era, who chose the variety from thousands of possibilities.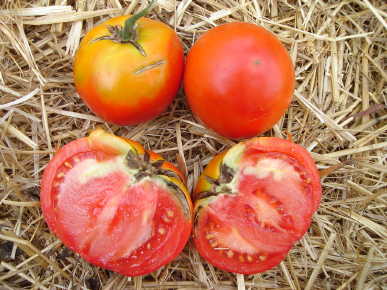 Last week, we had some discussion about bletting medlars. Today, we are fortunate to have some medlar photos from Grimmy:
It's from last fall, and I took the pictures to send in, but never did! The row of trees is mostly quince and medlar, which I planted after seeing them so frequently during my deployments to the Balkans. The medlar fruits are small and rock hard at first...you have to let them freeze and thaw a few times to better (rot?) so they're soft enough to eat. One of my Kosovar counterparts had a tree with fruit on it when I visited his place in January. They were shriveled looking and brown, but you just picked them off the tree, bit through the skin a little, and sucked out the inside. Very weird. Thick, sticky, and kind of like cinnamon applesauce mixed with a fig newton.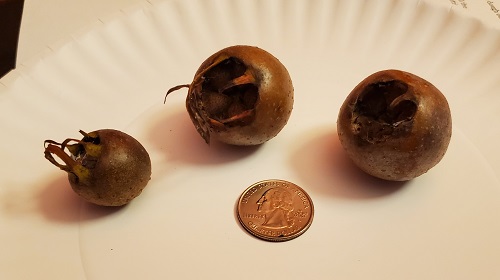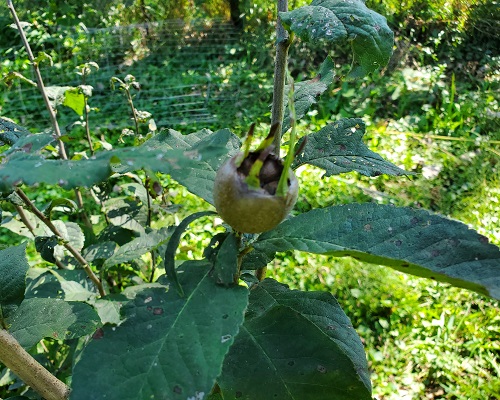 Hi KT,

You asked in the garden thread about anyone growing celery. I did plant some from seed "Utah" celery, but I am still waiting for that to sprout. I did try using an organic celery from the store that I cut the stalks off and re-planted the end. In less than 10 days, before I had even used half of the celery, this came up. I planted the whole thing about 2 inches below the soil and made sure it was in pretty moist soil the whole time. So far a success. I will keep you updated on the experiment.

Also a picture of my latest fermented hot sauce that I made with the hot lemon peppers and the chiltepins. It is pretty hot but delicious. I also used some of my home grown lemons and some of my dill to make some lemon dill sauerkraut. I can't wait to try it but it won't be done until Saturday. I will let you know how it turns out. We got about 3/4 ths of an inch of rain yesterday so the garden is happy, It is in the mid thirties so pretty chilly for us but hoping nothing will freeze.

Wee Kreek Farm Girl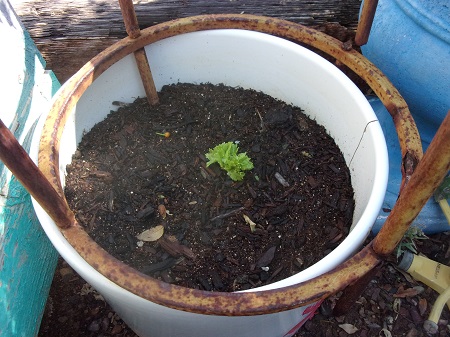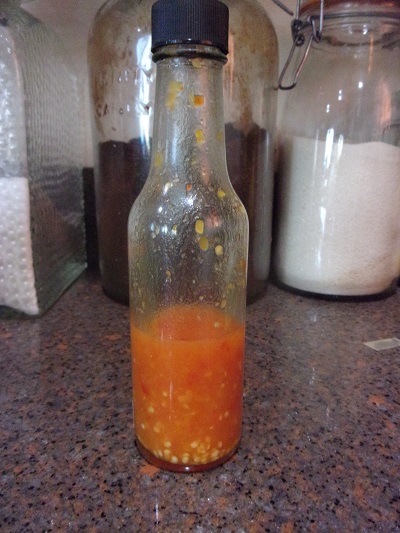 Chiltepin hot sauce . . . .
Gardens of The Horde
I mostly lurk on the gardening thread but a reference you made last week encouraged me to send you this picture of the determined daffodils in my back yard. They have seemingly been in the same spot for more than a decade, and reappear without fail during February or March, as my harbinger of Spring. They produce a lovely stand of daffodils for a month or two during the March/April timeframe, then turn into flowerless stalks for another month or two before disappearing. Every summer and fall, I mow and walk over their spot, thinking I will never see another daffodil.

And then, in February, they pop up and say here we are again, and Spring is just around the corner!

Thanks for all the work you have done, and continue to do, for the blog. It is a special place for many of us and your hard work is appreciated by many regulars and lurkers. I just hope the Ace dental plan is as good as I have heard it is!

Hrothgar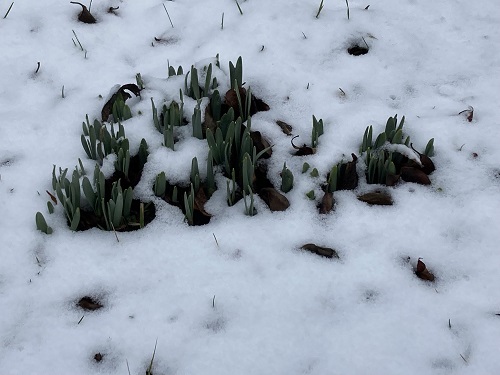 Thanks!
Your photo reminded me of this: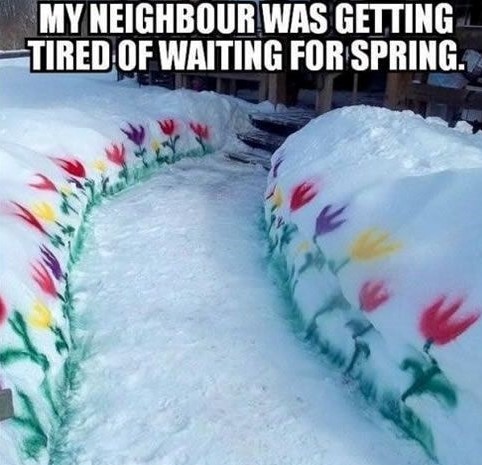 More Springwatch:
I had a spring preview this past week (75F on Wed!) before getting back to the cold pattern that is continuing into March. I was able to dig up my arbor vitae stump with a lot less trouble than I expected. No wonder it started to fall over from the Jan snow - that is kind of a puny rootball for a tree that was almost 15 ft tall.

The warm temps jump started the early spring bloomers. My witch hazel
was in full bloom by Friday. The small bush at the far right is a
butterfly bush I planted in the spot where that arbor vitae was. I
ended up moving it there because it was planted too close to my porch's
down spout & didn't like the wet soil. Its rootball was more like a
root-saucer. I'll plant the new buttonbush by my porch because they
actually like wet soil. Its flowers are fragrant, which will be a bonus
when I'm on my screen porch watching for hummingbirds & butterflies.

All my hellebores are coming into full bloom too, so I cut off their
last year's foliage. They'll bloom for at least a month & the flowers
will gradually fade to green. It won't be too long before my early
daffodils are blooming, but thanks to the continuing cold pattern their
flower stalks are going to be short this year.

badgerwx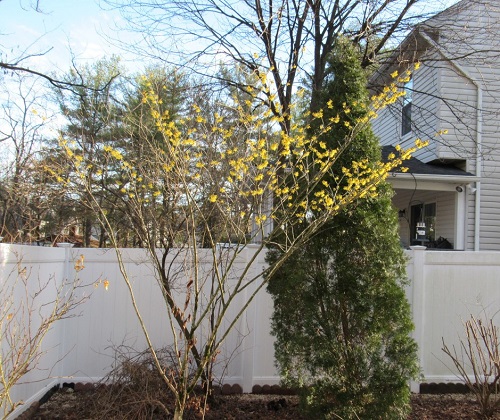 Witch hazel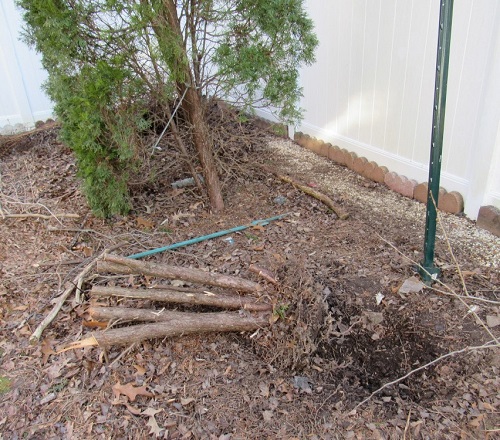 Tree stump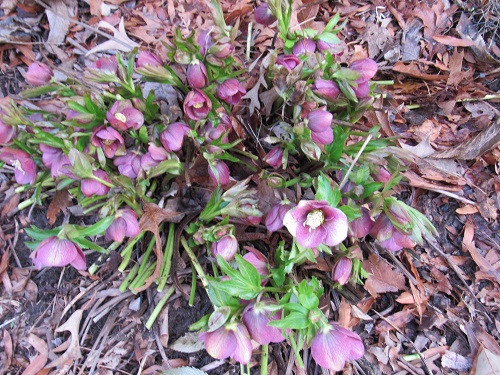 Hellebore
If you would like to send information and/or photos for the Saturday Gardening Thread, the address is:
ktinthegarden
at that g mail dot com place
Include the nic by which you wish to be known when you comment at AoSHQ,
unless you want to remain a lurker.

posted by K.T. at
01:25 PM
|
Access Comments