« Putin Invades Ukraine Just One Month After Biden Gave Him Permission to Mount a "Minor Incursion" Into That Country
|
Main
|
In California, Men Calling Themselves "Non-Binary" Were Permitted to Sleep in the Cabins of Underage Female Students on a Camping Trip »
February 22, 2022
Emerson Poll: Majority Now Intend to Vote for GOP in Congress; GOP Leads Dems, 50-41, on Congressional Ballot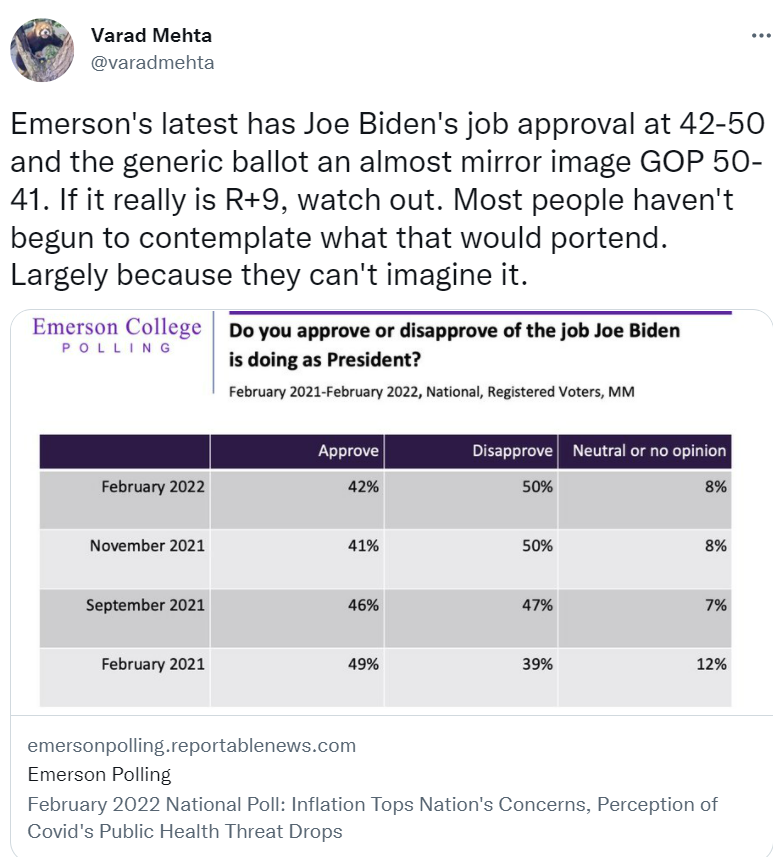 A friend darkly jokes, "Imagine the GOP f*cking us over with 260-290 seats? It'll be glorious."
Imagine the fundraising emails: "Please send us $100. If we just get a 170 vote majority, we will finally be able to begin working on some of those things we've been promising since 1976." So hot.
Biden's job approval is at 42% approval, 50% disapprove. 8% aren't sure, which is the Classic Biden Voting Bloc, isn't it?
Hispanic voters are most critical of Biden's job performance: only 35% approve while 56% disapprove. White voters are more favorable of Biden's job performance: 41% approve and 51% disapprove. Black voters are the most favorable of Biden's job performance: 66% approve while 28% disapprove.

Within the Democratic party, 73% approve of the job Biden is doing as president while 19% disapprove. Among Republicans, the majority (71%) disapprove while 22% approve. Independents also generally disapprove of Biden's job, at 27% approve and 63% disapprove.

Inflation is seen as the most important issue facing the country among a plurality (24%) of voters. Covid-19 follows with 20%, closely followed by healthcare with 16%, and immigration with 11%. Education and jobs were the top issue for 6% of voters, respectively, and taxes and foreign affairs with 3% apiece. Twelve percent (12%) report "something else;" and when these voters specified their top issue, the most common responses included climate change, crime, and income inequality.
Inflation is especially a problem for Democrats with Hispanics:
The top issue for Hispanic voters is inflation (33%) followed by healthcare (20%)
It's not as bad with white voters, who, as always, have that Karen Kontingent goosing the Democrat numbers.
Intensity favors the GOP, too:
The majority (73%) of registered voters report being very motivated to vote in the 2022 midterm elections. Republican voters express higher levels of motivation to vote than Democrats: 79% say they are very motivated to vote compared to 65% of Democratic voters. Younger voters are less motivated to vote: 57% of voters between the ages 18-29 say they are very motivated to vote, compared to 84% of voters over 50 who say they are very motivated to vote.
Finally, Biden Regret is increasing:
In a hypothetical 2024 match up, former President Donald Trump is at 48% and President Biden is at 44%: a two point change from November where Trump was ahead 45% to 43%. Both poll results are within the polls margin of error.

posted by Ace at
01:18 PM
|
Access Comments