« RIP P.J. O'Rourke
|
Main
|
Baby Elephant Threat Display Cafe »
February 15, 2022
Quick Hits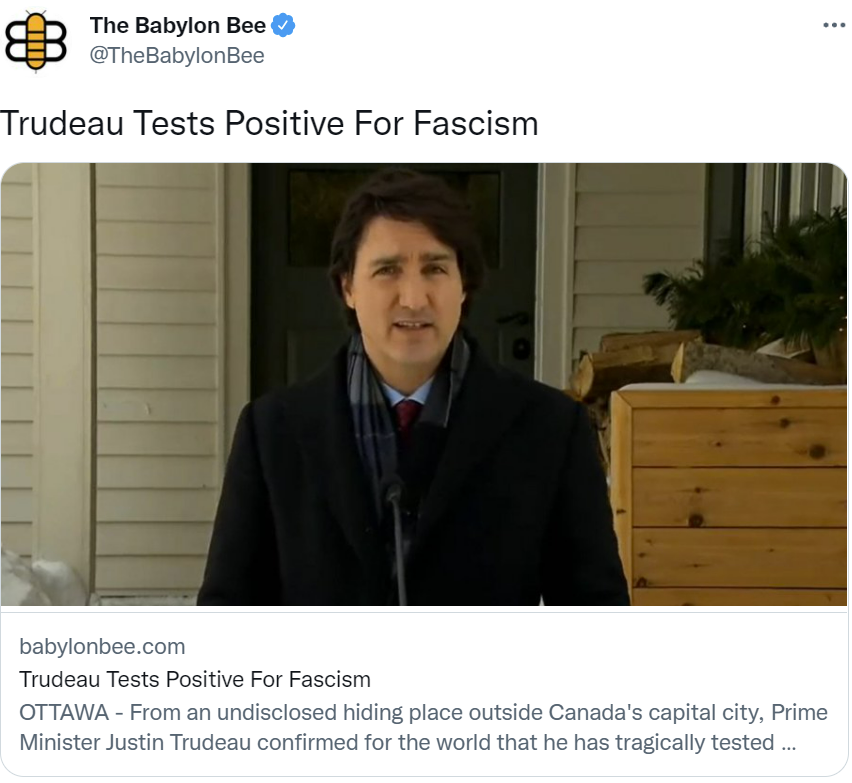 State media admits it's intimidating doxed people:
Graham Richardson @grahamctv

Have spent the last two days calling local people who have donated to the trucker convoy. Including a former MP, several business owners, health care professionals and a property developer. Trying to understand why they support this. Very few calls back #ottnews #OccupiedOttawa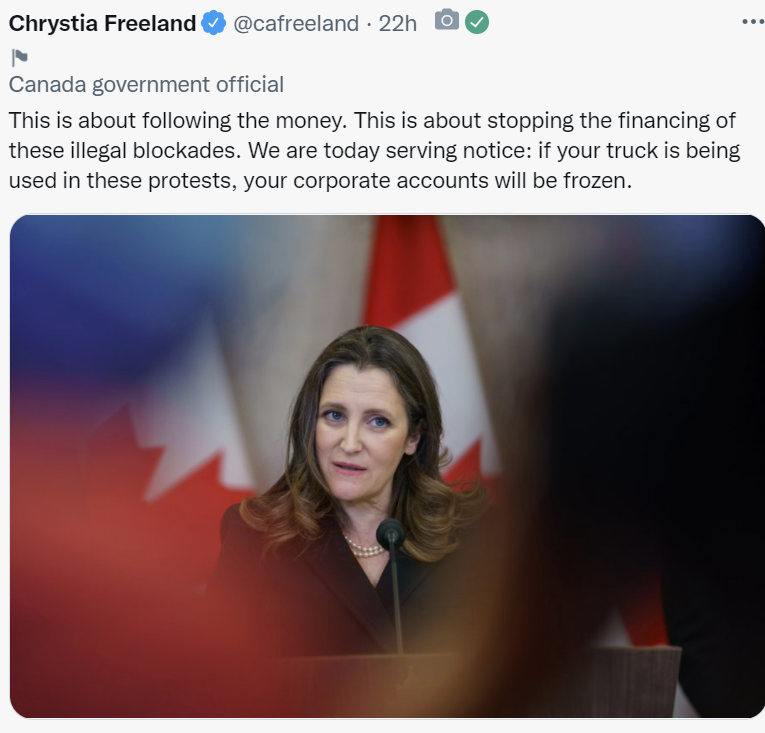 Update: Ottawa Premier Doug Ford blows up Justin Castreau's rational for mandating vaccines and masks: They don't stop transmission at all, so why are we stealing people's freedom of choice?
Thanks to artisanal 'ette.
Gun manufacturer Remington has settled with the families of Sandy Hook for $73 million, essentially putting a bounty on all other gun manufacturers and endangering the Second Amendment.
Remington, a gun manufacturer that designed the rifle Sandy Hook Elementary School shooter Adam Lanza used to kill 26 victims in Connecticut in 2012, has agreed to pay a $73 million settlement to victims' families.

The now-bankrupt gun maker, which had initially offered families a $33 million settlement in July, also agreed to allow families to release documents they had obtained over the course of their lawsuit against Remington showing how the manufacturer marketed the AR-15-style rifle on Dec. 14, 2012.
Anytime someone is shot, the victim or his family will sue the gun's manufacturer looking for a payout.
A New York City jury has refused to find a leftwing political organization liable for the deliberate harm it inflicted a conservative icon:
News: JURY FINDS NEW YORK TIMES NOT LIABLE IN PALIN V NYT & JAMES BENNET

Unanimous verdict of all nine jurors polled.

-- David Folkenflik (@davidfolkenflik) February 15, 2022
How long can we allow ourselves to be tried in NY and DC courts? Or attempting to prosecute Democrats in NYC and DC courts?
The left is so monolithically clannish they've made themselves un-prosecutable or un-suable in their home courts. And when a conservative appears before their kangaroo courts -- get ready to go to prison for four years for "parading."
Can we allow this to continue?
We need a right of removal to less partisan jurisdictions in cases involving a strong political charge. The ability of the left to put politics out of their minds and judge cases on the facts can not be assumed; in fact, a major claim of the left is that to judge cases on their individual merits, rather than on their social implications, is racist.
That's what "Social Justice" means-- not individual justice involving individual persons, but social justice for groups in society.
We are beyond the point at which we can pretend that leftists are capable of acting as dispassionate citizens. They cannot, and in fact they hew to an ideology that claims that meting out justice dispassionately is racism itself.
Gay/Trans Groomers are all complaining that the "Don't Say Gay" law prevents us from having honest discussion with your children about their sexual preferences and privileges.
Also, by the way, they're bragging about facilitating the students they're teaching "transitioning" to another gender behind parents' back.
Scott Walker @ScottWalker

Wake up call for parents. So many in the educational bureaucracy believe children belong to them. They don't.

This is why parents deserve to know what is going on in the classroom and at school.
But the Gay and Trans Groomers are claiming they have a First Amendment right to groom other people's children (!!!!).
And then they claim, when stuff like this happens, it was all just "a mistake."
Eighth-grade students at John F. Kennedy Middle School in Enfield, Connecticut were given an assignment that combined a popular food item and sex acts. After the school received exactly the kind of response that would be expected, it now says the assignment was "a mistake." Ya think?

An assignment appeared on the Enfield School District website that brought complaints of inappropriate behavior from parents. The eighth-graders were instructed to list their favorite pizza toppings and use those as a metaphor for their favorite sexual acts. Eighth graders are usually 13 and 14 years old. They aren't so young that sex isn't of interest to most of them but since when is that any business of their teachers? These young teens were asked about their favorite sexual acts. We had sex education back in my school days, in a private Catholic high school, a long time ago. But I can assure you that the instructor did not ask us personal questions about preferences or even assume that any of us were sexually active. This school assignment assumes that the students are sexually active at the ages of thirteen and fourteen.

Before you think that maybe the teachers were asking about kissing or something relatively innocent, don't. For example, olives were suggested as a metaphor for oral sex. Kids that don't like pizza or sex were told to just draw something else for the assignment.

'We can use pizza as a metaphor for sex,' the assignment says, explaining: 'When you order pizza with your friends, everyone checks in about each other's preferences, right?... The same goes with sex.'

It then provides the children with a section to list their favorite pizza toppings and their favorite sex acts, saying: 'Here are some examples: Likes: Cheese = kissing, dislikes: Olives = Giving oral.'

Once the metaphor was complete, the eighth-graders were also asked to 'draw and color your favorite type of pizza. What's your favorite style of pizza? Your favorite toppings? What are your pizza no-nos? Now mirror these preferences in relation to sex.'

And 'for those of y'all who don't like pizza or sex at all, feel free to draw out another food favorite, or include non-sexual activities.'

These are the same people who scream that anyone who pushes PizzaGate claims, with weird systems of codes using food items as codewords for sex acts, are deranged and should be prosecuted.
And yet here they are, basically making #PizzaGate real.
We need Anti-Grooming Legislation for teachers and social workers and all Democrat government workers in all fifty states and the federal government.
NeverTrump's Restorer of Norms:

posted by Ace at
06:35 PM
|
Access Comments