« Fact: FaceBook's Hired Idiot "Fact" Checkers Don't Check Facts.
They Check Narratives. And They Slap "False" Labels On Stories Which Are True But Which They Don't Like.
|
Main
|
Miracle Moose Cafe »
February 08, 2022
Quick Hits
The ACLU -- the American Civil Rights Union, supposedly -- is challenging Youngkin's optional masking order which... gives the right to choose masking, or choose not to mask, to Virginia citizens.
Or, as the Washington Post dysphemizes it (the opposite of euphemizes): "mandates choice."
Imposes freedom!
The ACLU is now against the imposition of burdensome freedom and dangerous rights.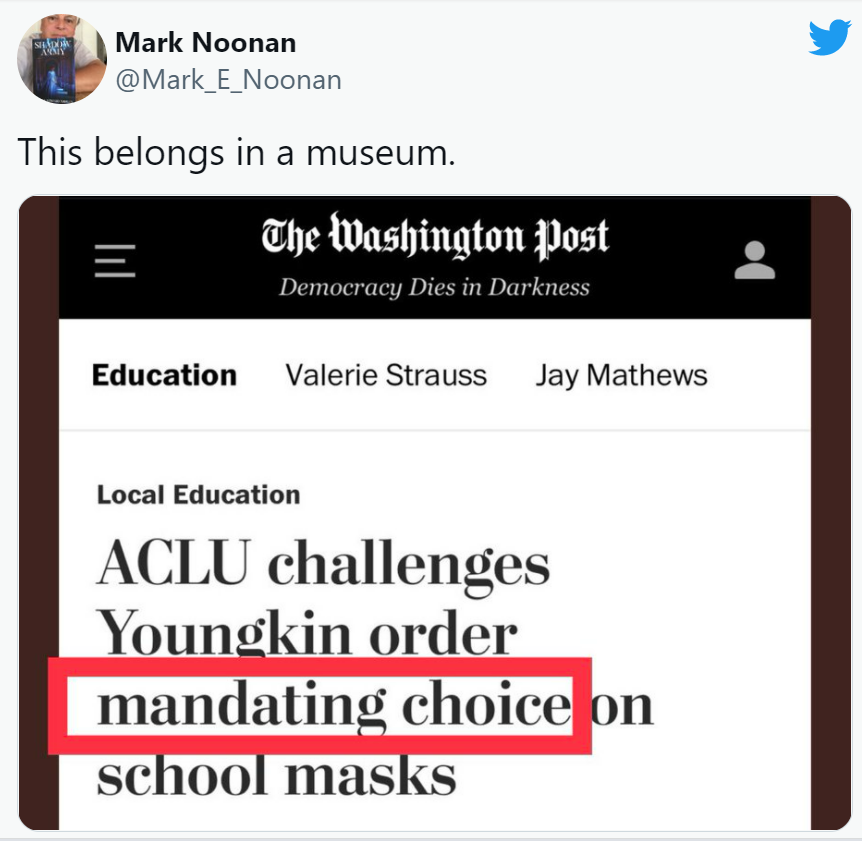 For those keeping track, the ACLU is now fighting on behalf of schools -- government bodies -- to take away the rights of citizen parents and citizen students.
I mentioned that one Democrat Virginia Democrat Senator who said he'd vote with the Republicans to end the mask mandate if schools did not stop the nonsense.
I undersold it.
This guy is amazing and I don't know what he's doing in the Democrat Party.
Luke Rosiak:
A Virginia Democrat state senator had his "Joe Manchin moment" when, in a fiery letter to the Fairfax County Public Schools superintendent, he responded to the district's doubling down on what he called "Forced Masking of Children" by vowing to pass a law prohibiting it "in the coming days."

"It has become hard, if not impossible, to find a respected medical researcher who still defends Forced Masking of Children as a public safety measure," Sen. Chap Petersen wrote Monday. Petersen, a moderate Democrat from Fairfax City, serves in a state senate where Democrats have such a thin majority that, when he votes with Republicans, Republicans can pass legislation.

"The decision to wear a mask in public -- when there is so little correlation with public health -- makes it de facto a political decision. In other words, by wearing a mask in a public setting, the wearer is able to communicate a political message, e.g. "I Care About Others" or "I voted for Biden" ... You are forcing children to make a political statement that they (and their parents) may not believe. That violates the First Amendment," he wrote.

It was a remarkable example of an elected Democrat politician calling out a nominally nonpartisan schools chief for being more partisan than he is -- so partisan, in fact, that the superintendent was willing to implement what Petersen described as "inhumane" policies in service of political virtue signaling.
I took it out.
-- You took what out?
It.
-- It?
It.
-- Out?
Out.
-- You took it out?!
I took it out.

New York Governess and Always Unmasked Sextugenarian Kathy Hochul has extended the masking mandate for New York schools. The ACLU will not be challenging this executive order, because the ACLU is all about government power now.

Additional photos of huge ugly sack of comorbidities and Certified Professional Mooseknuckle Wrangler Stacy Abrams' visit to that mask mandate school were leaked to Clay Travis, and they show her unmasked, even when all the adults in the room are unmasked. I don't think she can use the excuse that she was "just holding her breath" for two or three hours. I somehow doubt she has the cardio fitness for that kind of feat.
A "fact" checker says that Joe Rogan shouldn't be allowed to speak because he doesn't have an independent board of review fact checking his statements before he says them.
When he's asked who fact checks his statements about science -- he's a non-scientist, of course; they all are -- before he blabbers them out on Twitter, he says... "I do."
I fact check myself.
I love it.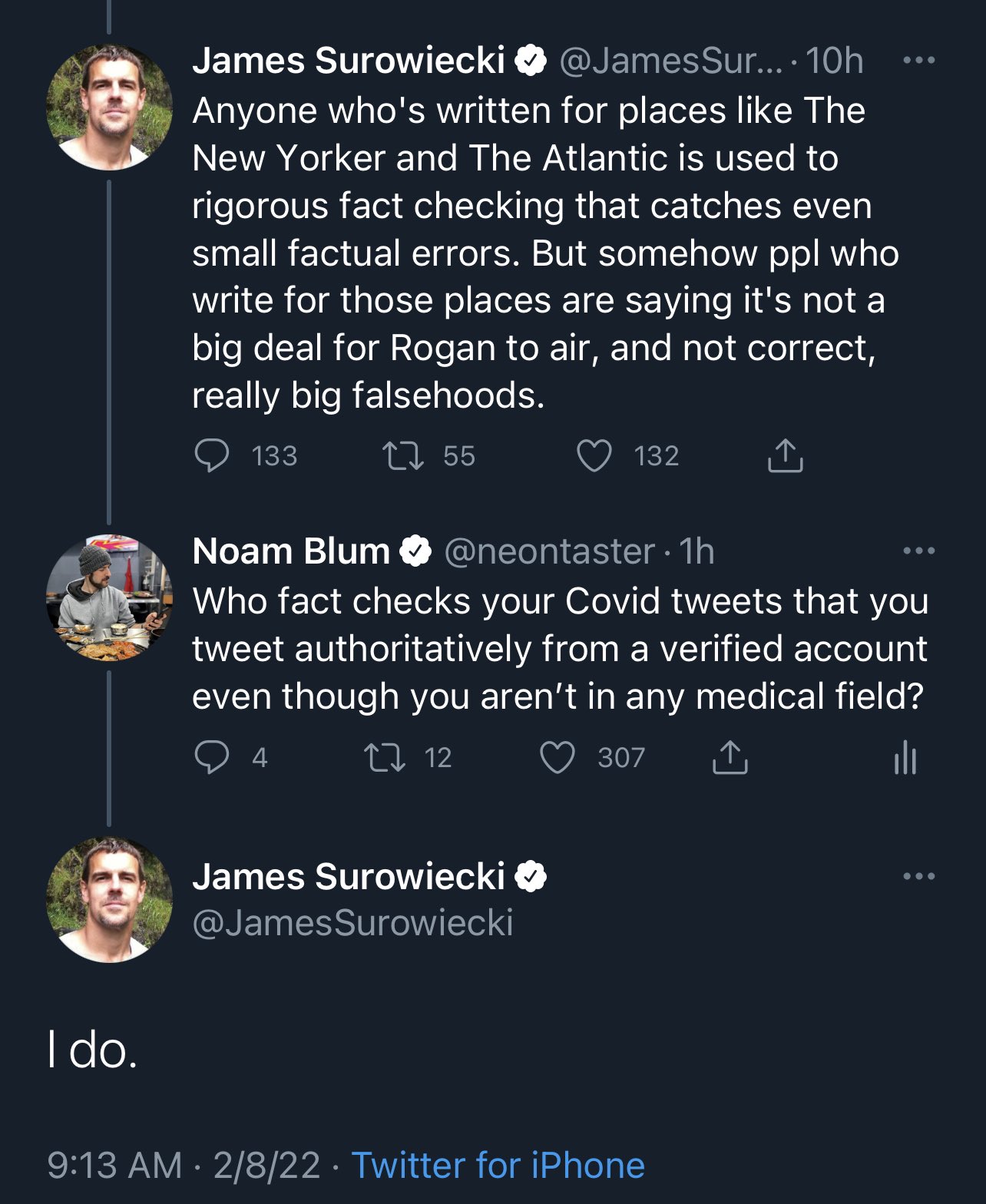 I'm sure there's a reason that Joe Rogan isn't qualified as this J-School Galileo to also "fact check" himself.
That asshole deleted his tweet quickly, by the way. But not quickly enough.

In Canada, a liberal member of Parliament rakes Fidel Castro's blackface-wearing bastard son over the coals.
Marie Oakes @TheMarieOakes

Lightbound taking shots at Trudeau:

"When it comes to the broader demonstrations we've seen in Ottawa and Quebec City and all across the country, I will abstain from the kind of generalizations that were heard these last few days," Quebec Liberal MP Joel Lightbound said.

LIGHTBOUND: "I've seen on Radio-Canada, an interview with what seemed to be a very kind grandmother who demonstrated for her grandkids. She looked & sounded nothing like white supremacists nor did the black, Sikh, indigenous Canadians I saw demonstrating on my way to parliament"

Taking aim at Trudeau again:

"I have enough respect for my fellow Canadians, not to engage in these easy absurd labels."

Liberal MP Joel Lightbound said at the beginning of his remarks that it is time for the protesters in Ottawa to leave and suggest they relocate somewhere else.

"It is time to stop dividing Canadians", he added.

He says he is not the only one feeling like this in his ranks.

Says during the last election campaign he began to feel uncomfortable with his party's (Liberal) tone and rhetoric.

"The division has gotten to a point it needs to stop."

Immediately the most franticly loyal members of the leftwing government -- the press -- attack Lightbound for his disloyatly:
Mackenzie Gray from CTV (Recently blocked me), says Lightbound sounds like Conservative interim leader Bergenand asks "why should Justin Trudeau keep you in the Liberal caucus?"

These journalists really are propagandists for Trudeau. I stand by my criticisms of Mackenzie Gray that got me blocked.

"I'm hopeful as well that there is room in the Liberal party for dissent", Liberal MP Joel Lightbound said.
A shot at the Laptop Class:
"Not everyone can earn a living on a Macbook at a cottage," Liberal MP Joel Lightbound said.
Video here. But in French. At least the beginning is in French. Maybe he speaks in English later.
Here's another Canadian MP demanding an off-ramp to Justin Castreau's endless state of emergency and dictatorial powers.

And hope rises in the West: Sasketchewan Premiere Bob Moe (funny name) says he's ending all vaccine mandates.
Saskatchewan is lifting all of its pandemic public health orders in a phased approach that is to begin Monday with the removal of its COVID-19 vaccine passport policy.

At the end of the month, it also plans to end its indoor mask mandate and the requirement for people to self-isolate if they test positive for the virus.


Premier Scott Moe said Tuesday that providing proof of vaccination to enter businesses, including restaurants, had helped to fight the infection's spread.

But it also created deep divisions in the province, in effect "two classes of citizens," he said.

"The benefits of this policy no longer outweigh the costs," said Moe, who added people should be able to choose whether to get vaccinated.

"This government is going to respect that right."
The tyrants are falling.
But they'll go out viciously. Hurting as many people as they can.
They always do, as Tucker Carlson points out.
A light one:
Are you Mel Gibson?
Great compilation video: Why don't people trust CNN?
This isn't the same one linked a couple of day go, though, of course, it share some of the same clips.

posted by Ace at
06:48 PM
|
Access Comments