ę Canadian Government and Media Now Branding Freedom Convoy Truckers -- What Else? -- an "Insurrection"
Meanwhile, A Member of the Government-Supported Criminal Organization Antifa Deliberately Runs Down a Non-Violent Protester
|
Main
|
More Quick Hits Ľ
February 07, 2022
Quick Hits
Deb Heine, Dissident @NiceDeb



DHS has a new "terror alert" that makes the Russia hoax look like child's play. The new alleged "threat" is supposedly fueled by "an online environment filled with false or misleading narratives and conspiracy theories, and other forms of mis- dis- and mal-information (MDM)"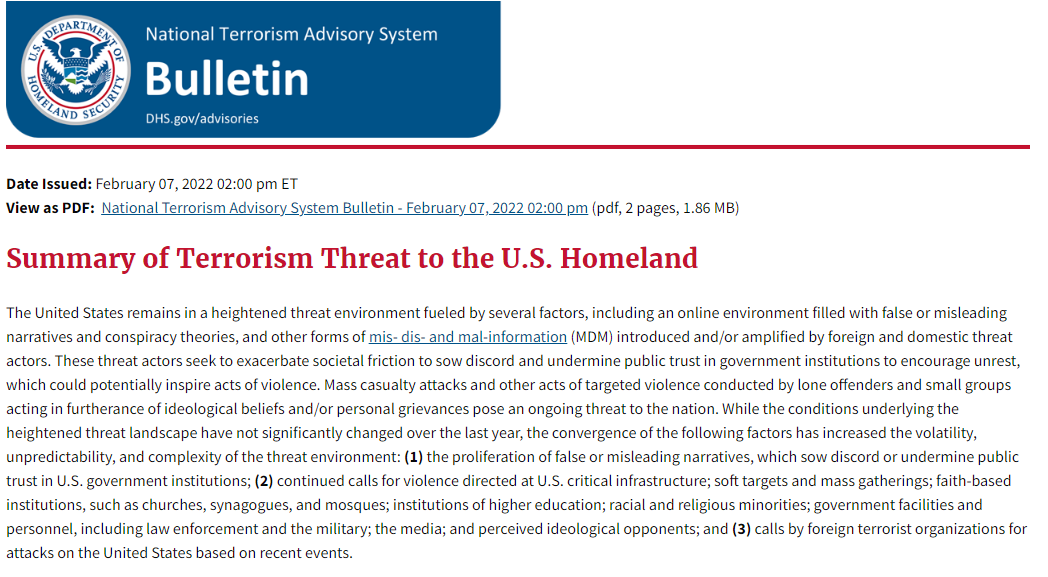 Deb Heine, Dissident @NiceDeb

Back in the day, it was "weapons of mass destruction (WMD)" that we were supposed to worry about. Now it's (reads notes) "forms of mis-dis-and mal-information (MDM).
Another friend says that all the people the actual right tried to warn the NeverTrump fake conservatives about -- the "Combatting Violent Extremism" clowns who did not want to fight actual terrorism, but who wanted to "broaden the definition of terrorism" to include non-terrorism crimes, so long as those crimes did not involve Muslims so the left could say "terrorism is equally common among Muslims and non-Muslims" -- have just migrated from that Fake Fighting Terrorism But Really Fighting the Right With Government Money and Authority Mission to this new one, which is "Fighting Disinformation," which also turns out to be another convenient non-terrorism form of Terrorism they can use anti-terrorism funding to fight instead of using to fight actual terrorism.
Which was always the goal.
And which we warned the NeverTrump go-along-to-get-along beltway swamp creatures about, but they were too busy making friends and feathering their nests.
Eh, they're probably thrilled to turn the Deep State National Security Threat Detection Apparatus on conservatives for "misinformation" that they and their leftwing allies dispute.
And on that topic:
Bleg for Instapundit: Every so often, Instapundit used to write a post about some political theorists' book about the "radicalization of the middle" or of the center, where the "center" becomes radical and becomes hysterical and paranoid about anyone who doesn't believe in the Revealed Centrist Truth as determined by their centrist midwit tastemakers.
Boy, I'd like to hear further thoughts on that now, and see a mention of the book or essay he was relying on in those posts.
Because we've seen nothing but that for the past six years. The "center" is no longer centrist but still imagines it is-- I'm thinking of the literally mentally deranged former liberals like Mika Brzezinsky and the NeverTrump types who think of themselves as reasonable centrists but who are now in fact far-left lunatics -- and is convulsed literally every week by some new Salem-level hysteria requiring a Salem-level witch-hunt.
It's bad timing that he stopped mentioning this when it all the prophecies foretold became all too true.
From Just the News, the Democrats withheld key evidence from Trump's team during the Ukraine impeachment. The State Department had written a memo stating that the prosecutor that Joe Biden demanded be fired -- the one who just happened to be prosecuting Hunter Biden's business partners and paymasters -- was doing a very good job.
This greatly complicated their narrative -- so they kept exculpatory evidence from the defendant.
Because that's what honest prosecutors who believe in the rightness of their cause do.
Just months before Joe Biden forced his firing, Ukraine's chief prosecutor was told by U.S. State Department officials that they were "impressed" with his anti-corruption plan and fully supportive of his work, according to newly released memos that cast doubt on a key Democrat impeachment narrative.

...

Just months before Joe Biden forced his firing, Ukraine's chief prosecutor was told by U.S. State Department officials that they were "impressed" with his anti-corruption plan and fully supportive of his work, according to newly released memos that cast doubt on a key Democrat impeachment narrative.

During former President Donald Trump's first impeachment trial two years ago, House Democrats alleged that Ukrainian Prosecutor General Viktor Shokin was fired in March 2016 because State officials were widely displeased with his anti-corruption efforts and not because Shokin's office was investigating the Ukrainian gas firm that had given then-Vice President Biden's son Hunter a lucrative job.

...

"We have been impressed with the ambitious reform and anti-corruption agenda of your government," then-Assistant Secretary of State for European and Eurasian Affairs Victoria Nuland personally wrote Shokin in an official letter dated June 9, 2015 that was delivered to the prosecutor two days later by then-U.S. Ambassador Geoffrey Pyatt.

This guy had an alternate headline to "Jonah Goldberg joins CNN:"
J D @Jdkoa

Replying to @davereaboi

Alternate headline: "Fat Guy Wants to Join Orgy"
You know the old claim about William Randolph Hearst, that he just wanted to make his own war to sell papers?
Well any " " " news " " " outlet would love to start its own wars and control them and then report on them, of course. They'd love to have that power, to start a dramatic, attention-grabbing war and dominate the story because they're the ones fighting it, so they're the ones who make the news, and are in the best position, obviously, to break the news.
CNN starts that kind of war every other month. They've been doing so since 2014.
That kind of war is a Deplatforming War. It's a fairly inexpensive war for CNN to fight, but it's good for ratings, because, as you know, the most compelling wars are Holy Wars, and as Glenn Greenwald has observed, censorship is now the religion of Liberals.
Every other month CNN decides it needs a new ratings hit and decides which group or person it wants to go to Deplatforming War with. They're always at Deplatforming War with Fox. Frequently lately they've been at Deplatforming War with Joe Rogan.
Currently they're in a life-and-death struggle with Joe Rogan, because CNN feels that while taking down Fox is a bridge too far, as Arnhem was, they should be able to take out Joe Rogan -- they took out Roseanne Barr, after all, when she was the producer, star, and owner of ABC's number one rated show.
CNN feels that if they lose this Deplatforming War, they will lose their credibility and authority and power projection in future geodeplatforming conflicts.
So they're all in on this one. They have to bring Joe Rogan down.
Jim Acosta gets very hissy about it, complaining about... the profanity that Joe Rogan used in his defense of himself!
Tom Elliot remind CNN of its own use of profanity.
Not that that matters. These people have long given up even the most gestural pretense of abiding by the laws they inflict on others.
Chief Deplatforming Agent Oliver Darcy fussed his bald, fussy femmy hipster head about it and demanded that Spotify give CNN the Deplatforming Victory it craved: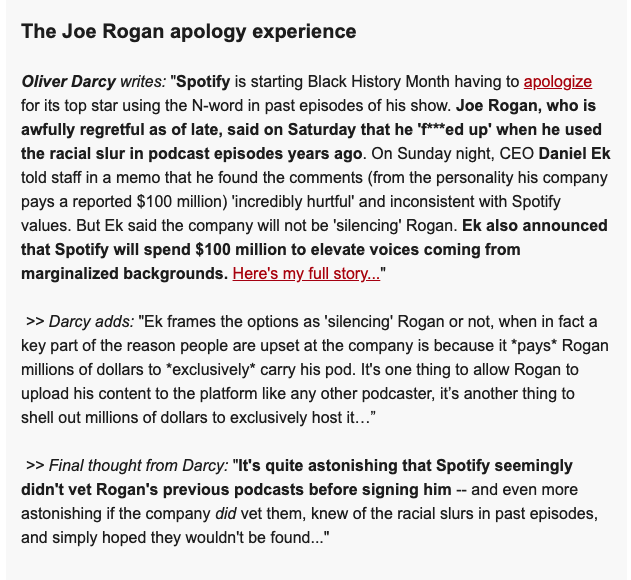 Ian Miller @ianmSC I still canít get over that an official in a position of authority was offered a chance to read my book and see the evidence against mask mandates and their response was ďI donít read books.Ē

Flashback: A PSA from Mark Dice.

posted by Ace at
05:35 PM
|
Access Comments