« Wednesday Morning Guest Rant [Joe Mannix]
|
Main
|
Biden's Character
[Dave in Fla] »
February 02, 2022
Whoopi Goldberg Suspended (With Pay) For Two Weeks With Copies of Schindler's List and Shoah;
CNN's Malignant Dwarf King Jeff Zucker Resigns Over Revelation of "Consensual" Affair With Work-Buddy
Hey do you guys remember when Roseanne Barr was suspended with pay for two weeks to think about things...?
Oh wait, my bad, she was fired from the show she owned. Wait, she wasn't fired, the show she owned was cancelled, and she was pressured to give it up and withdraw from it to allow the cast and crew to continue having jobs on it, even though some of them joined in the calls for her cancellation.
Update: I completely forgot -- Disney, though LucasFilm, fired and smeared Gina Carano for stating, correctly, that before the Nazis actually acted against Jews, they first dehumanized, and compared that to the modern left's dehumanization of their opponents. This, they claimed, was somehow attacking Jews or something, which is defamatory and damnit, she should sue. (The only reason she isn't, I'm sure, is that no one wants the reputation of being quick to sue in Hollywood -- but this is a stone-cold evil defamation!)
Anyway, Carano gets fired and defamed, Whoopi gets a vacation.

But Whoopi gets an unscheduled vacation.
Goldberg's suspension was announced in a statement released by ABC News public relations on Tuesday night.

"Effective immediately, I am suspending Whoopi Goldberg for two weeks for her wrong and hurtful comments," reads a statement attributed to Kim Godwin, president at ABC News. "While Whoopi has apologized, I've asked her to take time to reflect and learn about the impact of her comments. The entire ABC News organization stands in solidarity with our Jewish colleagues, friends, family and communities."
Can't wait until Spike Lee starts shooting off his midget mouth.
Speaking of midgets, here's the news everyone's here for: The Cuomo investigation wound up dredging up Jeff Zucker's affair.
Bonus damage, gotta love it.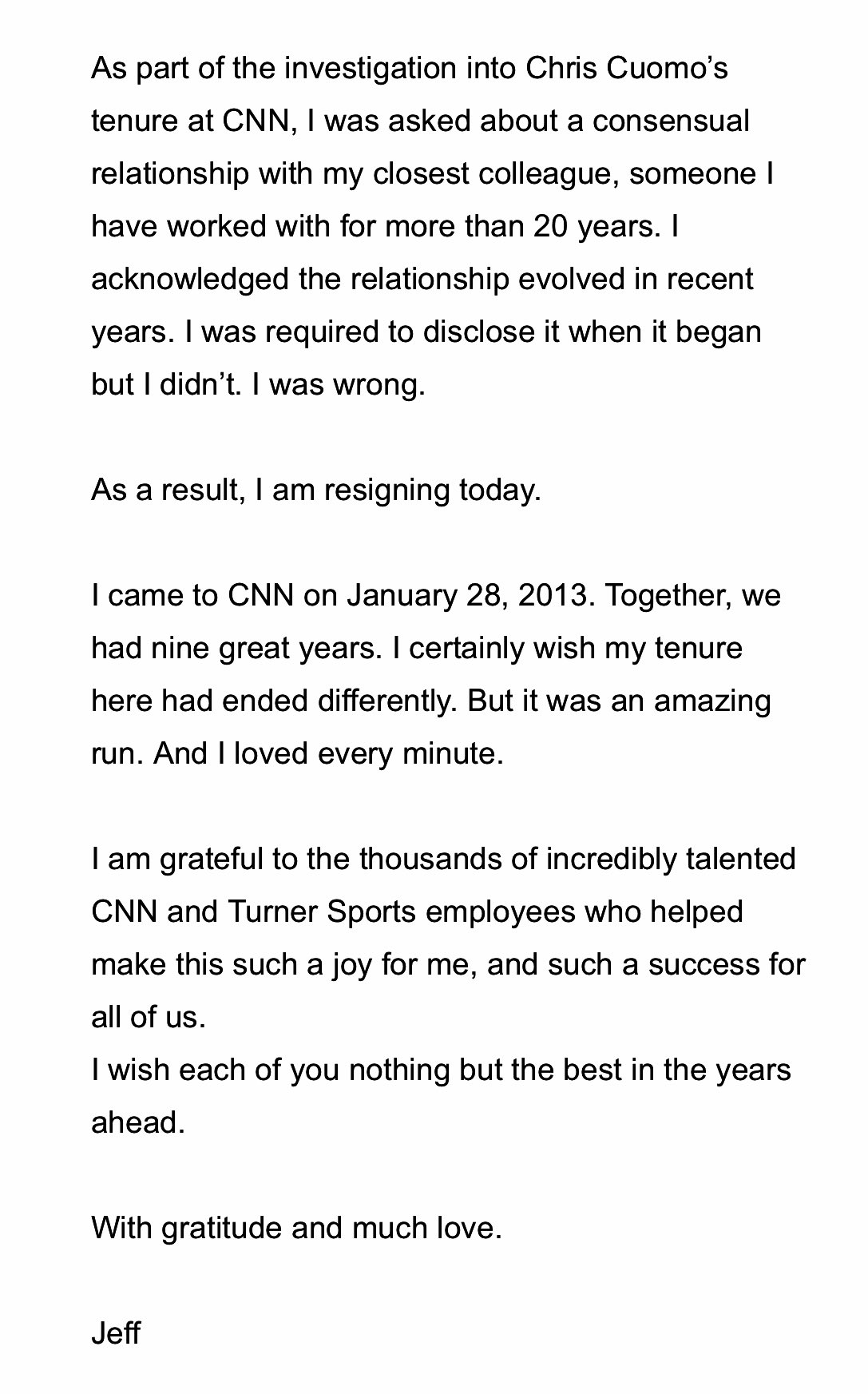 The woman (!) he was having an affair with is Allison Gollust, a big marketing person at CNN.
And also: Formerly a PR person for Andrew Cuomo.
And it only took like two seconds of googling to find all the dish on this.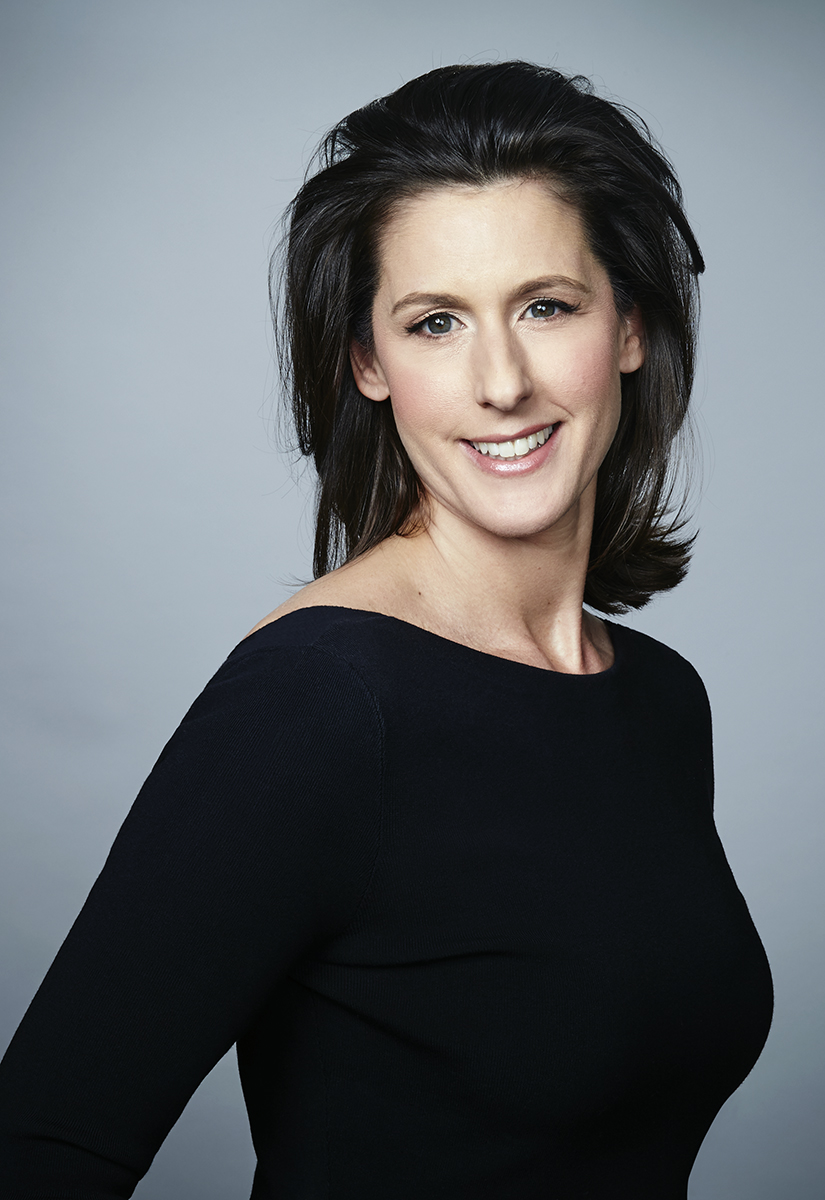 As for Zucker's marital status: Well, he split from his wife in 2018. Gollust and Zucker are claiming their "relationship changed during covid," so they're claiming the affair began around 2020.
Well. Maybe!
But, coincidentally, Allison Gollust left her husband at about the same time.
And of course people are saying they left their spouses due to the affair.
"The talk in the corridors of CNN about Jeff and Allison's purported relationship complicates the sticky decision to fire Chris," said one highly placed source. "Have they sullied the network's reputation? One could argue they have; it just hasn't been made public yet."

It also calls into question the hypocrisy of Zucker and Gollust who initially stood by Cuomo when it emerged he rushed to the aid of his embattled brother, the former New York Gov. Andrew Cuomo.

Gollust, a veteran public relations expert, once worked as the Democratic lawmaker's communications director, and rumor mongers inside CNN HQ told Radar that her past job with Cuomo and claims of a romantic relationship raise questions about why Zucker initially protected the embattled brothers.

The alleged affair is said to have begun while the pair was both married: Zucker to wife Caryn and Gollust to husband Billy.
Um, if this affair just started when you were both free of your spouses and single, there would have been no reason to keep it secret and jeopardize your positions at CNN. Obviously, you're both lying.
By the way, this appears to have been an open secret at CNN; there's an picture of Zucker and Gollust at a Billy Joel concert together, with Don Lemon and Fareed Zakaria. And the report notes that the affair has been gossiped about throughout the TV industry for years; Katie Couric wrote about their strange arrangement in her book; in 2017, they had a big fight at an industry event, which one witness said resembled a wife scolding her husband. When they were married to other people.
So Brian Stelter's "report" below, talking about the relationship "changing" during covid, is a lie; he knows everything he's saying is false.
Tater is a Real Reporter!
Getting back to her job as Andrew Cuomo's flack: it seems pretty clear that she pillow-talked Zucker into giving Chris Cuomo a pass, as a favor to her old client Andrew Cuomo.
New York Gov. Andrew Cuomo doesn't just have his brother Chris at CNN, he also has ties to one of its top executives -- sparking accusations that it's why the network has turned a blind eye to its star host's involvement in his sibling's sexual harassment scandal.

Allison Gollust was Cuomo's communications director before becoming executive vice president at CNN -- where she was even recently tapped to replace Jeff Zucker as Worldwide President, Fox News has noted.

"CNN has a real ethical problem on its hands," former White House press secretary Ari Fleischer told Fox News on Wednesday,

Fleischer was adamant that Chris Cuomo had escaped punishment for his role in advising his brother over his mushrooming scandal because of the influence of Gollust.

"She now runs the show, she's the number two to Jeff Zucker at CNN," the former aide to George W. Bush told Fox.

"One of the reasons why CNN has not taken any disciplinary action against journalist Chris Cuomo is because of the relationship she has with Governor Andrew Cuomo," he insisted.
MuhNorms.
When can we finally restore them to their former pristine glory?

You know who would have loved this?

I guess she means about the resignation, because she would not be so brazen as to lie and claim she didn't know about the affair, right?
I think she's "stunned" because she's just realizing her job isn't safe.
Should have realized that long ago.
Hey -- maybe it's time to start sending out resumes to "think tanks," huh? You know, where you can do all your "thinking" at? The "thinking" you're so good at?