« Daily Tech News 31 January 2022
|
Main
|
Mid-Morning Art Thread »
January 31, 2022
The Morning Report - 1/31/22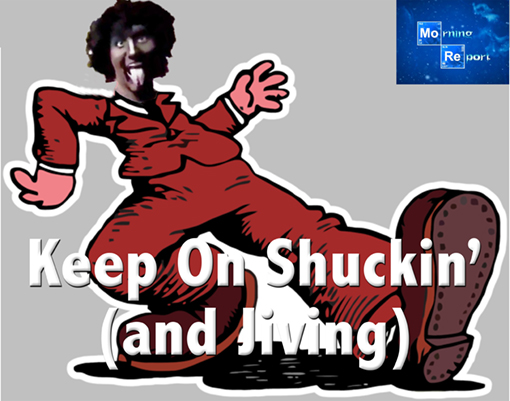 Good morning, kids. Last day of January (already?) and, once again we have a link-apalooza to begin the week so let's dive right in. Top of the heap for me is the situation to the north of us in Canada. The most shocking things over these past "two weeks" - now almost in its 100th week in real time - are how what we thought were the freest societies on earth, places like Australia, New Zealand and Canada are rapidly transforming into dystopian police states. While things are bad enough here in the nation formerly known as the United States of America, we're not quite at the level those places are. Yet.
The other shocking thing is how so many millions of people in those nations and the rest of the so-called free world, having known nothing but life in a free society, were not only so easily duped into surrendering their freedoms on the pretext of safety and security, but how many have gone out of their minds in using this situation to claim absolute moral authority over anyone who openly stated they smell a rat (or pangolin as the case may be), and act as de-facto Stasi/Gestapo agents in silencing them. That said, the trucker convoy up in the great white north gives reason to hope that all is not lost.
It's hard to overstate the import of the Freedom Convoy that on Saturday arrived at Canada's capital city, Ottawa.

After six days spent crossing Canada, a convoy that began as a protest against mandatory vaccination for truckers who travel to the United States was expected to arrive in Ottawa late Saturday afternoon, with its members and supporters airing a wide array of grievances.

The loosely organized "Freedom Rally" or "Freedom Convoy" of trucks and private vehicles had set off from British Columbia, and ebbed and flowed in size on the way to the capital, where the police braced for an unpredictable weekend of protests. In recent days, the convoy was joined by other, smaller groups from south and east of Ottawa as well as the national capital region itself.

The movement has attracted people opposed to all pandemic restrictions, others who want Prime Minister Justin Trudeau to step down and some who simply dislike government.

On Friday, Chief Peter Sloly of the Ottawa Police Service declined to say how many protesters the force expected to converge on Parliament Hill. His department said that they were coming to the capital in eight different streams.

"The demonstrations this weekend will be unique, fluid, risky and significant," he said at a news conference. . .

. . . Everyone who no longer wants to sacrifice individual liberties and personal choice on the altar of misguided pandemic response is a Canadian trucker now.

Except the "elites." They are not handling the influx of regular citizens demanding their God-given rights terribly well. CBC host Nil Koksal blamed the Russians for the historic convoy while speaking with the Canadian Minister of Public Safety, Marco Mendicino.

"I do ask that because given Canada's support of Ukraine, in this current crisis with Russia, I don't know if it's far fetched to ask but there is concern that Russian actors could be continuing to fuel things, as this as this protest grows, but perhaps even instigating it from from the outset."

. . . Where is Canadian Prime Minister Justin Trudeau in the midst of this celebration of personal freedoms? Citing security concerns, Trudeau and his family are reported to have left Ottawa for a secret location. Of course, the rally has turned out to be peaceful.
Yeah, it's a Russian plot. Pfft. Given who Trudeau and the media are, it's actually a communist plot. The thing is, what the truckers up in Canada are doing is dangerous, yet absolutely necessary. As we all know, the only people who participate in mass protests are in the main the bought-and-paid for professional agitators and thugs of the Left. Ordinary people are too busy being engaged in trivial bullshit, like work, raising families and paying taxes. But what happens when you wreck an economy, destroy national security and turn society on its head? Suddenly, these very same people who want nothing more than to be left alone to work, raise a family and build a legacy no longer have the ability to do so thanks to the insane policies that have wrecked the economy, national security, personal safety and turned society upside down.
When you take that away, then all bets are off. You better believe that the fiends in the Klain Kalorama Komintern are shitting a brick watching what these truckers are doing in Canada. If the vast majority of Americans decide to do the Atlas shoulder shrug, oh boy. But just like the assholes down here in the lower 48, what did Trudeau do in reaction to this? Poured gasoline on the fire.
On Sunday morning, the day after the massive Freedom Convoy arrived in Ottawa, Canada, to protest vaccine mandates that would force unvaccinated Canadian truckers crossing into the United States to quarantine once they've returned home, the CBC reported that the Transport Minister for Canadian Prime Minister Justin Trudeau's government stated that there was "working being done" to implement interprovincial vaccine mandates for truckers.

Meanwhile, while the truckers arrived in Ottawa, Trudeau and his family reportedly fled their home and moved to an undisclosed location in the city.

Asked about claims that his vaccine mandates were causing supply chain disruptions, Trudeau stated, "I regret that the Conservative party and conservative politicians are fearmongering to Canadians about the supply chain, but the reality is that vaccination is how we're going to get through this," The Guardian reported. . .

. . . Jay Hill, a former Conservative member of Canada's parliament, stated of the Freedom Convoy:

"This thing has really taken on a life of its own. The vast majority of the people that have either come on board to participate in the truck convoy or those donating to support it financially have just reached a point of frustration and exasperation with these lockdowns and continuation of restrictions that they want someone to speak up and say 'enough' to the federal government."
I don't know what the equivalent of the FBI and DOJ are in Canada, but you better believe they are already cooking up some sort of Reichstag Fire plot. A sane response right now would be for the Trudeau government to admit defeat, walk back these insane mandates and let life go back to normal. Of course, that is not going to happen. It would be a political disaster not just for Trudeau but for his entire party that could put them in the political wilderness for a generation. While Justin Trudeau may or may not be the actual bastard child of Fidel Castro, his mindset and political pedigree are a figurative genetic match for the mass murdering Minnesota Twin washout. He's part of the globalist cabal that is hell bent now on, for lack of a more delicate, not so "hairshirt" sounding way to put it, essentially enslaving the world, with the Chi-Coms at the top of the heap.
So now, having failed at a total embargo of the story, the media is now in full demonization, Putin-ification of the truckers and all who support them. I surely hope they keep the pressure on and not back down. Trudeau's move to now demand vaccination for truckers driving within the provinces is not exactly helpful. I hope this kind of sentiment spreads down here.
Perhaps it will. Dangerous times. But there's no going back now.
The End of America: 100 Days That Shook the World available here.



ABOVE THE FOLD, BREAKING, NOTEWORTHY
CIVIL WAR 2.0: LEFTIST PERSECUTIONS, CAPITOL HILL BLACK WEDNESDAY PROTEST AFTERMATH, DEMOCRAT PUTSCH, AMERICAN DISSOLUTION
NOTE: The opinions expressed in some links may or may not reflect my own. I include them because of their relevance to the discussion of a particular issue.
ALSO: The Morning Report is cross-posted at CutJibNewsletter.com if you want to continue the conversation all day.
Follow us on Twitter: @CutJibNews
Follow us on Instagram: @Cutjibnewsletter

posted by J.J. Sefton at
07:24 AM
|
Access Comments