« Mid-Morning Art Thread
|
Main
|
Russian Foreign Minister Lavrov: The US Must Get Out of All Former Soviet States and Promise Unambiguously To Cede Them to Russia
France Is So Impressed by Brandon's Leadership They Want Separate Talks With Russia »
January 21, 2022
The Morning Rant: As Blue-City Civilization Collapses, Pro-Crime Democrats Must Be Made To Own It
The broad civilizational collapse that is occurring in blue cities across the US is unprecedented, and it is self-inflicted by elected politicians who genuinely seem to be pro-crime.
Absolute lawlessness is now the rule in many major blue cities. New York's "no bail" laws put hardened criminals immediately back on the streets. California has effectively decriminalized shoplifting. Soros-funded DAs in Philadelphia and Chicago have helped those cities achieve horrific levels of murder and other crimes by offering hardened criminals easy pleas that keep them out of prison. Shortly before Darrell Brooks committed mass murder by driving a car into a Christmas parade in Waukesha, a Soros-funded DA had just put him back on the street, by giving Brooks a negligible bail after a domestic abuse arrest.
Amidst all this, the "Defund the police" movement was embraced by elected leaders of cities being destroyed by crime.
Being perceived as soft on crime did not play well for the Democrats after the excesses of the 1960s, and Republican presidential candidates for several decades thereafter made crime a big issue.
GOP Presidential candidates won 5 out of 6 elections from 1968 through 1988 by campaigning as "tough on crime." (Without Watergate, it probably would have been 6 out of 6.) It was almost sad seeing how unprepared Michael Dukakis was in 1988 when he was questioned about his opposition to the death penalty and his furloughs of hardened criminals who - shockingly enough, - committed violent crimes during their furloughs. Dukakis clearly thought most Americans were as sympathetic to criminals as he was. It took Bill Clinton campaigning as a pro-death-penalty, tough-on-crime, "New Democrat" for the Democrats to finally win back the White House in 1992.
If being merely "soft on crime" caused the Democrats such electoral trouble back then, how will their full-throated, pro-crime stance play out in the 2020s?
This Gallup poll has received much coverage this week, including from Ace. It shows that there has been a 14-point swing in party identification over the course of 2021, from a 49-40 Dem advantage a year ago to a 47-42 Republican advantage now. Knowing the bias of polls, this stampede away from Democrats may actually be even worse.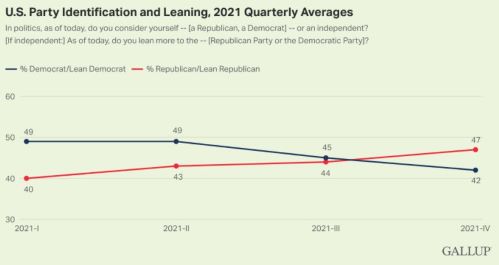 While the catastrophic failures of the Biden administration are clearly driving this switch from D to R, don't underestimate the impact of state and municipal Democrats, and their efforts to keep their citizenry masked and locked down, while simultaneously inflicting a dystopian crime wave on them.

Unlike in the '70s and '80s when crime was mainly a national issue that Republican presidential candidates "seized on," there is an opportunity now to make crime play at the state level. Republican Glenn Youngkin was propelled to the Virginia Governor's Mansion in large part by local Democrats, especially the Loudon County school board which sought to protect a cross-dressing boy who sexually assaulted multiple girls in school restrooms.
In 2022 and beyond, every Democrat running for office, be it school board or Senate, must be made to either embrace or denounce the pro-crime members of their party.
And for those Dems with a public record of protecting criminals, and who will again be running for office, their pro-criminal, anti-incarceration, defund-the-police proclamations need to be highlighted by their GOP opponents. Define them for who they really are.
There is going to be a lot of social-media-scrubbing by Dems running for office in 2022 and beyond. Many of them got caught up in the euphoria of the 2020 riots, cheering on the destruction and the violence. Those posts need to be screen-capped before they're gone.
There is one left-wing activist in my extended social circle who actively cheered on the 2020 riots as retributive justice, while also advocating for the police to be defunded. This person is now planning his/her first political race, and all of the toxic social media has recently been scrubbed or shut down altogether.
But - I saved screenshots of the most extreme posts. If this person gets some political traction, I can reveal the true person.
I hope that there are teams of conservative activists scouring social media for incriminating pro-crime posts from likely Dem candidates. It's something we can all do ourselves, too. We know the local political aspirants. A great many of them who live in solid-blue areas felt comfortable being publicly pro-crime the past two years. Let's capture their most outrageous comments and posts before they're gone. The pro-crime community activist of today may well be a Senate candidate in a few short years.
Being soft on crime was politically destructive for Democrats a generation or two ago. Their current pro-crime stance might prove to be suicidal.
[buck.throckmorton at protonmail dot com]


posted by Buck Throckmorton at
11:00 AM
|
Access Comments