« Daily Tech News 20 January 2022
|
Main
|
Mid-Morning Art Thread »
January 20, 2022
The Morning Report - 1/20/22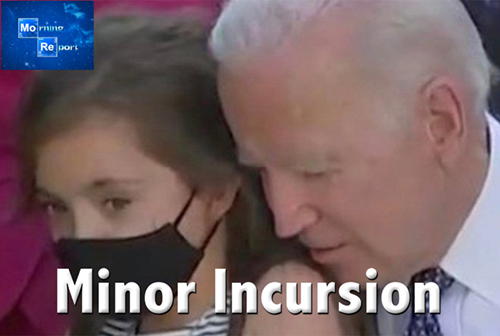 Good morning, kids. Thursday and during yesterday's Potemkin village "press conference," the shambling, shuffling, stuttering, alternately-shrieking-and-whispering, heavily-doctored demento whose name tag "Doctor" Jill had sewn on his Depends reads "Joe Biden" actually managed to deliver one stunning, crystal clear absolute emmes truth. Probably, the first true thing he uttered in 50 years in politics if not his entire damnable existence in this world.
"I didn't overpromise, but I probably outperformed what anybody thought would happen."
Absolutely 100% fuckin' A, bubba. Between the eye-bleeds, the incoherent shrieking, the perpetual fog and all the other in your face signs of a decrepit geezer who's two spoonfuls of paste down the windpipe from being laid out on the slab in the center of the Capitol Rotunda (just as soon as they remove McCain), I thought for sure that he'd be gone inside of six months. Yet one absolutely disastrous year later, there he blows. When queried why the American people have doubts about his cognitive ability (surprised that that one got through the censors), he stated "I have no idea." No idea about why the American people think he has the medulla oblongata of a sponge or no idea what the reporter is asking him? Either way, this country - what's left of it - is proper fucked.
Despite a media that is a propaganda arm (if not the actual makers of policy as some suggest) that is desperate to spin and shield the American people from this disaster they foisted on us, they see right through it. Mostly because they are getting "the most successful economic recovery in history" good and hard at the gas pump, supermarket and everywhere else. That is, where there are actual products on the shelves to sell at stagflationary prices and not stuck on a container ship off the coast or looted from a UP boxcar in LA.
Not only do we see it, but you bet your ass the rest of the world sees it.


The situation along the Ukraine-Russia border is so serious that one hesitates to make a quip, but here goes: If you ever get a chance to play poker with Joe Biden, take it. As you're playing, Biden will talk a lot and maybe reveal his cards. And yet whether he's revealing the truth about his intentions or not, there'll be plenty of tells as to the cards he's playing, such that if you're watching him closely, you'll win most of the pots.

Of course, the [so-called quote-unquote "president"] isn't playing card games these days, and yet the commander-in-chief is playing for some very high stakes in the geopolitical arena -- and against some sharp players, notably Russian leader Vladimir Putin. Unfortunately for the U.S., Biden has never had much self-discipline, and even more unfortunately, he's gotten, well, old.

So it's no wonder that Biden's White House handlers have been keeping him on a short leash. His solo press conference today was his first in ten months. The fear, of course, was that Biden would say something stupid -- and that's exactly what he did.

Asked about Putin's plans toward Ukraine, Biden answered, "My guess is he will move in, he has to do something. . . "

. . .To be sure, Biden indicated that he was against Russia attacking Ukraine, and yet at the same time, over the course of a two-hour session with the press -- he obviously enjoys being off the leash -- the [so-called quote-unquote "president"] telegraphed to Putin that he was willing to split hairs, that he might not call a spade a spade: "It's one thing if it's a minor incursion and we end up having to fight about what to do and not do," he told reporters. In other words, maybe an incursion is okay, but not an invasion. Got that?

Sen. Tom Cotton (R-AR) summed it up: "Joe Biden's impotence emboldened Vladimir Putin and now he just green-lighted Putin to invade Ukraine . . ."

. . . Back in January 1950, Secretary of State Dean Acheson outlined the U.S. defense perimeter in East Asia and excluded South Korea. Six months later, North Korea attacked South Korea. The U.S. intervened after all, and over the next three years of fighting, American armed forces suffered 33,686 deaths. It's widely believed that had the U.S. been more clear about what it would do, about its willingness to defend South Korea, the North Koreans would never have attacked.

In other words, the whole Korean War was based on a misunderstanding. So we can see: Clarity can be a good deterrent and can save a lot of lives.

Sadly, in our time, it wasn't a secretary of state, but rather, a much more important figure -- the [so-called quote-unquote "president"] himself -- who was clear as mud. And so we don't know what Putin will do, just as we don't know what Biden will do.

This is how nations stumble into wars.
To Biden, a minor incursion is when he shares a bathtub with his daughter. On a purely personal level, owing to my family's history, I could give a rat's ass about Ukraine and Russia for that matter. But the fact is, we made commitments to defend Ukraine and the infamous promise to protect their independence if they gave up their nukes was as worthless as Chamberlain's Munich agreement. Whether it was right or wrong to make that pledge, we did and by reneging on it, it led to Putin taking Crimea as well as our word being seen as worthless to friend and foe alike.
The problem here is that with Biden absolutely failing and flailing politically as well as policy-wise everywhere you turn, there's no better time for the tail to wag the dog. Given the fact that he and his handlers at the Kalorama Klown Komintern got utterly and deservedly raked over the coals over the Afghanistan bug-out disaster, going to war to re-establish his alleged tough guy machismo image, such as he/they try to project, is just the ticket to get the junta back on track.
Ho. Lee. Fook, if that is their calculus. If they even have freaking calculus as opposed to just flinging utter horseshit in all directions and praying something sticks. And forgetting our national security and foreign policy, what will Biden do vis a vis Ukraine because of his and his bastard son's "O'Rourke Enterprises" dealings with the corrupt government there? In any case, let's not forget that we're not talking about shooting off a few cruise missiles into an empty tent or a disused aspirin factory in the fictional Mission: Impossible third world country of San Cristobal or the East European People's Republic located somewhere on Gower between Sunset and Melrose.
This is potentially a shooting war between Russia. Russia that has nuclear weapons. THAT Russia. The Chi-Coms have got to be having projectile orgasms over the potential to waltz into Taiwan while the 101st Airborne Junk-Tucker Division parachutes in Klinger's heels into the Pripyat Marshes. I can't even . . .
What a complete, unmitigated clusterfuck. But while our enemies are laughing their asses off at their good fortune, the American people, or at least those of us in the nation formerly known as the United States who identify as American (or American-American for those into identity politics), Biden threw down the gauntlet. Funny how he always manages to be clear-headed when he's hurling threats, insults and lies.
"Speaking of voting rights legislation, if this isn't passed, do you still believe the upcoming election will be fairly conducted and the results will be legitimate?" Allison Harris of NewsNation asked [so-called quote-unquote "president"] Biden.

"Well, it all depends on whether or not we're able to make the case to the American people that some of this is being set up to try to alter the outcome of the election."

So, elections were secure, fair, and legitimate when Trump was president, but won't be secure, fair, or legitimate unless the Democrats' voting legislation is passed.

In other words, elections are only secure, fair, and legitimate when Democrats win.
Now that Manchin and Sinema held firm to preserve the filibuster and at least in theory kill the Democrats attempt to codify in law a federalizing of our elections that in effect would allow them to rig every national election forever, if indeed the midterms, as predicted, deliver a wipeout to the Democrats, you better believe that BLM/Antifa and every other Democrat-sanctioned terrorist is going to take to the streets to engage in a real insurrection. Certainly not the fake FBI-planned and led "riot" of 1/6/21 that was the worst threat to "our precious democracy" (vomit) since the Civil War, Pearl Harbor and 9/11 combined.
As a complete aside, but something I do not want to get lost in the sauce, I submit this nugget of madness:
Arrest Warrants Count as ID For Illegal Migrants at Airport Security, TSA Says
So, the left thinks voter ID is racist and repressive but in DC itself, you cannot walk the streets without showing your ausweiss.
Gevalt.
The End of America: 100 Days That Shook the World available here.



ABOVE THE FOLD, BREAKING, NOTEWORTHY
CIVIL WAR 2.0: LEFTIST PERSECUTIONS, CAPITOL HILL BLACK WEDNESDAY PROTEST AFTERMATH, DEMOCRAT PUTSCH, AMERICAN DISSOLUTION
NOTE: The opinions expressed in some links may or may not reflect my own. I include them because of their relevance to the discussion of a particular issue.
ALSO: The Morning Report is cross-posted at CutJibNewsletter.com if you want to continue the conversation all day.
Follow us on Twitter: @CutJibNews
Follow us on Instagram: @Cutjibnewsletter

posted by J.J. Sefton at
07:43 AM
|
Access Comments