« Joey Fishsticks "Press" Conference (With Zero Pressing), Part Two
|
Main
|
Quick Hits »
January 19, 2022
"President" (lol) Brandon: If Republicans Question the Legitimacy of an Election, It's Treasonous. But Oh, By the Way, If I Don't Get the Election Laws I Want, the Results of the Midterms Are Illegitimate.


I don't credit leftwing sources when I lift their stuff, so I'm not crediting the Salon and Maggie Haberman fave here.
Remember, we have lived in a regime for a full year in which it has been claimed, quite seriously, that anyone who doubts the legitimacy of the 2020 election is a security risk and potential terrorist.
Democrats are actually attempting to disqualify currently-serving Republican congressmen from running in 2022 based on statements that they doubt the results of 2020.
That is banana-republic, end-of-democracy stuff. But they're doing it anyway, all based on the claim that to question an election is so dangerous we dare not countenance it.

And here's Brandon saying that unless he gets his federal takeover of elections, the results of the midterms are illegitimate, when he loses:
And, sure, he's just a senile old man who was always a stupid, buffoonish bullshitter even in his prime, but he repeated and reconfirmed his statement later: He means it. Unless he gets his way, the 2022 elections are preemptively illegitimate.
Is it time for Twitter to ban Biden's account?
This is Brandon's narrative:
President Biden @POTUS

You can't love your country only when you win.

You can't obey the law only when it's convenient.

You can't be patriotic when you embrace or enable lies.

10:07 AM Jan 6, 2022
And now he's saying that when he loses on his voting "reform" bill, and then loses in 2022, that election is "illegitimate."
Are you fucking kidding me?
We should see a few "Biden's claim that elections that go against him are illegitimate are different that Trump because X" this week articles -- unless the press completely suppresses the point, which I fully expect them to do.
Well, your "presidency" is illegitimate, Brandon. You rigged the rules to favor yourself.
And you're a terrorist if you deny it.
In fact you're like Bull Connor, rigging the vote.
Speaking of Bull Connor, here's Brandon having a Senility Meltdown over being asked why he called people, including his Democrat colleagues Joe Manchin and Krysten Sinema, Bull Connor and George Wallace for not wanting to end the filibuster to enable his election-rigging "reform:"
Yes, of course this nasty senile old fuck compared his opponents to Bull Connor; the senile often get angry as their failing memory is challenged.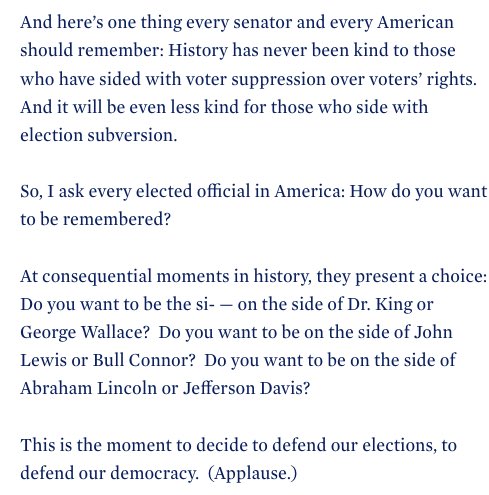 Once again, I can't believe this guy received nearly 49% of all legal votes.
Finally, he invited Putin to invade Ukraine -- so long as it's a "minor incursion."
In fact, Biden says that Putin has to invade Ukraine.
Kylie Atwood @kylieatwood

"My guess is he will move in, he has to do something," President Biden says on Putin & a possible invasion into Ukraine. Biden also says he is not sure Putin is certain what he is going to do.
So there's your "Tough on Russia" Democrat in action, folks.
Trump's a Russian Agent, pass it on.

PS, sorry the blog has been on this subject for two hours and counting, I will only leave this post at the top for about 30 minutes.

Update: nckate asks, What's Lt. Bearclaw saying on Twitter?
Prepare for a shock -- Vindman, potential future Secretary of Defense of Ukraine, is strangely silent about the "president" he supported inviting Putin to stage a "minor incursion" into his country, and in fact even saying that Putin "has to" do so.
It's all a joke.

posted by Ace at
06:07 PM
|
Access Comments