« State Audit: Gretchen The Witch Whitmer's Government "Undercounted" Nursing Home Deaths By 30% -- Or Perhaps As Much as 40%
|
Main
|
Loudon County Skirt-and-Blouse-Wearing Forcible Sodomist Sentenced, Put on Sex Offender List For Life »
January 14, 2022
Judge Rules That Virginia Giuffre's Lawsuit Can Go Forward; Queen Elizabeth Strips All Royal Titles and Patronages From Prince Andrew
The Queen has stripped Prince Andrew of his "military affiliations and royal patronages" and left him to defend his case against Virginia Roberts Giuffre as a "private citizen."

The move came hours after more than 150 military veterans wrote to the Queen to ask her to strip Andrew of his honorary military roles amid what they described as their "upset and anger."

Yesterday, a New York judge rejected the Prince's lawyers' attempts to dismiss Giuffre's civil claim and the Duke of York will now face civil trial in the U.S.

Giuffre is suing Prince Andrew over claims that he abused her when she was 17, which the Prince has denied. He says he has no recollection of meeting her.

Buckingham Palace' statement essentially distances the UK royals from Andrew and his legal team.

It reads: "With the Queen's approval and agreement, the Duke of York's military affiliations and royal patronages have been returned to the Queen. The Duke of York will continue not to undertake any public duties and is defending this case as a private citizen."
Which "royal patronages" did he until recently have? Oh, you know, the usual.
Buckingham Palace listed numerous patronages including the Commonwealth Golfing Society and the Helicopter Club of Great Britain.

Giuffre has made it known through her lawyer -- the Democrat lawyer David Boies -- that she doesn't just want money in a settlement, but "vindication," meaning some kind of acknowledgment of Prince Andrew's guilt.
Though I suspect what that really means is: "Take what you were going to offer me and multiply it by five."
The Duke of York's accuser Virginia Giuffre would be unlikely to accept a "purely financial settlement" to end her sexual assault civil lawsuit against the royal, her lawyer has said.

David Boies was speaking after a US judge rejected Prince Andrew's motion to have the civil case against him dismissed, paving the way for a possible civil trial in the autumn.

Legal experts say one way for Andrew, 61, to avoid trial would be to reach an out-of-court settlement with Giuffre, 38, who claims she was trafficked by the financier Jeffrey Epstein to have sex with powerful people, including Andrew, when she was 17. Andrew has consistently denied her allegations.

Boies said: "I think it's very important to Virginia Giuffre that this matter be resolved in a way that vindicates her and vindicates the other victims."

"I don't think that she has a firm view at this point, nor could she, as to exactly what the resolution should be. But I think what's going to be important is that this resolution vindicates her and vindicates the claim she's made," he told BBC's Newsnight.
The Wall Street Journal wonders who would pay for a settlement, given that Andrew has now been cut off by the Queen, and of course he doesn't have a job.
Perhaps this part of the dance of driving the settlement down closer to earth-- showing that Andrew himself does not actually have very much money so if Giuffre wants more than a little, she'll have to play nice with the Queen?
Just speculation.
I've always been curious about how Democrat Superlawyer David Boies -- he argued for Al Gore in Bush v. Gore -- fits into this, and what other sorts of deals he might have struck.
I think this might be more interesting: Ghislaine Maxwell had been trying to protect the identities of eight "John Does" that made use of her and Jeffrey Epstein's services.
Apparently she's given up trying to keep that information under judicial seal.
So eight men are worried.
EXCLUSIVE: Eight very anxious men: Ghislaine Maxwell GIVES UP battle to keep identities of high-profile John Does named in civil lawsuit sealed after Prince Andrew accuser Virginia Giuffre demands they be made public

Attorneys for Virginia Giuffre have asked a judge to unseal material from an earlier civil lawsuit she filed against Ghislaine Maxwell

The documents are said to contain 'vast swathes of information' about Jeffrey Epstein and Maxwell's 'sex trafficking operation' and references eight John Does

The individuals are identified in court documents only as 'Non-Parties 17, 53, 54, 55, 56, 73, 93 and 151' - it is not clear if one of them Prince Andrew

Maxwell, 60, who last month was found guilty of procuring girls for the late pedophile, had previously opposed making the documents public

But Maxwell's attorney on Wednesday told Judge Loretta Preska that her client does not wish to 'further address those objections'
The left always claims that Trump is implicated, which is stupid; if Trump were implicated, the Deep State would have put that information out in 2015.
No, it's Bill Clinton, stupid lefties.
And speaking of: When Jeffrey Epstein visited Bill Clinton at the White House, he... brought young women with him.
This had been withheld from the public until the Daily Mail somehow got hold of the visitor logs.
Shockingly enough!
EIGHT young women with him on his trips to see Bill Clinton at the White House: Displayed photos of himself posing at the Briefing Room podium at his Palm Beach mansion

Visitor logs obtained by DailyMail.com reveal Jeffrey Epstein was not always alone when he visited the Clinton White House between 1993 and 1995

Records show he brought along eight women, including his girlfriends Celina Midelfart, Eva Andersson, Francis Jardine, and Ghislaine Maxwell

His relationship with the four other women who accompanied him - Jennifer Garrison; Shelley Gafni; Jennifer Driver; Lyoubov Orlova - is unclear

Flight logs from Epstein's private planes tally with White House visitor records showing the eight women were with him during his visits

...

The nature of Epstein's accompanied visits is not disclosed in White House visitor logs, but one of them coincided with a swanky dinner in the Blue Room

I think we can work it out.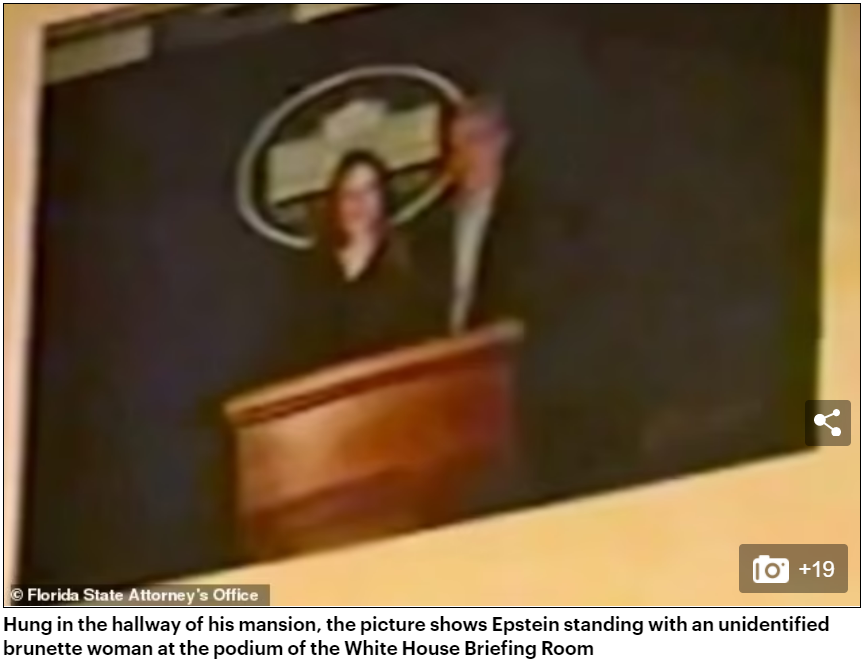 posted by Ace at
01:08 PM
|
Access Comments