« The Horror of the Libs of TikTok
|
Main
|
Border Collie Boss Cafe »
January 14, 2022
Quick Hits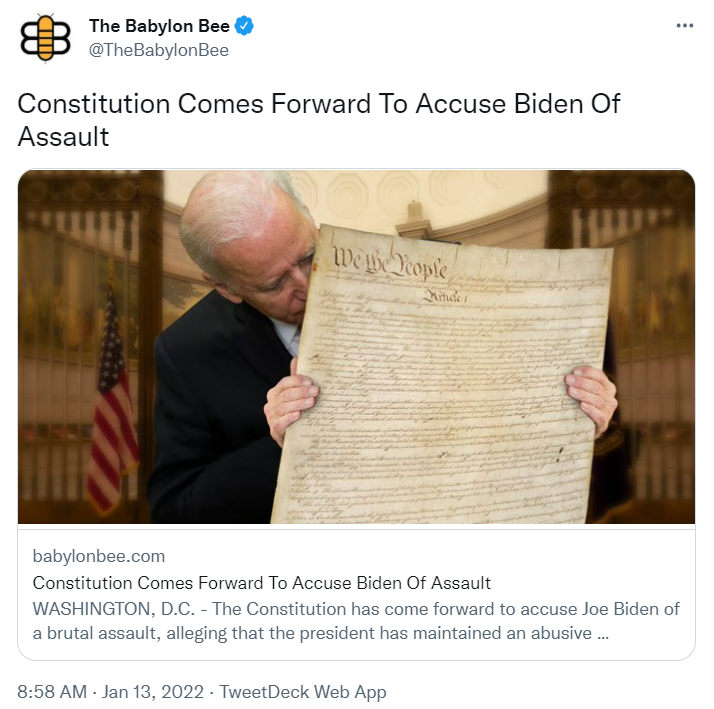 Science is whatever Millennial communications majors decide it is depending on the political demands of Current Year: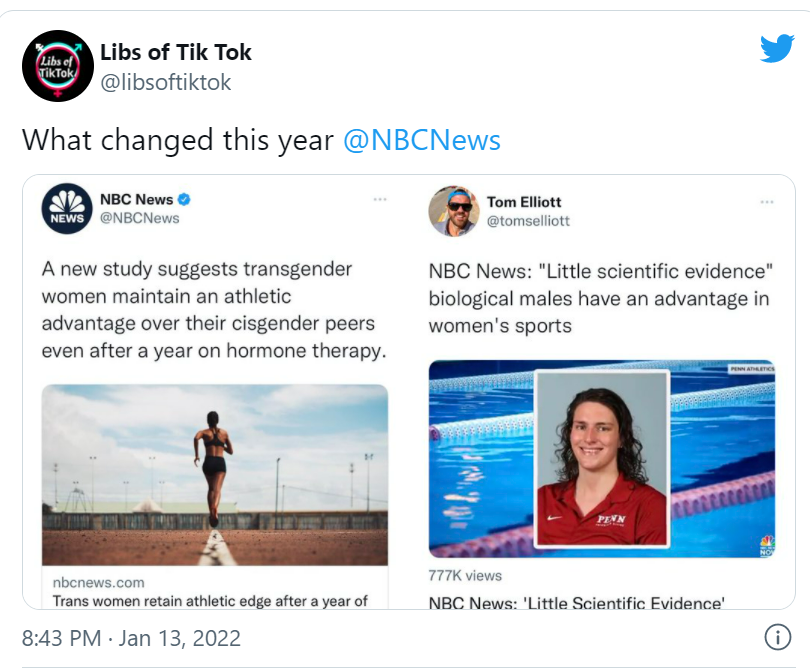 Transgender "womens" swimming champion Will "Lia" Thomas calls ximself "the Jackie Robinson of women's swimming."
Is this a giant 4chan troll? Are we going to find out in a year that he's a huge Ben Shapiro fan and he's working to expose the trans sham from the inside using FACTS and LOGIC and WORLD RECORDS?

The New Republic is written by stupid people for slightly more stupid people. Their exciting new hot take: The filibuster is racist -- but racist specifically against one person.
Kamala Harris.
Why?
Because...
Because...
Because if they filibuster in 50-50 Senate, she doesn't get as many chances to cast a tie-breaking vote.
No, seriously. That's what this Mensa Chapter Typing Pool came up with.
Over the course of many years and many think pieces, the case against the filibuster has been laid out. Typically, critics of the Jim Crow relic invoke various historical facts (some of which have apparently been lost on, or willfully ignored by, certain critical members of the Senate), as well as an array of practical and prudential bases. Onto the pile, however fruitlessly, let us add another: The filibuster is a plot against Vice President Kamala Harris--to take away her constitutional right to vote.

...

By a quirk of history, the plot against America is now also a plot against a Black woman's right to vote. Who says the vice president has nothing to do?
Republicans -- and Sinema and Manchin -- have stolen a WOC VP's right to vote!

The Terrorist Attack on the Capitol:
Shattered mirrors, chandeliers, and furniture littered the halls of the Capitol on a day when a group that "openly advocates the overthrow of the U.S. Government through armed struggle and the use of violence" according to the FBI struck at the heart of our democracy. This was not January 6, 2021 but November 7, 1983, the day that the May 19 Communist Coalition detonated a bomb that blasted a hole in the wall outside the Senate chamber.

But the 1983 incident--the day that a group with the goal of violently overthrowing the government bombed the Senate building--has been effectively wiped from memory. Susan Rosenberg, a May 19 member, was initially charged with a role in the 1983 Capitol bombing and two others, but the charges were dropped as part of a plea deal. In 1984, she was arrested in possession of 750 pounds of explosives and firearms, including automatic weapons, and a jury convicted her the following year. But 16 years into Rosenberg's 58-year sentence, President Bill Clinton commuted it on his last day in office. By 2020, Rosenberg, a convicted terrorist, was sitting on the board of Thousand Currents, which handles donations made to Black Lives Matter.
Actual violent terrorism -- with bullets and bombs, not with words and "parading" -- is just a career-building exercise if you're on the left.
Speaking of: Alvin Bragg, the Soros-funded new Manhattan DA, says that the idea that he's not going to prosecute criminals for major crimes is just some kind of misreading of his memo telling his Assistant DAs not to prosecute criminals for major crimes.

In completely-unrelated news, an armed robber who used a knife to threaten a shopowner to steal $2000.

This is exactly what his memo promised -- armed robberies with deadly weapons would be downgraded to minor larcenies so long as no one winds up seriously injured or dead.
A wanted ex-con allegedly stole more than $2,000 worth of merchandise by threatening a drug store worker with a knife -- yet had his armed robbery charges downgraded under the controversial, progressive policies of Manhattan's new district attorney, The Post has learned.

The move followed a similar case -- featured on the front page of Sunday's Post -- in which prosecutors reduced a felony robbery charge to misdemeanor petit larceny as per the marching orders DA Alvin Bragg gave them last week.
But people just "misread" his memo directing his ADAs to do exactly this.
So he's a lying fat c***sucker too.
The NYC Detectives Union has urged batty Auntie Kathy Hochul to use her power to replace the Soros prosecutor with a special prosecutor in cases where he illegally refuses to enforce the law as duly passed by the representatives of the people.
In other words, whenever he illegally ignores the law, she takes the case out of his hands and assigns it to a state-appointed special prosecutor.
She can do this.
But she won't.
She'll force you to wear a mask and vaccinate your 5 year old for "public safety" but she won't compel a public official to enforce the law against armed robbery.
NY Magazine: The City's Teachers Confess They Want to Go Remote.
Really? They're "confessing" that now? I had no idea the teachers wanted to sit on their couches or "teach" from Aruba and join the Laptop Class. I had no idea.
And yet you say that teachers, who thusfar have successfully disguised this ambition, are finally "confessing" it?
Resistance to in-person learning remains prevalent among rank-and-file teachers....
You don't say. You don't say.
"We experienced hybrid learning the past two years and fully remote learning, and it worked out. So why aren't we having a temporary pause on in-person learning, with supportive services with children with home needs?" said Marilena Marchetti, an occupational therapist serving schools in central Brooklyn.
Worked out for who? Not for the kids, who did not learn. And not for their parents either, who experienced stress and anxiety at very high rates as they had to scramble to find people do the jobs they though they were paying you to do.
Oh but that's right, none of that matters: All that matters is that the teachers liked staying home.
Hey, I've got an idea: Stay home forever. We'll pay the best 300 teachers in the country to record video-on-demand lessons and kids can just play those recorded lessons. We'll pay college kids $20 per hour to grade papers and we'll pay other people $15 per hour to act as Online Proctors watching thirty kids each to make sure kids are paying attention and not screwing around with their phones.
We'll save a fortune. And as you say, "remote learning works."
So stay home forever, guys. We got this.
And you're always telling us how much more money you'd make in other fields.
So get out there and show us how much you're worth on the open market, guys!

Here's another "You Don't Say" story: With crime soaring in LA, LA's rich liberals buy up guns.
In Beverly Hills, even the purchase of a firearm comes with certain... expectations. The city's only gun store, Beverly Hills Guns, is a "concierge service" by appointment only, for a largely affluent clientele. And business is booming.

Since opening in July 2020, the store has seen upscale residents from Santa Monica to the Hollywood Hills increasingly in a panic following several high-profile smash-and-grab and violent home invasion robberies. The apparent siege has brought in a daily stream of anxious business owners and prominent actors, real estate moguls and film execs, says owner Russell Stuart. Most are arming themselves for the first time.

"This morning I sold six shotguns in about an hour to people that say, 'I want a home defense shotgun,'" says Stuart, whose store is discreetly located in a Beverly Hills office building, with no sign on the doors, down the hall from a diamond dealer. "Everyone has a general sense of constant fear, which is very sad. We're used to this being like Mayberry."
They're also organizing... vigilante policing?
While supplementing police with private security can have an impact in smaller cities like Beverly Hills, it's less practical in Los Angeles, which "has way too few police officers," says Alan Nissel, an assistant professor of law at Pepperdine University and the principal at the Wilshire Skyline property management and development firm. "Many of our residents are petrified," he says of the company's high-end apartment buildings and short-term residences, which stretch from Hollywood to Beverly Hills and Malibu. A manager at one of his Santa Monica buildings was recently held up at knifepoint. "Every single building that we manage has had private security services provided because of upticks, and we've never used private security firms in the past."

On Nissel's street in West L.A., a number of WhatsApp neighborhood watch groups have agreed to collaborate in the event of civil unrest. "They designate people to block the streets with private cars and surveil the streets," Nissel says. Some of his most progressive colleagues are arming themselves, including many who "never held a weapon, never considered holding a weapon, but now feel like it would be irresponsible not to."
#DefundThePolice, indeed.
Democrats have turned the Golden West into a living nightmare but these robots will continue voting Democrat even after they're shot up by criminals the very Democrats they voted for put back on the street.
Quick, cut some checks to Conservative, Inc. and NeverTrump; this will pose some legal problems for their patrons:

posted by Ace at
06:29 PM
|
Access Comments