« Daily Tech News 13 January 2022
|
Main
|
Mid-Morning Art Thread »
January 13, 2022
The Morning Report - 1/13/22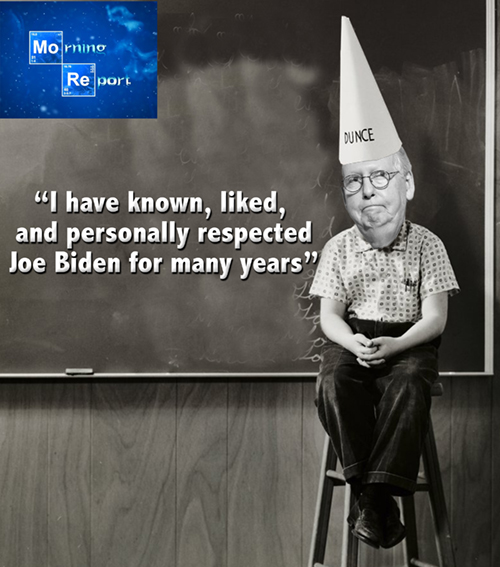 Good morning, kids. Thursday and in response to my incredulity over America, via Fauci, actually funding the Chi-Coms to develop biological weapons, commenter/open blogger Joe Mannix hit me with a truth nuke attributed to his brother:
"The problem is not that the system has become corrupt, but that corruption has become the system."
When you look at every issue and everything we are dealing with in that context, it's kind of a cold slap in the face. What's even more of a gut punch is the realization that this state of affairs is not something new; it's been this way for years, if not decades. You just didn't realize it, primarily because socially and economically, the world - that is your world of family, work and community - was outwardly stable, predictable and secure. Perhaps the first major disruption to that was 9/11/01 and then the response to it in the ensuing months that did nothing to rectify the situation, but was used as a pretext to weaponize the security state against the American citizenry. It's getting into the weeds a bit but we are only beginning to reap the whirlwind of the creation of the FISA courts, the warrantless wiretapping and all the rest of it (how the hell did I ever think that that was a good idea?).
So, on the heels of putting his foot in his mouth (i.e. shoving his head up his ass) about parroting the Leftist propaganda about J-6 being a "terrorist" attack, Ted Cruz is being lauded in the usual circles for defenestrating Dr. Fauci about his collusion with the Chi-Coms to weaponize and unleash General Tso's Sickness. And yesterday, Kevin McCarthy flipped a rhetorical bird at Malig-Nancy Pelosi by refusing to testify in her J-6 kangaroo court while Mitch McConnell ripped Joey Soft-Serve a new one in the well of the Senate for his blood-libeling of those who oppose his nuking the filibuster to make permanent Democrat election rigging.
To all of this brave, uplifting, fightin' mad Mr. Smith Goes to Washington rhetorical fireworks, I say thank you -- and fuck you. When the chips were down last year, you sat on your hands, abrogated your oath to the Constitution and sold America down the river for good by not protesting a stolen election. That was on top of doing everything you could to stonewall and sabotage President Trump's legislative agenda when in his first two years the GOP held both chambers of Congress and had an absolute mandate to reverse not just the Obama destruction, but most of everything going back to the New Deal. The possible exception to that, of course, being the "entitlements." Even before that, for years and years it was "Build the dang fence!" before an election and then deriding us as "hobbits" for complaining about embracing amnesty afterwards. "We're only one half of one third of three fifths of 99 44/100ths% Congress!" Dozens of single-sentence Obamacare repeals knowing full well the dog-eating bastard would veto it but stonewalling and ultimately a thumbs down when Trump pushed for it.
And suddenly, Joe Mannix's brother's admonition about corruption being the system shines an unflattering light on far too many of us who are happy to be a part of it when Uncle Sugar hands us a monthly check. Even though we're at the bottom of the pyramid, we're still a part of the system. That's the hardest, coldest truth of all to have to face.
So, in terms of fighting against things like stolen elections, BLM/Antifa mass terrorism, Jive Kampf crackpot race theory, or trannies raping your children in the girls room, or forcible vaccination and lockdowns, open borders and all the rest of it, Congress, the courts and the bureaucracy will beat you down. In some instances, quite literally as was the case with concerned parents at school board meetings, the J-6 political prisoners, Kyle Rittenhouse, and for sure Ashli Babbit and Roseanne Boyland.
During any other time frame other than the past few years, that outwardly stable world I mentioned earlier of home, family and perceived security was the last thing anyone would want to jeopardize. It is I guess a natural instinct of self-preservation that influences us to go along in order to get along. But look at where we are; our freedom, our financial security and sense of physical security are day by day evaporating in front of our eyes. The abject desperation of the junta in power is in direct proportion to the dangerous rhetoric hurled at anyone who opposes or objects to them, i.e. all of us. We are rapidly heading to an inflection point where people are going to be in a world of hurt with very little in the way of options. And with a junta like this, history tells us time and again what their reaction is going to be.
As Bob Dylan once sang, "When you ain't got nothing, you got nothing to lose."
The End of America: 100 Days That Shook the World available here.


ABOVE THE FOLD, BREAKING, NOTEWORTHY
". . . imagine my shock when it was pointed out to me that the Supreme Court justices of all fifty states have created their own legislature, a fraudulent Congress called the Conference of Chief Justices (CCJ), where they go twice a year and vote on "resolutions" which they then take back to their respective states and implement through court procedure."
The United States Judiciary is Acting as a Shadow Government and Must Be Stopped

Lloyd Billingsley: "The NIH bioethics boss, a specialist in 'human subjects' research, explains it all for you."
Dark Thoughts from the Wife of Dr. Doom

Michael Walsh: ". . . , no matter how often the Democrats wrap themselves in the flag, execrate the memory of the Trump presidency -- which they view as an unfortunate interregnum between the Obama administration and what is now the third Obama term, with perhaps (if Michelle runs to supplant Biden in 2024) another one or two to come -- and, increasingly, regard any opposition as not only unprincipled but seditious, they still can't run away from their past. Unfortunately for us, their past is just prologue."
"A Battle for the Soul of America"
CIVIL WAR 2.0: LEFTIST PERSECUTIONS, CAPITOL HILL BLACK WEDNESDAY PROTEST AFTERMATH, DEMOCRAT PUTSCH, AMERICAN DISSOLUTION
NOTE: The opinions expressed in some links may or may not reflect my own. I include them because of their relevance to the discussion of a particular issue.
ALSO: The Morning Report is cross-posted at CutJibNewsletter.com if you want to continue the conversation all day.
Follow us on Twitter: @CutJibNews
Follow us on Instagram: @Cutjibnewsletter

posted by J.J. Sefton at
07:24 AM
|
Access Comments