« Daily Tech News 10 January 2022
|
Main
|
Mid-Morning Art Thread »
January 10, 2022
The Morning Report - 1/10/22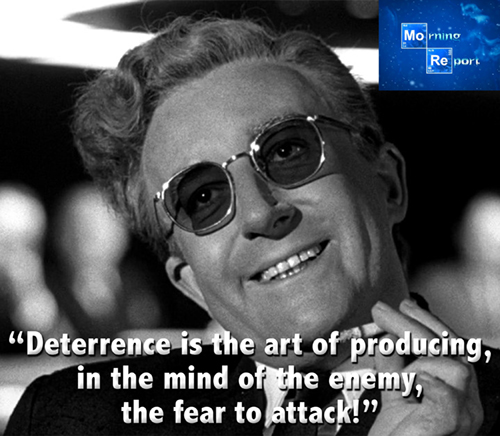 Good morning, kids. Start of a new week and while the bad news is the Democrats are not only not going to let their January 6th Pagan rite go, but are going to be ramping it up all the way to November and beyond, the good news is most Americans (real Americans, not illegal aliens nor the hardcore Marxist Democrat base) could give a rat's ass about it, being more concerned with trivial matters like freedom-killing economic hardship and senseless Chinese COVID mania. The globalists stole 2020 and having done so, what's been the result? One solid year of abject domestic and foreign policy disasters, debacles and catastrophes unlike any single or even multiple years in America's now-concluded history. Every decision, edict, executive order or law that brought all this about was done ostensibly for one reason: to reverse everything done in the previous four years by President Trump that brought about the exact opposite: arguably the greatest domestic and foreign policy triumphs in America's now-concluded history.
But it has to be more than that. Or has it? Doing the same things over and over while expecting a different result is the definition of insanity. And yet this is exactly what the Democrats have been doing since forever. Sadly, 99.5% of the GOP fall into this category as well. The GOP is to opposition and reversal as Ashli Babbit and Roseanne Boyland are to terrorism and violent, white supremacist insurrection. I suppose in the end it doesn't really matter if you're a true believer like Titty Caca Cortez or an Elmer Gantry grifter like Cuck Schemer Schumer. The final destination is still a mass grave for any of us who stand in their way.
So, the Democrats will milk the January 6th, 2021 incident -- where all of the violence and destruction was solely caused by FBI agents, DC cops, and their Antifa/BLM confederates in MAGA gear while the hapless fools who followed them in to the Capitol to do nothing more than gawk at the scenery are now being held and brutalized at the hands of Moloch Garland -- forever. They have to, because that's all they have. They're not going to be winning any elections on $6.00/gallon gas, transexual child rapists and Jive Kampf indoctrination, are they? At least not without the assistance of Dao-Min Yen.
The other reason to ramp up J6 fear-mongering is because all the fear-mongering regarding General Tso's Sickness is not working, especially with the revelations from the CDC itself among other places that the latest Phi Beta Kappa variant is essentially no more dangerous than the common cold. But, in the immortal words of Rodgers and Hammerstein, "you've got to be taught to hate and fear."
Until a few days ago, I had never heard the term "Mass Formation Psychosis." There's a phenomenon when something gets hot that all sorts of experts announce themselves on Twitter, when their expertise is about 24 hours old and an inch deep. . .

The conditions to set up mass formation psychosis include lack of social connectedness and sensemaking as well as large amounts of latent anxiety and passive aggression. When people are inundated with a narrative that presents a plausible "object of anxiety" and strategy for coping with it, then many individuals group together to battle the object with a collective singlemindedness. This allows people to stop focusing on their own problems, avoiding personal mental anguish. Instead, they focus all their thought and energy on this new object. . .

. . . So are we in the midst of another madness coming to an end when we least expect it?

What started me on this post was not Mass Formation Psychosis, or the Madness of Crowds, it was this post by Joel Kotkin at Unherd, which proposes what seems most unlikely proposition that the "progressive" march through institutions we are witnessing in real time may be nearing its end, Is this the end of progressive America?

Over the past several decades, the progressive Left has successfully fulfilled Antonio Gramsci's famed admonition of a "long march through the institutions". In almost every Western country, its adherents now dominate the education system, media, cultural institutions, and financial behemoths.

But what do they have to show for it? Not as much as they might have expected. Rather than a Bolshevik-style assumption of power, there's every chance this institutional triumph will not produce an enduring political victory, let alone substantially change public opinion. . .

. . . So there you have it. Mass Formation Psychosis. The Madness of Crowds. And The End Of The Progressive March Through Institutions. All connected somehow. Hope in the midst of despair.

But first, things will fall apart:
Kind of hard to have hope since the falling apart we've been through in this last year alone has been bad enough. Another year of this, let alone three, will kill me.
The End of America: 100 Days That Shook the World available here.


CIVIL WAR 2.0: LEFTIST PERSECUTIONS, CAPITOL HILL BLACK WEDNESDAY PROTEST AFTERMATH, DEMOCRAT PUTSCH, AMERICAN DISSOLUTION
NOTE: The opinions expressed in some links may or may not reflect my own. I include them because of their relevance to the discussion of a particular issue.
ALSO: The Morning Report is cross-posted at CutJibNewsletter.com if you want to continue the conversation all day.
Follow us on Twitter: @CutJibNews
Follow us on Instagram: @Cutjibnewsletter

posted by J.J. Sefton at
07:26 AM
|
Access Comments