« Mid-Morning Art Thread
|
Main
|
CDC Changes Quarantine Rules from 10 Days to 5 Days -- As Fauci Admits It's About Economics »
December 28, 2021
THE MORNING RANT: Since "Slur" Is The Media's Favorite New Word, Can We Start Calling "Latinx" a Racial Slur?
The media has a favorite new word, "slur." Anyone who says anything critical or mocking of a leftist has now committed the cancellable sin of having spoken a slur.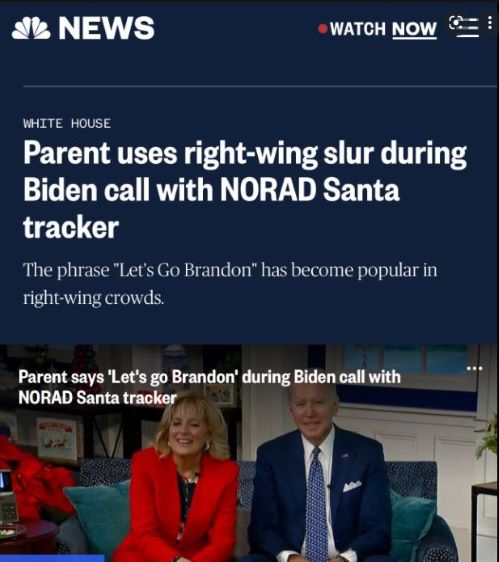 Punking Joe Biden by having him repeat "Let's go Brandon" means that a slur was committed. And as Ace covered yesterday, the media is now doing an all-points assault on the man who "slurred" Joe Biden, by trying to destroy his business, and doxxing him so that fellow deranged leftists can cause him harm.
Or how about this. Do you remember the children's song "Jesus Loves The Little Children?" It teaches that there are no racial differences in Jesus' eyes, specifically: "Red and yellow, black and white, they are precious in his sight, Jesus loves the little children of the world." Marjorie Taylor Greene used the language of that beloved song to talk about the diverse, Jesus-loving crowd at a rally.
In response, our loathsome media stated that she had used a racial slur for not keeping up with the euphemism treadmill.
Marjorie Taylor Greene uses racial slur at 'AmericaFest'
"So I'm walking around and seeing some good people, and I see white people, Black people, brown people, yellow people," Greene said. "And then there's talk of freedom and loving America and conservative principles, some crazy people in here were talking about how much they love this guy named Jesus."
Greene did not make any other reference to Asian Americans during her speech, and it is unclear if she knew the term is offensive, though it has a long and documented history as a racist term.
Uh huh. It also has a long and documented history as being part of a children's song that teaches Christians to love all people equally, regardless of their skin color.
But if we're going to start identifying "slurs," here's one. How about shaming every English-speaking white liberal who uses the term "Latinx" for having committed a slur? As many writers (including me) have documented, the non-Spanish term "Latinx" is overwhelmingly rejected by Hispanics, and it is actively despised by many, who see it as a cultural insult being imposed on them by white English speakers.
This following story is funny - or it would be funny - except for the hurt caused by racist white liberals who persist in slurring Hispanics with the term "Latinx."
'Latinx' dropped from LULAC official usage, deemed 'very unliked' by Latinos
The League of United Latin American Citizens, or LULAC, has announced it will stop using the controversial gender-neutral term "Latinx" in its official communications.
Last week, LULAC president Domingo García directed the group to cease the term's usage, NBC News reports. García explained the term is "very unliked" by nearly all Latinos.
Like other racist slurs, it is past time for "Latinx" to be retired. Together, we can help educate those who continue to use that awful slur.
[buck.throckmorton at protonmail dot com]


posted by Buck Throckmorton at
11:00 AM
|
Access Comments