« Back on the GAINZZZ TRAINZZZ
|
Main
|
Magic Bullet Cafe »
December 17, 2021
Quick Hits 2: Government Agents are Now Grooming Children to be Trans and Demanding You Give Them Raises and Extra Time Off For Their Heroic Work
With his approval rating mired in the low forties -- according to the leftwing polls that consistently oversample Democrats -- the Turnip Mash Regime has suspended its corrupt plan to give $450,000 to illegal aliens, per person, as a fake "settlement" over family separations.
In October, the Wall Street Journal reported that the Biden administration was considering paying $450,000 to illegal immigrants who crossed the southern border and were separated from their families during the Trump administration. When asked about it, Joe Biden called the report "garbage."

Now we know that the Biden administration won't be compensating illegal immigrant families... but that's only because they ceased negotiations, not because it was never under consideration.

"The families' lawyers said Justice Department attorneys informed them that the government would no longer work with them to settle lawsuits filed on behalf of parents and children seeking damages over the border separations," CBS News reported. "Thursday's decision by the Biden administration, which has forcefully denounced the Trump-era separations, comes after Republican lawmakers expressed outrage over reports that some families could have received hundreds of thousands of dollars as part of a potential settlement."
A group of teenagers, one armed with a hammer, attacked a 67-year-old man in NYC. This is normal and good and you will now forget this story ever happened.
Speaking attacks that never happened, Waukesha understands exactly why the corrupt national media decided that Grandmas' and Children's Lives Don't Matter.
Screenshots of Brooks' Facebook page, under his MathBoi Fly rapper handle, were mysteriously deleted right after the parade murders, and showed that he had praised Hitler, backed Black Lives Matter -- and called for violence against white people.

"So when we start bakk knokkin white people TF out ion wanna hear it... the old white ppl 2, KNOKK DEM TF OUT!! PERIOD," he wrote under his rap name, MathBoi Fly, along with a middle-finger emoji.

Brooks' case has become a cause celebre -- not in the mainstream media, which was slammed for initially saying the deadly attack was caused by "a car" that drove into the parade, but by an increasing chorus of influential podcasters like Joe Rogan and online pundits who claim Brooks and his victims in Waukesha have been "swept under the carpet" by the press because the case doesn't fit their agenda.

...

Some locals told The Post they wonder if Brooks was influenced by the outcry over Rittenhouse's acquittal -- especially given his social media posts -- maybe to the point of driving into the parade.

...

"We've got six people dead and teenagers so badly injured they will have to learn to walk again -- at Christmas," state Rep. Cindi Duchow, a Waukesha resident and a Republican, told The Post.

Said Duchow: "Because this was a black guy who did it, the media doesn't want to cover it. They were all over the Rittenhouse case because that kid was white. Race doesn't matter to us here, but the media makes everything about race."
The lunatic was only out on the street due to being out on ludicrously low bail of $1000 after having run down his girlfriend in his SUV. That low bail was sought by Soros-backed DA John Chisolm.
There's now a campaign to oust Chisolm from his corrupt perch.
The media isn't covering this story because the media was Darryl Brooks' copliot.
They flood the country with one sociopathic racialized lie after another.
What do they expect is going to happen?
They can't claim ignorance -- they're forever chastising the right about the dangers of "intemperate speech" spurring "violent backlashes" against various communities.
What does the media think their constant agitation against the whites/Christians/conservatives/Republicans is doing?
Remember a couple of weeks ago, when the Epoch Times reported on California teachers grooming young kids to be gay or trans, and hiding this from their parents? And bragging about giving their gay/trans conversion therapy clubs names that wouldn't alarm their parents so that no one would find out? And not keeping membership lists so they couldn't be caught lying when they would deny knowing if a particular student were in the club?
Libs of Tik Tok has a thread of a mom and dad ripping the school board of the district where those parents indoctrinated their daughter to be trans.
Here's another parent accusing these teacher of being "predators," "seeking kids out" based on them seeming weak or isolated, and then grooming them into a new identity.
As the mom of a groomed student pointed out: These teachers are not psychiatrists. Not even psychologists.
They are just self-appointed LGBT recruitment officers and gonzo political activists, brainwashing children for The Almighty Cause.
More on this disgusting story of child abuse and manipulation from Deb Heine.
One parent's voice shook with rage as she accused school staffers of making her daughter suicidal after they caused her to question her gender, and change her preferred pronouns.

"My child almost lost her life! You didn't tell me that my child was suicidal!" she exclaimed during public comments at the Dec. 15 Spreckels Union School District (SUSD) board meeting.
After she met with the teachers to complain -- during which meeting they kept "smirking" at her -- they called CPS. Cops came to her house to ask the children if they felt they should be removed from the home.
Libs of Tik Tok adds this:
@libsoftiktok

Another interesting twist. At the [California teachers conference], they bragged about stalking students' online searches and emails to recruit them. The husband of one of the teachers mentioned, is the IT director of this district.
Sex and the City actor Chris Noth accused of sexually assaulting two women.
Usual cautions: accusations are not evidence, etc.
Greg Kelly -- a bit of a "performance" artist on Twitter -- shares a "rant" about Sex and the City.
Spoilers. But if you care at all, you already know.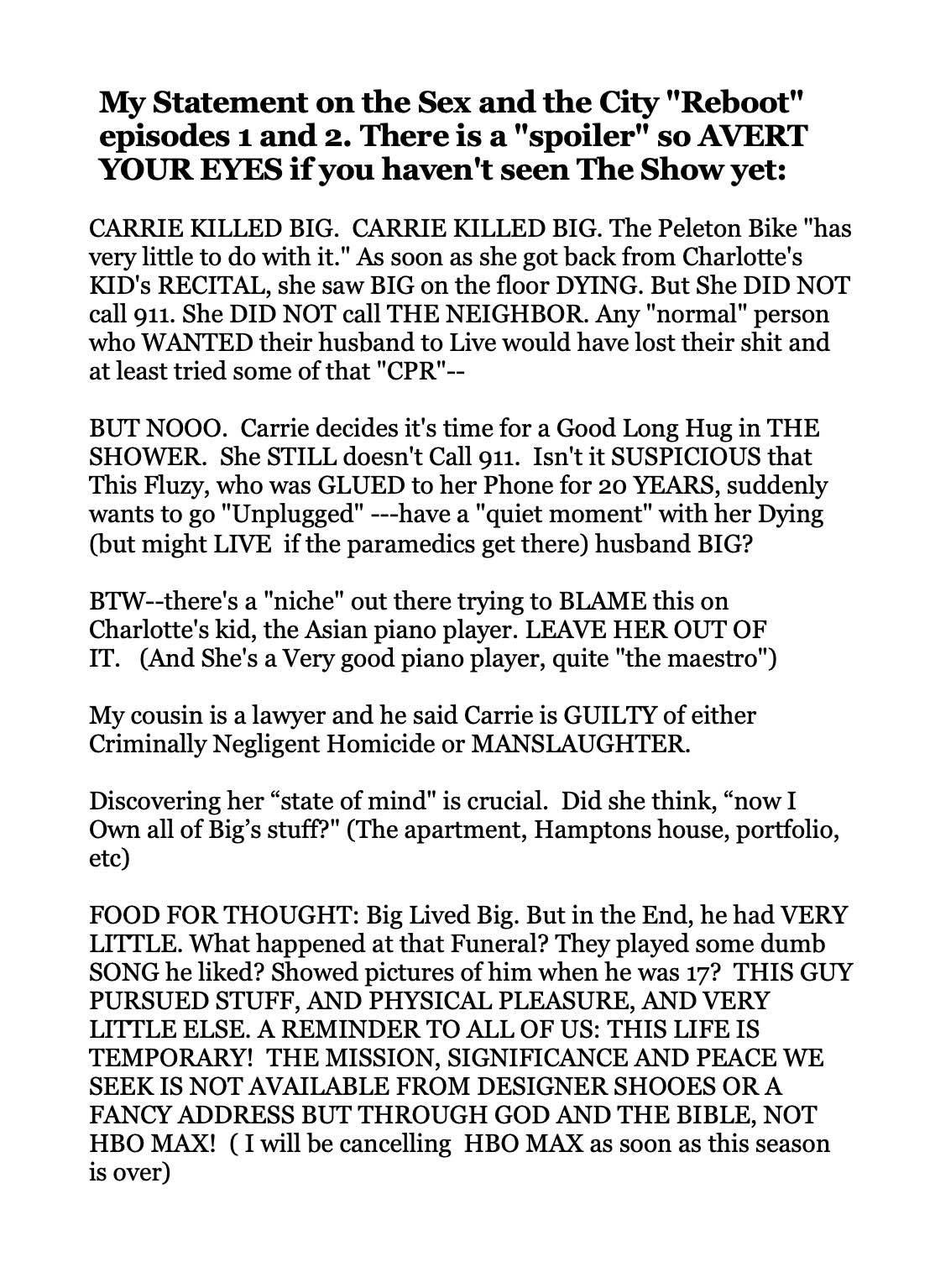 I know he sounds like a mental patient, but he's doing that on purpose, as a joke.
I... think.
I used to do that "throw" scare "quotes" around random "words" thing to sound like a "demented" lunatic thing "too," years ago.
Then I actually started using scare quotes more and more, unironically.
I guess I went crazy for real sometime around 2012.
HBO disinvited J.K. Rowling, the creator of the entire Harry Potter world, from their 20th anniversary special about the franchise.
All because the trans extremists have demanded she be cancelled, because she doesn't agree that there is no difference between a woman and a guy who decided he was a woman three minutes ago.
And now Warner Bros. now joins in the "trans erasure" of J.K. Rowling by omitting her name from the trailer of the new Wizarding World movie.
Rowling is "written out" in the sense that the trailer begins with the words "Warner Bros invites you" while the earlier film, Fantastic Beasts: The Crimes of Grindelwald, used the words "JK Rowling invites you." The earlier film's trailer informed us that she'd written and produced the film, and for this new film, her name appears only in a tiny copyright notice at the end of the trailer.

I watched the trailer. I was struck by the line of dialogue: "The world as we know it is coming apart."
Konstantin Kisin
@KonstantinKisin



Nov 30
In the Soviet Union we had:

- A media which regurgitated the Party line and was widely understood to be lying

- A culture of fear about speaking your mind in public because wrongthink was punished both socially and criminally

- Cultural and creative stagnation resulting from state and self-censorship

- Mass scale indoctrination of children with radical unscientific ideologies through the education system

- A fake "consensus" which went largely unchallenged for fear of losing your job and social stigma

- People pretending to believe things in public that they vehemently opposed in private

- The framing of dissenters as undermining the safety of others

- Underground groups which met to discuss all of this in secret (think WhatsApp groups but with vodka)

Good thing the Soviet Union is no longer with us, eh?
President Ice Cream Cone again struggles to remember the name of his Secretary of Defense.
He also now has to call in the cavalry to help him read the number "57 million."
Let's be charitable and assume that was written as 57,000,000. You count the two sets of triple zeros. That makes millions. That's... I mean, this is fourth grade stuff.
As Max Morton said: Board of Education member thinks that Real Life is Twitter and pushes a parent.
He soon finds out that Real Life is not, in fact, Twitter.

This guy.
This is the guy I want to be when I get a time machine and get a chance to grow up again.

posted by Ace at
05:56 PM
|
Access Comments