ę Brandon's FEMA Director: Of Course the Weekend's Tornadoes Were Caused by Global Warming. This is Known.
|
Main
|
The Atlantic Publishes a Piece Stating that Covid Is Over, and Its Readers React Insanely Ľ
December 14, 2021
Is Hillary Clinton Actually Running?
228 >>>Is Hillary Clinton Actually Running?

Like a gangrenous pustule!
Posted by: m
The Haggard Queen will not be denied.
She's warning that the third term of Donald Trump (see what I did there) would be the end of democracy in America.
With the subtext -- and there's only one woman in America who can stop it.
The White House repeated on Monday that President Joe Biden plans to run for reelection in 2024 as failed presidential candidate Hillary Clinton continues rebuilding her political profile.

"The president has every intention of running for reelection," White House press secretary Jen Psaki said during the daily briefing on Monday.

On Sunday, Clinton warned that former President Donald Trump would run for president again in 2024 and that there would be dire consequences for the United States if he won.

"I think that could be the end of our democracy," she said in an interview with NBC's Willie Geist. "Not to be too pointed about it, but I want people to understand that this is a make-or-break point."

Clinton's sudden reemergence on the public stage demonstrates her eagerness to put her name back in the political conversation, as President Joe Bidenís approval ratings are at an all-time low.
Former Trump aide Jason Miller says she's Positioning Herself to run for president. (Kamala Harris, take notice: You can position yourself.)
The time may be right for Hillary. A new poll has a humiliatingly low 22% of Americans and 37% of Democrats wanting Biden to run again in 2024; meanwhile, only 12% (and 16% of Democrats) want Kamala Harris to be the Democrats' standard-bearer in the next presidential election. And who comes after that? Transportation Secretary Pete Buttigieg, who enjoyed a long unannounced vacation as the supply chain crisis spiraled out of control? Gavin Newsom, the authoritarian governor of the California SSR? Stacey Abrams, who worked against the people of her own state for the sake of woke posturing against Georgia's voter integrity law?

Miller explained that the rationale for Hillary's recent reading of her victory speech was "all about gaming 2024." He added: "Hillary's trying to humanize herself and inject herself into the 2024 presidential discussion. That's all it is. Let's just be brutally crass and direct about it. The fact of the matter is that Crooked [Hillary] is circling around Joe Biden almost like a buzzard looking at the carcass on the ground, saying, 'It's not going to be Joe Biden, it's not going to be Kamala Harris. How can I go and insert myself into this national discussion and remind people that I'm still here?'"

This analysis gains plausibility from Hillary's introduction to her speech. She said: "I've never read this out loud. But it helps to encapsulate who I am, what I believe in, and what my hopes were for the kind of country that I want for my grandchildren, and that I want for the world, that I believe in that is America at its best." Why would the kind of country that Hillary wants for her grandchildren and for the world be of anything except mild historical interest unless she intends once again to attempt to impose her vision on the rest of us from the Oval Office?
She just tweeted this out an hour ago: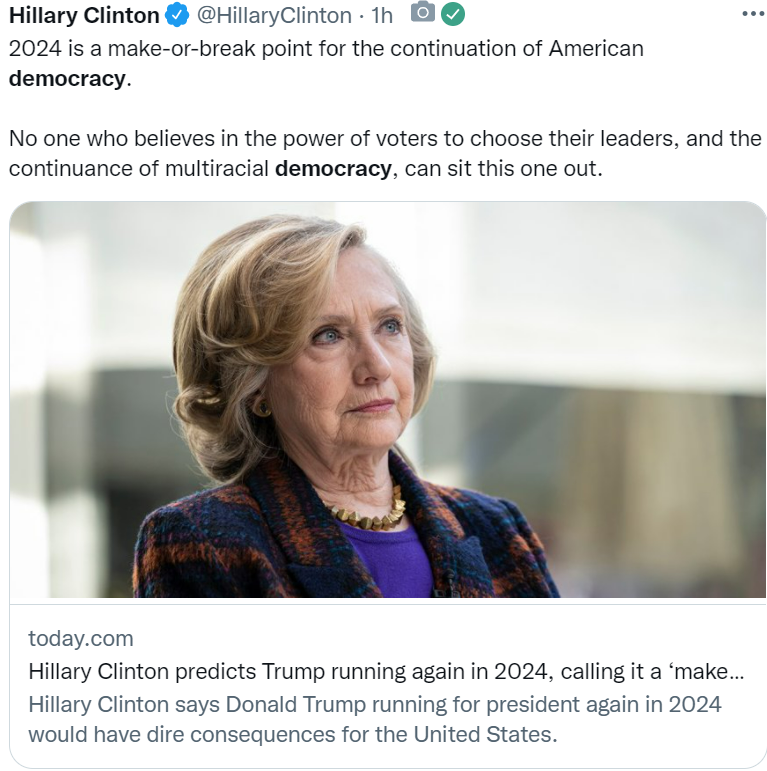 In predicting Trump will run, isn't she really telling us that she will run?
Hillary Clinton, former Secretary of State and 2016 Democratic presidential candidate, said she thinks former President Donald Trump will run for re-election in 2024, and if he wins, it "could be the end of our democracy."

"Especially if he had a Congress that would do his bidding, you will not recognize our country," Clinton said Sunday on "Today."

"If I were a betting person right now, I'd say Trump is going to run again. He seems to be setting himself up to do that, and if he's not held accountable, then he gets to do it again," she said. "I think that could be the end of our democracy. Not to be too pointed about it, but I want people to understand that this is a make-or-break point. If he or someone of his ilk were once again to be elected president, and if especially if he had a Congress that would do his bidding, you will not recognize our country."

NBC invited her to make a campaign pitch :
Clinton, who lost to Trump in the 2016 election, believes America faces a clear choice.

"Are we going to give in to all these lies and this disinformation and this organized effort to undermine our rule of law and our institutions, or are we going to stand up to it?" she asked.

The stars align.
And she looks like Hastur the Unspeakable.
So.
Not a single question in any Hillary Clinton interview about the dossier she paid for.
Not.
One.
Single.
Question.

posted by Ace at
02:20 PM
|
Access Comments