« The Atlantic Publishes a Piece Stating that Covid Is Over, and Its Readers React Insanely
|
Main
|
Jussie Smollett Juror: As Soon as the Case Was Submitted To Us We Took at a Vote, and It Was Unanimous: By a Vote of 12 to 0, We Voted "This is MAGA Country!" »
December 14, 2021
Unexpectedly, Producer Price Index Rises by Nearly 10%, the Fastest Rate in 11 Years
Jen Psaki Blames the High Cost of Meat on "The Greed of Meat Conglomerates"
The unexpected surge in the Producer Price Index is a real "unexpectedly" because this exceeded analyst expectations. They projected a 9.2% increase.
But Let's Go Brandon, huh?
The Producer Price Index measures the prices for goods bought and sold by, well, producers, rather than consumers.
It's more expensive for producers to produce, which means it's more expensive for consumers to consume.
Odd how that works!
Prices charged by businesses for goods and services purchased in the U.S. rose 9.6 from a year ago in November, their highest annual pace in records going back nearly 11 years, the Labor Department said Tuesday.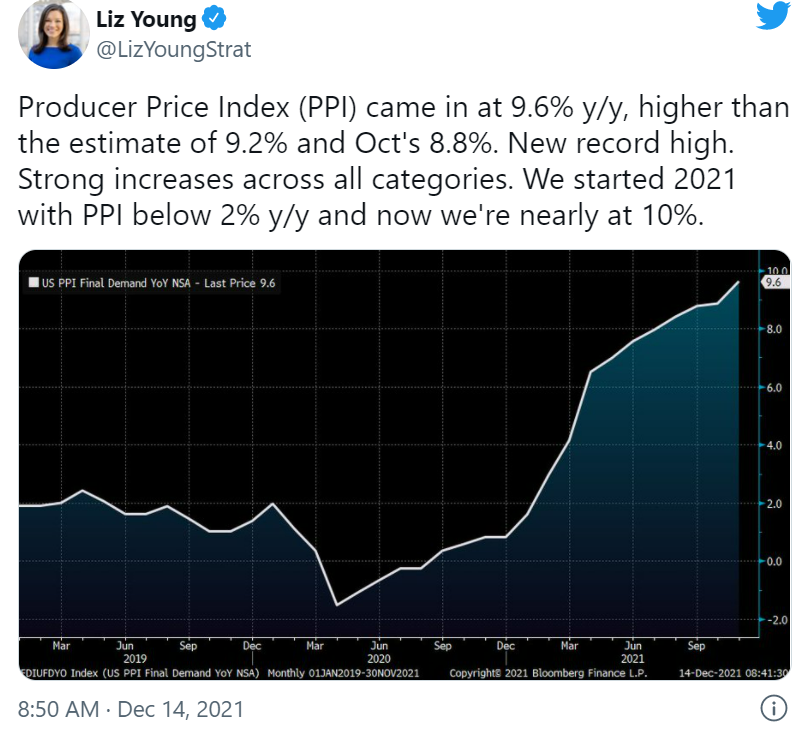 If that graph looks alarming to you, don't worry: It's fake. It's a hallucination.
Or it's caused by Gouging and Price-Fixing by Big Meat.
At least that's what Jen Psaki is claiming.
Lady Braniac over here just told us al that the high costs of meat were not due to Brandon's out of control inflation -- caused by his out of control spending, injecting the economy with literal trillions upon trillions of fake new dollars chasing the same (or shrinking) pool of goods -- but due to "meat conglomerates."
Thus it always is with Marxism: When their Marxist schemes result in immiseration and catastrophe, as they always do (and always must), they blame Saboteurs, Wreckers, Hoarders, and Foreign Agents for undermining their miracle 5 Year Plans that would have succeeded if not for the manipulations of Greedy Kulaks and Big Meat.
After demonizing the "Wreckers," the next step, of course, is weaponizing the government to "crack down" or arrest these Subversives who are unpatriotically sabotaging the brilliant Marxist 5 Year Plan.
We're not at the "arrest" them phase. Not quite yet. But we definitely are at the "legally harass" them phase. Maybe sic the DOJ on them, on a politically-motivated fishing expedition for a pretextual price-fixing investigation.
Let them know that their King expects them to cut prices and take no profits -- and maybe run a loss for a year or two -- to get the King's popularity up to 45%.
Or there will be... some official unpleasantnes.
Psaki also just told us that the CBO's projections about the real costs of the Build Back Bolshevik bill were all a Lie told by Running Dog Capitalist Lackeys.
In fact, every disaster you think happened under President Disaster Pants is a Lie you've been told by Running Dog Capitalist Lackeys.
Noam Blum
@neontaster



Lab leak? All in your imagination
Gain of Function? All in your imagination
BLM riots? All in your imagination
Afghanistan disaster? All in your imagination
CRT? All in your imagination
Self-defense? All in your imagination
Inflation? All in your imagination

You're just crazy!

Note that, below, Doocy asks a good question. He knows that Jen Psaki has a prepared answer to the obvious question, so he asks an inobvious one: If the Build Back Bolshevik bill is serious about all this social spending expiring after one or three years -- which is a lie, obviously-- will President Ice Cream Cone "commit" to that? Will he promise to keep to that sunset schedule?
Of course she blows off that question and just runs to her rehearsed one.
And she calls the CBO analysis a fake analysis of a fake bill.
But by not committing to really guarantee that the bill's social spending will expire in one or three years, she's in fact confirming the CBO is actually analyzing the real bill.
Click on the tweet for the video.
thank to it's me donna for that memory.