« The Morning Rant
|
Main
|
Axios: Oh, No! The Right Wing Is Building "Its Own Echo Chamber," Separate from Our Corporate-Backed, Monopoly-Enforced Echo Chamber »
December 06, 2021
CNN Fired Chris Cuomo After Being Contacted About Fredo's Own New Sexual Harassment Allegations, Lodged By a Former Colleague at ABC's Good Morning America
Update: Cuomo Said Zucker Knew All About Him; CNN Calls Cuomo A Liar
Ayyyy, he's just Italiano, capisce? Ay, gabbagool, honk honk!
>CNN fired Chris Cuomo after learning he'd been accused of sexual misconduct by a woman who formerly worked with him at ABC, sources told The Post on Sunday.

The unidentified woman is set to be interviewed by outside lawyers hired by CNN this week, pending an agreement to keep her identity and everything she says confidential, sources said.

Cuomo, 51, hasn't been formally told the accuser's name but is believed to have figured it out based on information in a letter her lawyer sent to CNN last week, sources said.

The woman was previously described only as "a former junior colleague at another network" by the New York Times, which first reported on the new allegations after Cuomo's termination Saturday.

Cuomo was a news anchor for ABC's "Good Morning America" from 2006 to 2009 and also served as anchor of the network's "20/20" before leaving in 2013 to co-host CNN's morning show.

...

CNN felt compelled to fire Chris Cuomo after learning of the new allegations against him last week, a TV insider told The Post. Chris Cuomo was previously accused of grabbing the rear end of a female ABC producer in 2005 and of causing a female producer to leave his CNN show last year because she "felt threatened."

Debra Katz, an attorney for Charlotte Bennett, said in a statement that she contacted CNN on Wednesday to report the woman's unspecified misconduct claims against Chris Cuomo.

"From a legal standpoint, CNN had cause to fire Chris on Friday based on the Letitia James information," the source said, referring to documents released last week by the state attorney general on her office's probe into Andrew Cuomo, which included new details about his brother advising him during the scandal.

"From a practical standpoint, when the sexual-misconduct claim came in, CNN decided, 'Enough is enough.'"

In a statement to the Times on Saturday night, a CNN spokeswoman said, "When new allegations came to us this week, we took them seriously, and saw no reason to delay taking immediate action."

On Sunday, the accuser's lawyer, Debra Katz, said in a statement that she contacted CNN on Wednesday to report the woman's unspecified misconduct claims against Chris Cuomo.

"By Friday, I was in discussions with CNN about providing documentary evidence of my client's allegations and making my client available for an interview with CNN's outside counsel," she said.
...

The lawyers are preparing to interview the woman this week, CNN insiders said.

The matter is being handled by the white-shoe law firm of Cravath, Swaine & Moore, the network's chief media correspondent, Brian Stelter, said on his "Reliable Sources" program on CNN on Sunday.

Katz — who also represents one of Andrew Cuomo's accusers, former aide Charlotte Bennett — did not immediately respond to a Post request for comment.

Chris Cuomo's spokesman, Steven Goldberg, said in a statement that "these apparently anonymous allegations are not true."

He declined to comment further.
Update: At the WSJ, via Ed Morrissey, a Cuomo spokesman says that Zucker's claim that he was surprised to learn that Cuomo was intimately involved in his brother's defense is a lie, and CNN responds by branding their former anchor a liar.
Mr. Cuomo has apologized for advising his brother, who was embroiled in a significant story CNN was covering. A spokesman for Mr. Cuomo said in a text message on Sunday: "Mr. Cuomo has the highest level of admiration and respect for Mr. Zucker. They were widely known to be extremely close and in regular contact, including about the details of Mr. Cuomo's support for his brother. There were no secrets about this, as other individuals besides Mr. Cuomo can attest."

...

CNN said in a written statement it is disappointed with Mr. Cuomo's characterization of events. "He has made a number of accusations that are patently false," the network said. "This reinforces why he was terminated for violating our standards and practices, as well as his lack of candor."
Tell me where it is in the Constitution that says that a news anchor has to be truthful?
I forgot to mention, Fredo is huddling with lawyers, contemplating a lawsuit against CNN. Laying the foundation that "Zucker knew everything" would be in service of that.
Even Tater had to mention the news, at 3:30 below. He pleads ignorance.

Below, the statement from the lawyer Deborah Katz.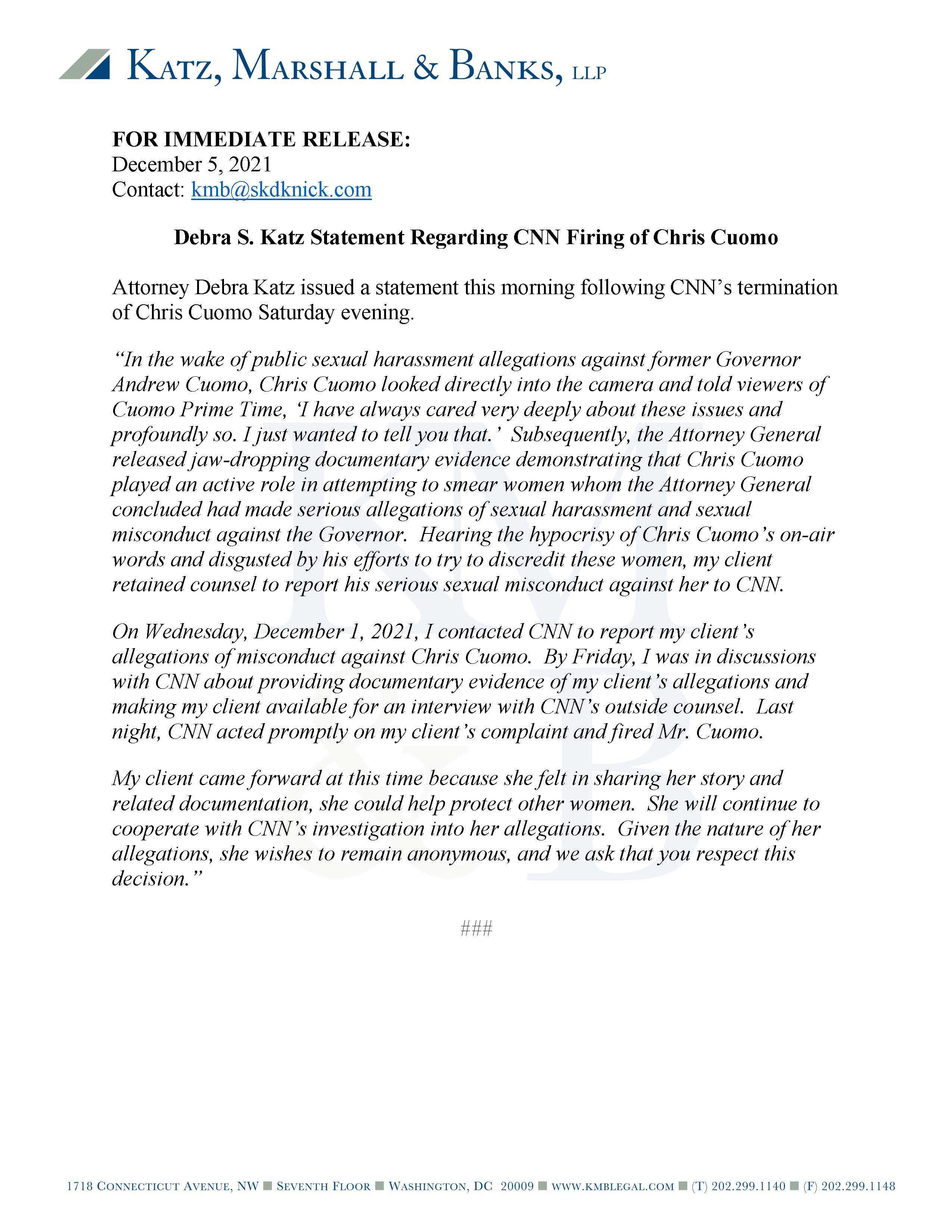 Wasn't she Christy Balls-Out Ford's lawyer?
Tater was spotted working obesely in a bar over the weekend.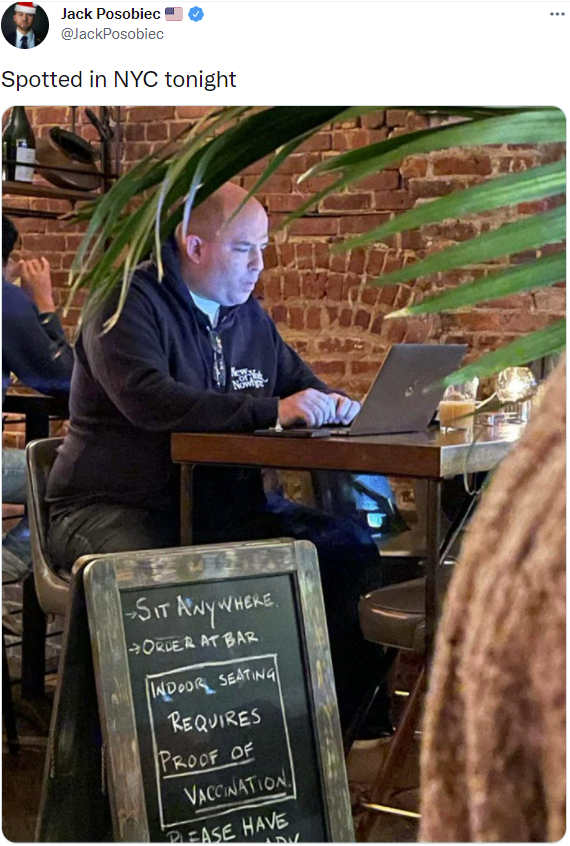 Note he's not wearing a mask. While NYC does not require people who are vaccinated to wear a mask indoors, they "strongly recommend" it:
We strongly recommend that people who are fully vaccinated wear a mask in all other public, indoor settings, even when it is not required, and in any setting when you do not know who around you are vaccinated.
And let's face it, Tater is 310 pounds of comorbidities in a 250 pound sack.
Given that CNN has been the most shrieky and panicky about the virus, shouldn't their personnel go the extra mile in setting a good example for the peasants they lord over?


posted by Ace at
12:14 PM
|
Access Comments