« Quick Hits with a Light Dusting of the Libs of Tik Tok
|
Main
|
Tickle Giggles Cafe »
December 03, 2021
Jussie Smollet's Woke Lawyer Demands a Mistrial, Claiming Judge "Snarled" and "Lunged" At Her, Then Runs from Courtroom Crying When He Refuses Her Motion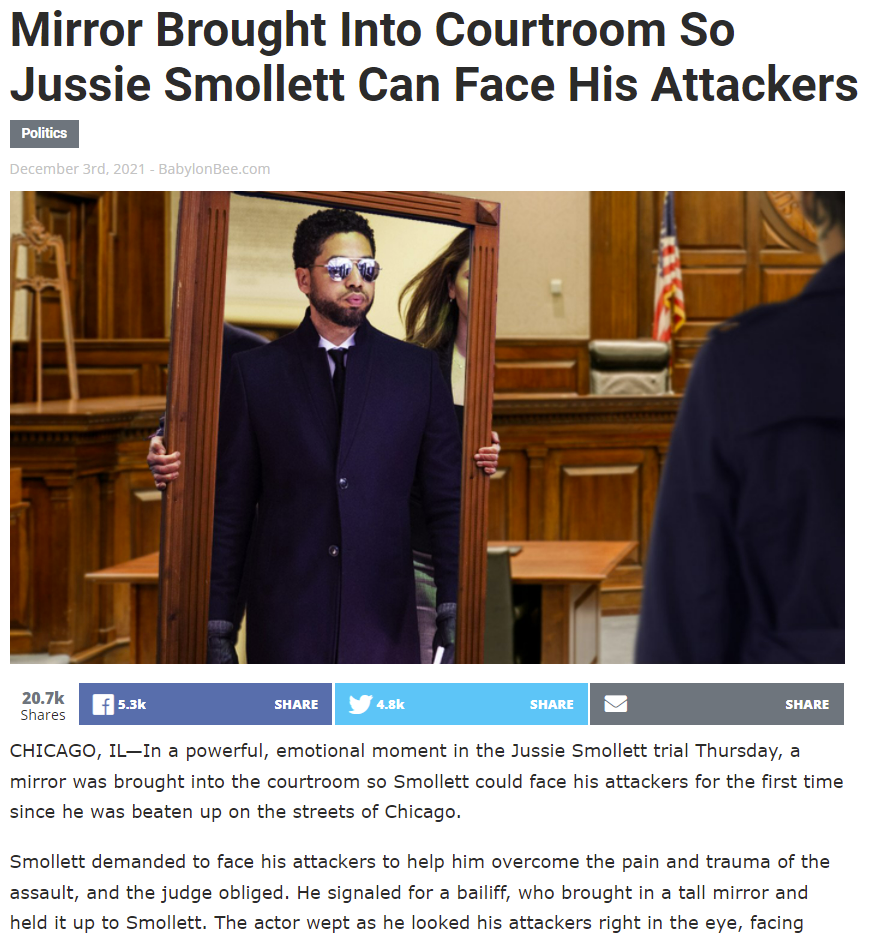 At America's Newspaper of Record
This nation is... we're not sending us our best, are we?
What do you do when you are losing as a defendant? You start doing desperate things, and Smollett's lawyers did just that yesterday, requesting a mistrial and personally attacking the judge. So what was the request for? Originally, a sidebar was called so Tamara Walker, a lawyer for Smollett, could request a mistrial based on the judge shutting down a line of questioning which he found irrelevant (it was). Things went downhill from there.

Apparently, she is now accusing the judge of physically "lunging" at her during the sidebar in his chamber. Smollett's lawyers also accused the judge of visibly "snarling" when he sustained objections.


...


That's when Walker went to the judge to make the request for a mistrial, after which she claimed the judge physically lunged at her. She then started to cry and left the courtroom with her mother (who was there for some reason). Admittedly, I wasn't aware this was a high-school mock trial. The rest of Smollett's legal team then made other claims that the judge was snarling at them, again trying to paint him as biased.
Apparently the objections were over the Smollett team's questions about whether one of the gay black weightlifter dudes that Smollett had paid for a gay-beat-up had ever used the term "fruity ass."
I guess they're trying to prove these two gay brothers are homophobic, and therefore really did hate Smollett for being gay, and beat him up for being gay.
And also, they beat him up because he paid them to beat him up and paid him to call him gay and paid him to call him racial slurs and to do this all in front of cameras so he could get it on the media. (Alas, the cameras were pointed in the wrong direction so we have no record of the fake hate crime performance, alas!)
The judge sustained objections that this fruity-ass line of questioning was irrelevant. To be honest, I guess I'd say it was relevant, given Smollett's insane defense that two gay men he paid to stage an anti-gay fake hate crime suddenly spontaneously decided to execute a real gay hate crime.
I know it's a stupid, stupid insane defense, but this claim that the gay brothers are actual homophobes is actually relevant to the stupid, stupid insane defense.
Update: RFR says the brothers are straight. Okay, I don't know them. I'll take his word for it.
Anyway, when he sustained the prosecution's objections over the fruity-ass questions, that's when the defense started literally crying and running out of the courtroom with their mommies.
While there is no video of the fake hate crime, there is apparently video of the dress rehearsal of the fake hate crime, in which Smollett directs his two actors to hit him but not hurt him. He didn't want any actual bruises.
That video is being shown at trial but has never been made public. Darn it all!
Unrelated, but:
Seth Rogan and Sarah Silverman -- who, as Critical Drinker pointed out, have been unfunny for so long that it's officially a difficult question as to when they actually were funny (can you remember?) -- have combined their dubious and aged talents into a redo of the much-despised "Sausage Party," which was just a parody of a kids' animated movie with f-bombs, pot references, and queef jokes.
Except now the target is Christmastime Santa stop motion entertainment.
With lots of f-bombs, feminist messaging, and small-dick jokes.
It's not really that it's offensive -- it's not; Santa Claus (in the popular imagination) is a myth, not really a true religious figure -- it's that this is all eye-rollingly cringey desperate boomer edgelord unfunny bullshit.
And of course, it's all woke preaching, which they wrongly think they're slipping by us by "hiding" the self-righteous morality play under an avalanche of sub-seventh-grade fart jokes.
The clip is widely despised and while HBO has turned off comments and hid the likes/dislikes, Critical Drinker used software to see it, and it was something like 2.5K likes to 84K dislikes.
Update:
Santa Inc. Currently at:

3.1K Likes
114K Dislikes

Posted by: Soothsayer
If you're not a geek, you don't know what comes next. If you are a geek, you know exactly what comes next.
For five years -- ever since Ghostbusters 2016 -- Hollywood has been putting out one woke piece of crap after another, usually defiling beloved franchises or, in this case, lampooning innocent Christmas entertainments like Santa Claus is Coming to Town.
And every time they do this, and every time the audience dislikes their offerings, and every time their movies or tv shows fail to make money or draw viewers, they use the same nasty, toxic, corporate-approved crisis messaging play:
They claim that everyone who dislikes their shit is a white supremacist (or a racist, or a woman-hater, or various combinations of this list) and that all non-white-supremacists actually love their new awful bomb.
Kevin Smith just did exactly that for his awful Masters of the Universe abortion, and now Seth Rogan consults the same page of the same playbook and does the same here: Everyone who fails to find this funny is a white supremacist.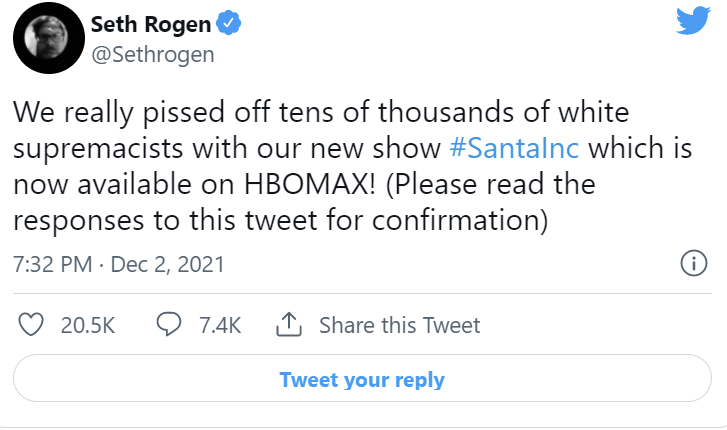 You only get to make so many bombs before even your Hollywood political protectors stop giving you charity assignments.
Enjoy your last few moments of "fame."
I can see your future, Seth and Sarah.
And your future is: Alyssa Milano.

posted by Ace at
06:35 PM
|
Access Comments