« MSNBC Refuses to Report on Chris Cuomo's Suspension
|
Main
|
Quick Hits »
December 01, 2021
Fauci Confirms: There Will be Strict Controls on US Citizens Lawfully Re-Entering the Country, But Illegal Border-Crossing Criminals Are "A Different Issue"
How long can we tolerate a Regime in which legal US citizens are treated worse than non-citizen criminals?

Before getting to that: Surprise.
Katie Pavlich
@KatiePavlich

Fauci says the first person in the U.S. to test positive for the Xi variant was fully vaccinated.
In fairness, though, Fauci is a liar and an incompetent, so who knows about the vaccination status.
So they're going to scream that we need forcible vaccinations to stop the Omicron variant even though our first confirmed case involved a vaccinated person.]
Flashback to the last time: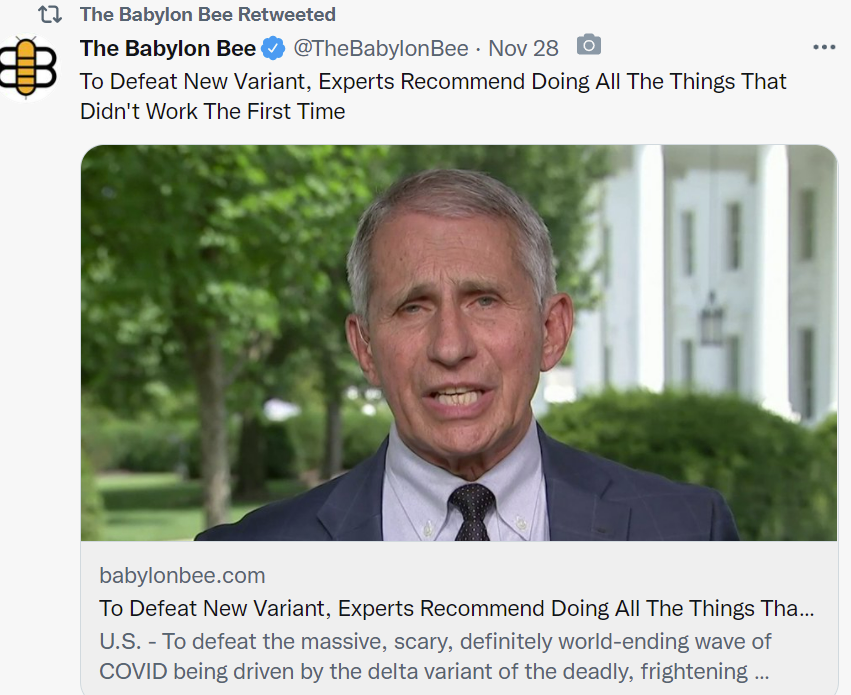 My problem is not with telling people to get vaccinated. My problem is forcing people to get vaccinated, especially on the pretext that "we have to force you to get vaccinated to keep your from spreading it to other people," when the vaccine does not keep one from getting infected or spreading it to other people.
The government is depriving people of their rights because Joe Biden is having trouble fulfilling a stupid, cynical campaign promise to "shut down the virus."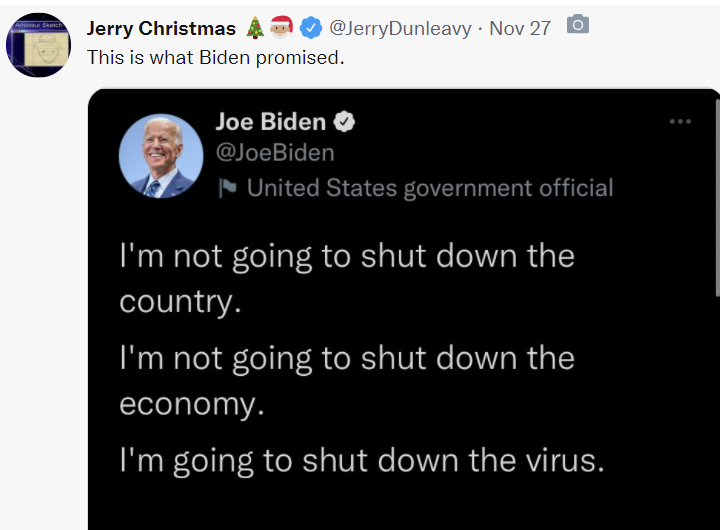 And for no other reason. No health reason. No legitimate policy reason.
Just to help his poor approval rating.
On to Fauci's latest Political Hackery clothed in some shabby scraps he calls "Science:"
"Dr. Fauci, as you advise the president about the possibility of new testing requirements for people coming into this country, does that include everybody?" Fox News reporter Peter Doocy asked.

"The answer is yes," Fauci responded. "Because you know that the new, the new regulation, if you want to call it that, is that anybody and everybody who's coming into the country needs to get a test within 24 hours of getting on the plane to come here."

"But what about people who don't take a plane and just these border crossers coming in huge numbers?" Doocy pressed.

"That's a different issue," Fauci answered. "For example, when you talk, we still have Title 42 with regard to protection at the border. So there are protections at the border that you don't have the capability as you know, of somebody getting on a plane getting checked, looking at a passport, we don't have that there, but we can get some degree of mitigation."

Does Fauci seem less like a Scientist and more like a Democrat Political Hack telling us that The Science requires that illegal aliens be permitted to enter the country without restriction?
Well so it seems to a former colleague.
A couple of days ago, the former Assistant Health Secretary Brett Giroir, himself a doctor, blasted Fauci as being increasingly political, no longer being a scientist, and being consumed by ego and hubris.
President Trump's Assistant Health Secretary has blasted Anthony Fauci for what he claims is an exploding ego -- and warned the nation's most powerful doctor to stay out of politics.

Speaking on Fox News on Monday, Admiral Brett Giroir, himself a trained physician, said that he had witnessed a significant change in Fauci's behavior in the ten months since he last worked with the nation's top doctor.

'I think the ego is really expanding beyond what I saw,' Giroir began.

'Look, Tony was a good colleague when I worked with him but he's become much more politician and it is a fact that the NIH his institute funded gain of function research. That's a fact, it's not a rumor or a lie by anyone in the Senate so why do you say that's a problem?'
On that, here's Anthony "I am Science" Fauci's best buddy and frequent grant recipient Peter Daszak boasting in 2016 of manipulating the spike proteins of animal viruses -- like bat viruses, which are oddly similar to human viruses -- to make them infectious to humans.
Peter Daszak of EcoHealth Alliance, says at History and Future of Pandemics, New York Academy of Medicine, "You create pseudo particles, you insert the spike proteins from those viruses that bind to human cells, and each step of this, you move closer and closer to this virus that could become pathogenic to people. It ends up with a small number of viruses that really do look like killers."
That's taken from a longer CSPAN panel.
Huh, weird. It's almost as if that's exactly what happened in Wuhan.
Note how very boastful they were about this before they unleashed covid on the world. Now they claim they weren't doing it!
...

But Giroir wasn't done when it came to criticism of doctor Fauci and advised the doctor to stick to health issues and avoid stepping into politics.

'You know, I think he needs to stick to the area where he is most knowledgeable, and that is about vaccine development. He's not knowledgeable about liberty or rights, or public health measures, if he sticks to his firm ground he'll be a good resource for the country, and that's probably all I have to say,' Giroir directed.

The former Assistant Health Secretary made the suggestion after a glut of Republican Senators lashed out at Fauci after he pronounced himself 'the science' and 'the epitome of knowledge.' He also referred to himself in the third person, sparking further accusations of ego-driven behavior.
Julie Kelly gets to the heart of it.
Anthony Fauci is not "Science."
Anthony Fauci is... a madman.
While declaring, "I represent science," Fauci humbly graded the scientific approach to the pandemic an "A+" while incongruently warning about a "fifth wave" of the virus and explaining away one scientific stumble after another, from useless temperature checks to the need for bi-annual booster shots and randomly claiming the virus spread is "40 to 50 to 60 percent . . . asymptomatic."

Science!

Of all his alarming remarks, however, Fauci's push to get experimental vaccines for babies and young children to market as quickly as possible is the most depraved. When asked by Brennan, who has spent the better part of two years asking Fauci how to run her life and the lives of 330 million Americans, when he expects vaccines for children between the age of six months and five years to be available, Fauci said he hopes the shots are ready by the beginning of next year. "I would hope it would be in the first quarter because the studies are being done right now on children from two to five and then from six months to two years," Fauci told Brennan. "I don't think there's going to be an issue with efficacy. But when you're dealing with children, it's a very sensitive area. And that's the reason why [it] may take a little bit longer."

When parents question whether it's necessary to vaccinate children, Fauci replies that, "yeah, we do want to be vaccinating the children because we want to vaccinate and protect everyone in society, including children."

Now, that is not the conclusion of a sound man of science, as Fauci again insisted he is in the interview, or even a man of common sense and humanity—that is the raving of a madman.

Only a demon would propose injecting a child, including babies who cannot yet even walk or talk, with a rushed "vaccine" to allegedly minimize a virus that poses no serious health threat to them. Only a sociopath would dismiss parental fears about not just the medical necessity of the shot for the child but also unknown side effects that their children could suffer in both the near and long term. And only a sadist would continue to promote his own destructive policies that have inflicted incalculable human suffering but done nothing to halt the spread of a virus that is lethal to only a tiny percentage of the population.

In a just world, Anthony Fauci would be giving lengthy television interviews clad in an orange jumpsuit from the confines of a federal penitentiary. Aside from his crimes against humanity, especially the tragic toll on senior citizens and young people, Fauci has clearly committed a number of crimes including lying to Congress and the American people in his official capacity and misappropriating federal funds on ghoulish scientific experiments.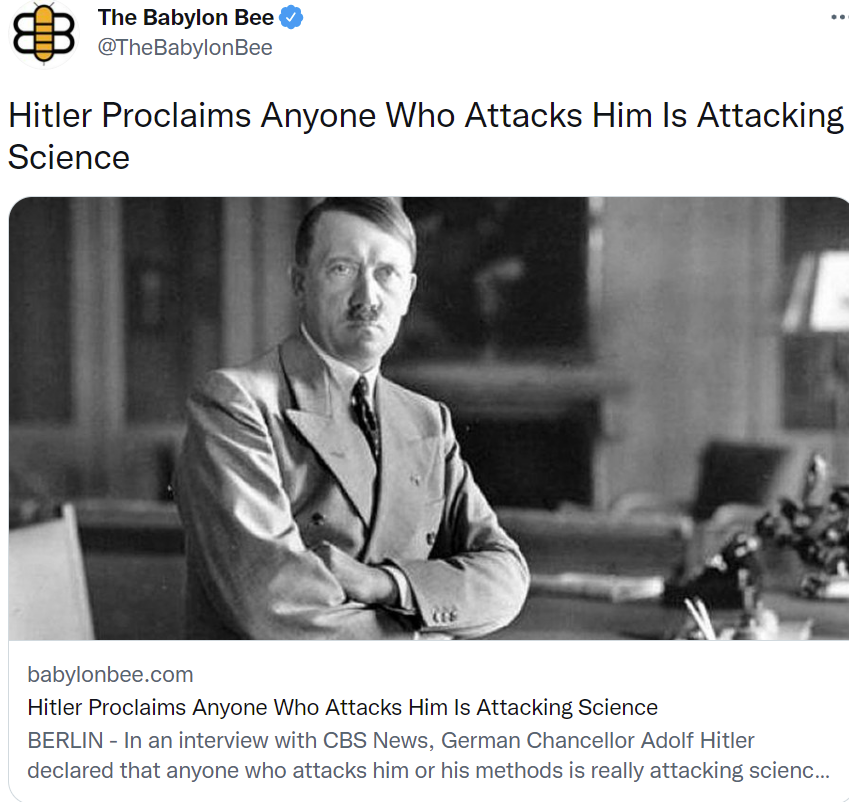 Below, videos of Fauci declaring that the Omicron variant can't be transmitted by illegal border crossers -- Science! -- and Giroir talking about the Madness of King Tony.
Special bonus:
The madness of King Tony has infected the peasants he rules over.
This very effeminate man dared to take pictures of a man's underage (six years old, I think) daughter because she was unmasked. No doubt, he planned to post her pictures on the internet to "Karenize" her for the delight of his fellow effeminate leftists.
The guy with the cellphone camera follows him around trying to get a clear shot of his face.
As The Dank Knight says, he should have followed him out to his car. And he shouldn't have let him off with a mere counter-Karenization.

posted by Ace at
04:53 PM
|
Access Comments