« DeSantis Says the Press Is Covering Up the Terrorist Attack in Waukeshaw Because an Anti-White Attack "Doesn't Fit the Narrative;" Also Says That The Terrorist Was Likely Animated By Media Lies About the Kyle Rittenhouse Case
|
Main
|
Meathead Pinkslip Cafe »
November 30, 2021
CNN: We've (Wink, Wink) Decided to "Suspend Chris Cuomo Indefinitely"
This statement issued by CNN -- and typed up by in-house flacks Tater and Oliver Darcy -- sounds like a lot of bark, but I doubt it will have much bite.
I've screencapped it to deny CNN any traffic.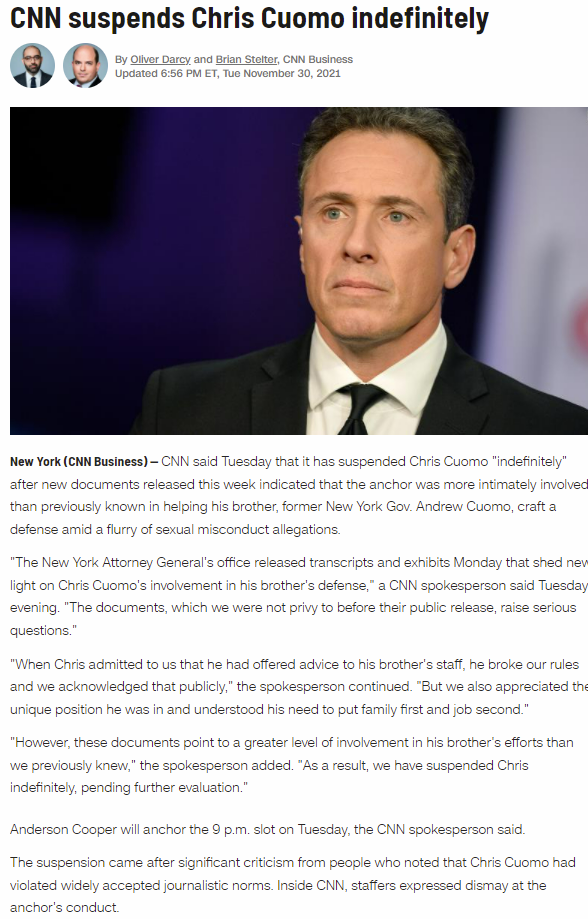 Donald Trump is gloating, but... I think this is premature.
This is a smokescreen, this is all fake.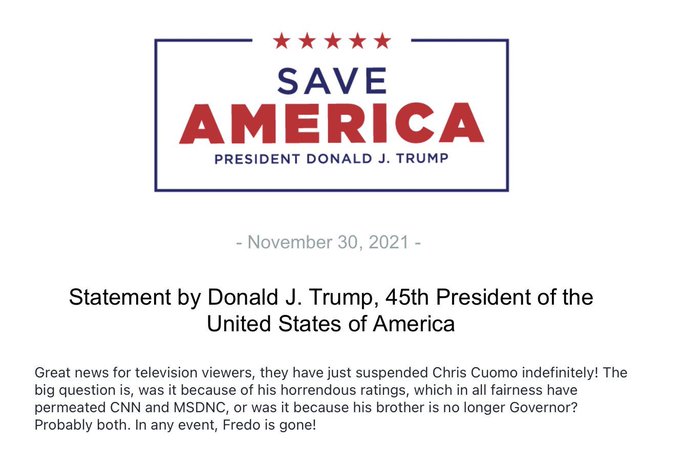 Remember, Chris Cuomo lied about having been under "super-strict" lockdown under covid -- he used those exact words.
But we know he got into a fight with a bicyclist who caught him out-of-doors at a different property while he was infected, and talked about this fight on a radio show -- and then staged a fake "re-emergence" from his basement.
This was all a lie. Everyone knew it was a lie.
CNN ran it anyway, for ratings.
CNN is in the business of lies.
Why does anyone think that CNN is going to deviate from its business model and fire Fredo for doing what CNN does on the daily?

posted by Ace at
07:12 PM
|
Access Comments