« 11/26/21 EMT
|
Main
|
Mid-Morning Art Thread »
November 26, 2021
The Morning Report - 11/26/21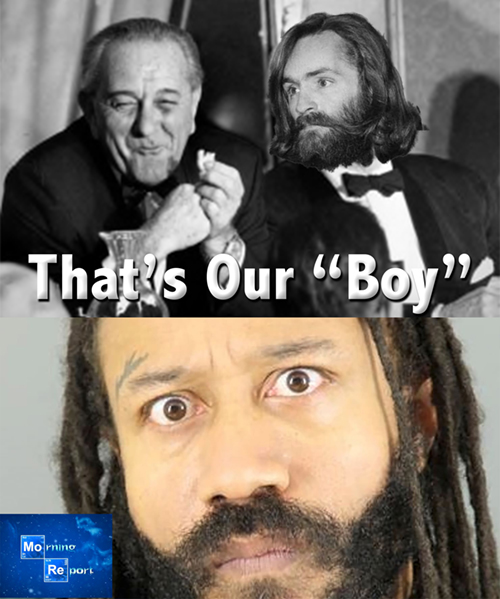 Good morning, kids. Hope you all tryptophan'd the light fantastic yesterday. It's Black Friday, and considering what's been happening this past week, the double- and triple-entendres abound. It is now absolutely crystal clear that Darrell Brooks intentionally committed an act of mass terrorism in Waukesha. It's probably accurate to say that the acquittal of Kyle Rittenhouse is what drove him over the edge. But that was merely the straw that broke the camel's back. The fuse was lit decades ago, before Brooks escaped the reach of Kermit Gosnell's rusty scissors.
Milwaukee BLM leader Vaun Mayes, who has appeared alongside local Democrat politicians, responded to the horrifying atrocity by suggesting, "It sounds possible that the revolution has started in Wisconsin. It started with this Christmas parade."Milwaukee BLM leader Vaun Mayes, who has appeared alongside local Democrat politicians, responded to the horrifying atrocity by suggesting, "It sounds possible that the revolution has started in Wisconsin. It started with this Christmas parade."

How better to start the Marxist revolution than by running down some Dancing Grannies? This is sick. But it is enabled by the collusion of well-meaning people who don't want to acknowledge that blacks can be mass murderers and racist monsters just like everyone else.

Black Lives Matter had adopted a quote from black nationalist fugitive cop killer Assata Shakur as its slogan, "It is our duty to fight for our freedom." That chant has appeared at Democrat Party events and even corporate anti-racism sessions.

The phrase just before the chant is, "We must gain our liberation by any means necessary." People who say things like this are criminals and race haters ready to commit the worst kinds of atrocities. And those who enable them should be held accountable.

Shakur's slogan was dedicated to black nationalist terrorists, including Mark Essex, a racist killer who opened fire on New Year's Eve [1972] in New Orleans killing, among others, a honeymooning couple. Betty Steagall was shot in the back of her head while embracing her murdered husband. Essex left a Black Liberation flag lying near the corpses of the doctor and his wife.

That's what "by any means necessary" means. It's the murderous black racism the Left enables. . .

. . . The actual root cause, a corrupt welfare state that treats crime like a civil rights movement, is easily visible in Chicago, Milwaukee, and countless Democrat cities. Black Lives Matter perfectly blends crime, racism and revolution until it's impossible to tell the difference.

Communist revolutions begin as crimes with robberies, murders, and bombings. And that makes leftists into criminals and criminals into leftists. The Bolsheviks called the bank robberies they used to finance their revolution, "expropriations." BLM looters are just following in their footsteps by "expropriating" the shelves of neighborhood grocery stores for their racist revolution.

Are gangs of looters clearing out stores to protest the Rittenhouse verdict or to make money? . . .

. . . Black Lives Matter racializes crime and turns every criminal act into a hate crime against white people. That's how you end up with Black Lives Matter taking ownership of a racist thug ramming his car through a Christmas parade, leaving children and grandmothers bleeding on the ground in his wake, into a revolutionary act of political terrorism against whiteness . . .

. . . What motivated Darrell Brooks's rampage of death? The career criminal had absorbed the black nationalist ethos of BLM that criminals were victims and police were the real criminals. A thousand media outlets, politicians, and activists had warned that violence would follow if Rittenhouse were set free. The looters who struck luxury boutiques and the black supremacist racist who drove through a Christmas parade just followed up on the media's incitement. Sometimes BLM's career criminals fight systemic racism and the white supremacist idea of private property by looting malls, other times by running over kids at a Christmas parade.

If white people are evil, then any and every attack on them becomes innately justifiable.
It is beyond bitterly ironic, to a level that I cannot even think of the words to describe it, that BLM, the Black Panthers, the BLA, the SLA, Jeremiah Wright, Calypso Louie, Joanne "Assata Shakur" Chesimard and every other insane, frothing at the mouth black "revolutionary" are manipulated and conned by the very people, systems and institutions that they rail against. Specifically it's white Marxists who for more than 60 years have, to paraphrase ol' Vladdy Lenin hisself, "sold them the dope by which they delude themselves." Do any of these people really think that when the revolution that they are so hot and horny to set off happens that they are going to be the ones running the show when the dust settles?
You know, in the cold light of day, Charles Manson wasn't wrong; he was just about 50 years ahead of his time. Look at the words and deeds of individuals like Chesa Boudin and this John Chisholm. The latter openly boasted of letting criminals out on the streets with either no bail or no jail time and "guaranteed" someone was going to die because of it. It's all eggs and omelets when it comes to "social justice." And that bullshit is exactly that; bullshit. They want to use chaos and violence in the streets to foment revolution and then grab absolute power.
There is no difference in the political mindset of Charles Manson and any other George Soros-pimped DA or AG. Hell, if Manson were around today there's a better than even chance he could run for office in California and actually win. There's an old show-biz expression that I think applies: "Hollywood would forgive Hitler if he were good box office. Well, maybe not forgive, but certainly forget."
I was going to say John Chisholm didn't run a cult that had people killed in order to foment a race war. But, on second thought, considering the actions of Darrell Brooks and how he was able to commit mass vehicular terrorism, a case could be made.
Not in any way, shape or form am I going to try and mitigate or excuse the carnage Darrell Brooks inflicted on his victims and all of us collectively. That loss is absolutely devastating. But the vast, wasted potential of the wasted lives of all the tens of thousands of Brookses gunned down, OD'd, aborted, incarcerated (Boudin and Chisholm notwithstanding) or otherwise destroyed in the inner city wastelands for the past six decades is just as incalculable.
The Democrat Party, and the anti-American left have literally committed genocide against American blacks for the sole purpose of political dominance and the drive to turn America into a totalitarian dictatorship. Because of this, we find ourselves on the verge of societal dissolution, and a protracted racial civil upheaval that could well devolve to civil war. All of it completely unnecessary and avoidable. All of it built on one of the most pernicious and titanic of big lies ever to have been foisted on a society. That is surely among the greatest crimes against humanity ever committed. Imagine what America would be like today if Herbert Marcuse, Saul Alinsky, LBJ and all the others had been thwarted.
Have a great weekend.
* * * * *
My book, The End of America: 100 Days That Shook the World, is available now at the link.
Note, regardless of how you purchased it, please leave a review on Amazon as it helps boost visibility while putting me on Moloch Garland's watch list. Win-win!


ABOVE THE FOLD, BREAKING, NOTEWORTHY
"Toby Harnden, author of the recently released book First Casualty: 'Mike Spann died fighting, using his Kalashnikov rifle and Glock pistol to kill the enemy as he was overwhelmed . . . As a tragic bookend to the 20-year conflict, 11 Marines were among the 13 service members killed at Kabul airport during the August evacuation -- most of whom had been babies when Mike Spann was killed.'"
20 Years Ago Today: CIA Officer Johnny "Mike" Spann Was First American Killed In Afghanistan After 9/11

Julie Kelly: "Stephen Hayes and Jonah Goldberg, despite their promise to provide 'fact-based reporting and commentary . . . informed by conservative principles,' are not interested in the truth."
Newsletter Peddlers Offended By Real Journalism Quit
WAUKESHA LEFTIST RACE-TERRORIST MASSACRE
NOTE: The opinions expressed in some links may or may not reflect my own. I include them because of their relevance to the discussion of a particular issue.
ALSO: The Morning Report is cross-posted at CutJibNewsletter.com if you want to continue the conversation all day.
Follow us on Twitter: @CutJibNews
Follow us on Instagram: @Cutjibnewsletter

posted by J.J. Sefton at
07:14 AM
|
Access Comments