« Subversive Fun: Defying The "Be Like Me" Narcissists
|
Main
|
Daily Tech News 23 November 2021 »
November 22, 2021
Monday Overnight Open Thread – 11/22/2021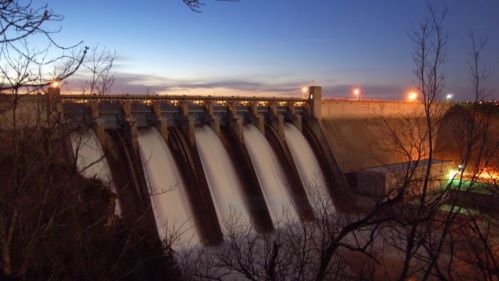 *****
YAMASAKI ARCHITECTURE
Minoru Yamasaki (1912 – 1986), a Seattle-native, had a major impact on 20th Century post-war American architecture.
His famous airport terminal in St. Louis pre-dated his love affair with thin white columns.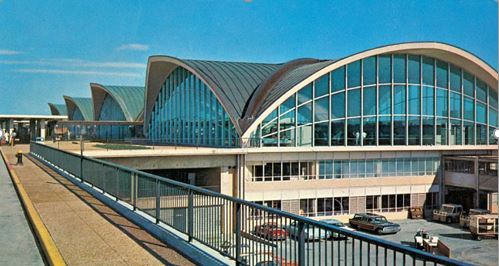 He ultimately settled in Michigan, which has an abundance of his buildings. This one is at Wayne State University.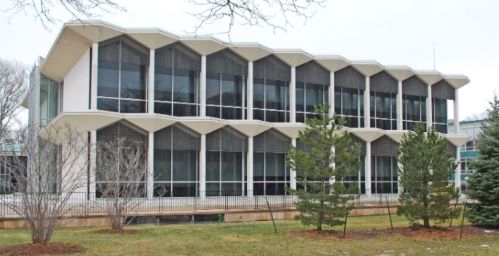 Yamasaki's Northwestern National Life Building in Minneapolis is the epitome of the Yamasaki style.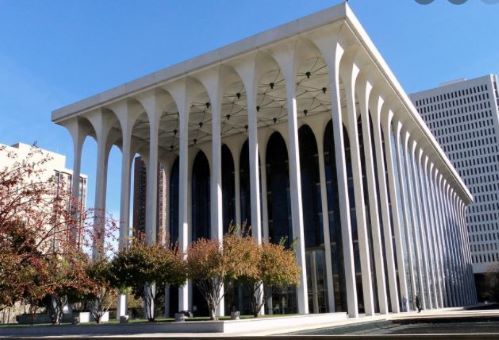 Of course, his most famous work was the World Trade Center. It's no longer there.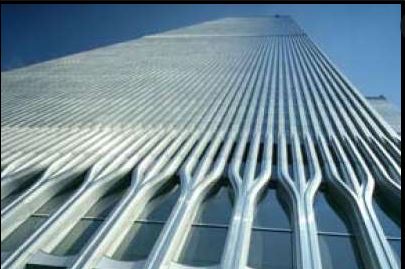 Buildings with thin white ornamental columns were everywhere when I was growing up in Texas – lots of Yamasaki knockoffs. Maybe that's because Texas was booming in the '60s and '70s, so all the thin white columned buildings were supposed to make the New Texas seem more modern.
*****
SOMEONE WHO WAS GENUINELY STUNNING AND BRAVE
In May 1862, 23-year old Robert Smalls and his family were enslaved in South Carolina. Risking death, he commandeered a ship, "The Planter," in Charleston Harbor, gathered up his family, and sailed through Confederate defenses to deliver the ship to the Union (United States) Navy, also delivering freedom to his family and fellow crewmembers. Charleston was firmly in Confederate control, but the Union Navy was not far offshore, trying to enforce a blockade against Confederate trade.

When Smalls judged the time was right, he ordered the steamer to leave. The fog was now thinning, and the crew raised two flags. One was the first official Confederate flag, known as the Stars and Bars, and the other was South Carolina's blue-and-white state flag, which displayed a Palmetto tree and a crescent. Both would help the ship maintain its cover as a Confederate vessel.

The Confederate guard stationed about 50 yards away from the Planter saw the ship was leaving, and even moved closer to watch her, but he assumed the vessel's officers were in command and never raised an alarm. A police detective also saw that the ship was leaving and made the same assumption. Luck seemed to be on Smalls' side, at least for now.

The Planter's next task was to stop at the North Atlantic Wharf to pick up Smalls' family and the others. The crew soon reached the North Atlantic Wharf and had no trouble approaching the pier.

All had gone as planned, and they were now together. With 16 people on board, and the women and children belowdecks, the Planter resumed her way south toward Confederate Fort Johnson, leaving Charleston and their lives as slaves behind them.

At about 4:15 a.m., the Planter finally neared the formidable Fort Sumter, whose massive walls towered ominously about 50 feet above the water. Those on board the Planter were terrified. The only one not outwardly affected by fear was Smalls. "When we drew near the fort every man but Robert Smalls felt his knees giving way and the women began crying and praying again,"

With steam and smoke belching from her stacks and her paddle wheels churning through the dark water, the steamer headed straight toward the closest of the Union ships, while her crew rushed to take down the Confederate and South Carolina flags and hoist a white bedsheet to signal surrender.
Robert Smalls went on to become a Captain in the US Navy during the Civil War, and after that a US Congressman, and a Customs Collector. He died in 1915.
*****
IS OUR JOURNALISTS LEARNING?
The journalists at the Atlanta Journal-Constitution do not know that Vikings were Europeans. Journalism attracts people who identify as smart, but aren't.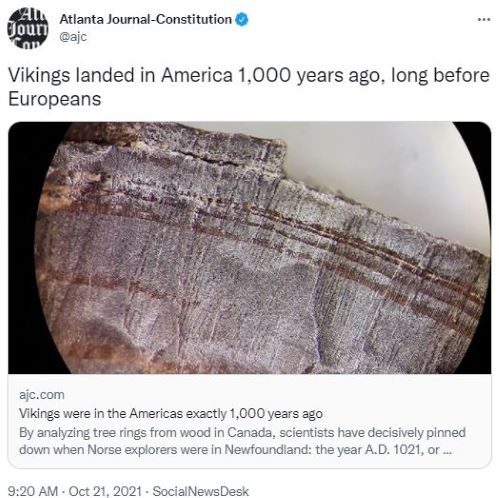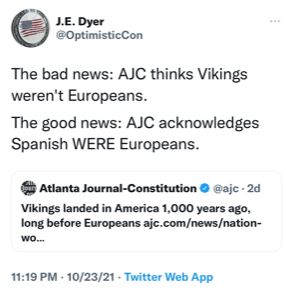 *****
OH, THE HUMANITY
While talking about Disaster Movies in last night's Overnight Thread, I included a poster for the movie The Hindenburg. Below is a link to the actual Hindenburg disaster. The movie made famous the line "Oh, the humanity" which was uttered by WLS radio reporter Herbert Morrison while covering the 1937 catastrophe. The famous line is at the 38-second mark.
Since it's Thanksgiving week, you are likely to stumble upon a link to the hilarious WKRP in Cincinnati Turkey Drop, in which radio reporter Les Nessman utters the same famous line, "Oh, the humanity." That line may now be more closely associated with WKRP than with the Hindenburg.
*****
THE HINDENBURG'S LAST SURVIVOR
Of the 97 people aboard the Hindenburg, 62 somehow survived. Werner Doehner, the last survivor of the Hindenburg, died just two years ago, in November 2019. He lost his father and a sister in the disaster, but his mother and brother both survived by jumping from the burning dirigible.
Doehner was 8 years old when he departed Frankfurt, Germany, on May 3, 1937, aboard the colossal zeppelin airship with his parents, Hermann, 50, and Matilde, 41; an elder sister, Irene, 14, and elder brother, Walter, 10. The family lived in North America, where Hermann Doehner was a pharmaceutical executive for a German company in Mexico City. Three days later, the Hindenburg's 7 million cubic feet of hydrogen erupted into a firestorm as the dirigible attempted to dock at Naval Air Station Lakehurst in New Jersey on the evening of May 6, 1937.

Walter and Werner leapt from the observation windows onto the ground below, with the help of their mother and a ground crew member. Matilde followed. But when it was a reluctant Irene's turn to jump, either in panic or shock, she attempted to flee into the interior of the burning ship to ostensibly go look for her father, who was likely in the family's private compartment when the disaster struck.
Mother and sons survived, but Irene died that night from devastating burns while being treated at an area hospital. Hermann Doehner's body was later recovered in the wreckage.
*****
MUSICAL SAW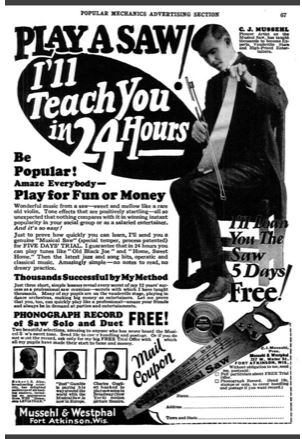 If playing a Musical Saw will make me popular, then sign me up! The extra money sounds good too. I only wish I had known about musical saws during my awkward teenage years when I was trying to stand out from the other guys in my efforts to attract girls.
Here's a lovely version of Somewhere Over The Rainbow played on the musical saw.
What weird instrument have any of you played? Mouth harp? Washboard? Alphorn? Steel Drums?
I'll be very disappointed if Miklos can't play the Cimbalom.
*****
HOUSE HUNTERS WITH A $450,000 BUDGET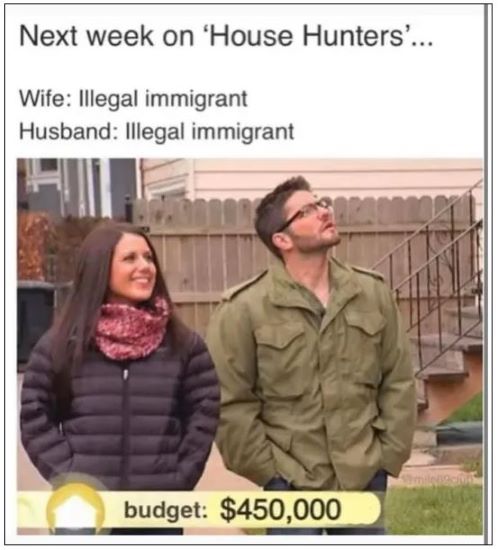 *****
CLASSICAL MUSIC YOU KNOW BUT CAN'T NAME
Franz Van Suppe's "Light Cavalry" must have been played in cartoons or westerns or something in our childhoods, because we've all known this tune our whole lives. Skip ahead to 2:15 and it will become very familiar, with a "galloping horses" feel about it.
*****
PUTT-PUTT
This is a glorious 53-second video of America when it was at peak-miniature-golf. And not just any miniature golf, the was the 1971 Texas State Putt-Putt Championship! $2,200 was at stake.
I'm deeply impressed with the hole in one at the 23-second mark. That triangle-looking thing always sent me to the wrong side of the green, from which it took about 10 shots to work my way back to the correct side of the green.
Let's hear your Putt-Putt memories! Any first tween-age dates there? Did any of y'all ever play in a Putt-Putt tournament?
*****
THROCKMORTON'S FIRST LAW OF LIVE MUSIC: IF THERE'S AN UPRIGHT BASS IN THE BAND, IT'S PROBABLY GOING TO BE GOOD
I first saw Kelly Willis perform in the beer garden of a Texas barbecue restaurant about 30 years ago. My buddies and I had heard about this young singer with amazing pipes, doing a retro-country sound. We couldn't believe the big voice coming out of that delicate looking singer. She's had a great career. Here she is performing with husband Bruce Robison on the classic old country song "9,999,999 Tears To Go"
*****
Tonight's overnight thread has been brought to you by footwear appropriate for barrier island cattle ranches.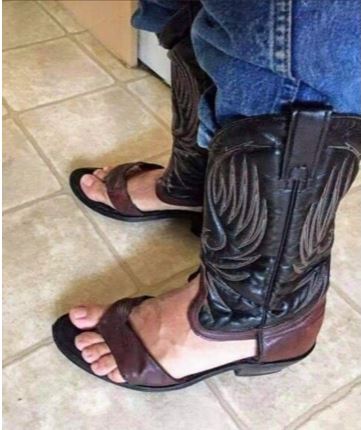 *****
Thanks again to the horde for letting me play host tonight. Please feel free to offer any helpful feedback, insults, or tips at buck.throckmorton at protonmail dot com


posted by Buck Throckmorton at
10:00 PM
|
Access Comments