« The Morning Rant
|
Main
|
SINGLE VERDICT ON ALL COUNTS: "NOT GUILTY " »
November 19, 2021
F. Joe Biden Will Make Kumala's Dreams Come True as He Gives Her All Presidential Powers During a Colonoscopy to Find Out Why His Ass Leaks Harder Than the DOJ and FBI Combined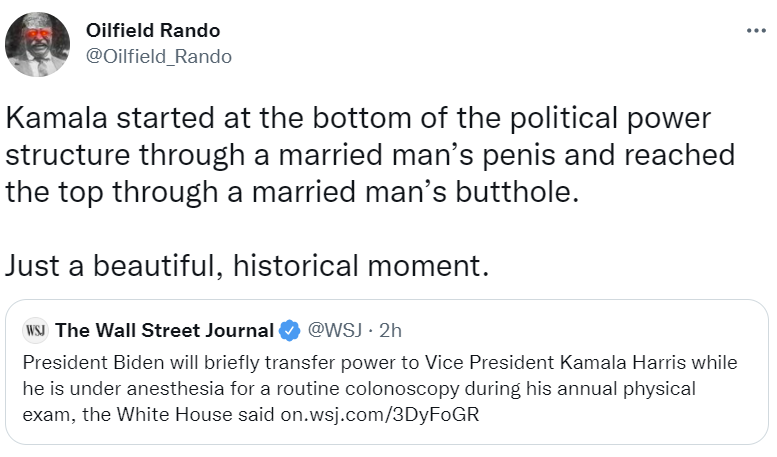 F. Joe Biden's slack sphincter has finally Positioned Kumala Harris for Success.
Let's see how long it takes her to lose Taiwan.
Update: Yayyy, we're saved 'n stuff...
Jen Psaki @PressSec


@POTUS spoke with @VP and @WHCOS at approximately 11:35am this morning. @POTUS was in good spirits and at that time resumed his duties. He will remain at Walter Reed as he completes the rest of his routine physical.
As if Obama's coterie of communist mediocrities and sociopaths wasn't running The Regime before, during, and after the procedure.

Meanwhile, Kumala's Communications Director Is Leaving The Staff to Pursue "Other Opportunities"
Supposedly she always planned to leave at about this time.
You know, at about the time when Kumala's approval rate fell to 28%.
The Vanity Fair article assures us this is all planned and normal, which I guess is the price for getting the scoop, before going on to talk about how terrible Kumala is.
Remember the spin all this past week? "Sources close to Kumala" complained that the White Men in The Regime were failing to Position Her For Success.
Let's see who's Failing to Position Kumala For Success three days later.
Some in Harris's orbit have blamed the vice president's chief of staff, Tina Flournoy, a veteran Clinton ally, for the poor perception of the principal, arguing that she hasn't been protecting her boss's interests. But many also see a pattern spanning Harris's Senate career, her presidential campaign, and now vice presidency. "The one through line would be the principal and not the staff. I don't think it's necessarily fair to blame the staff for all of the stray voltage around that operation," a former White House staffer said.
Tina Flournoy is a black woman. Ashley Etienne is a woman, and looks black to me.
So: It's not just White Men who fail to Position Kumala Harris for Success. Black Women also fail to properly do her job for her, too.
Where is the Hand-Holding for this Strong, Empowered, Capable, Independent, Fiercely Courageous Woman?
Even though Biden -- expected and all but announced to be a one-term president even in 2019 -- essentially picked Harris to be his successor and the Democrat nominee for 2024, now Democrats consider her a "nonstarter:"
But now, a Democratic strategist told me, the Democratic establishment and donor base increasingly see Harris as a "nonstarter" in 2024 if Biden doesn't run.
If he doesn't run? He's non compos anus, for crying out loud.
And they note that Ashley Etienne isn't the only Kumala staffer whose eyes are on the exits.
Maybe they all always planned to leave around this time, too!
Etienne's exit comes after CNN detailed significant tension between West Wing aides and the vice president's office. CNN reported that several people on Harris' staff had started to reach out to contacts to say they're looking to leave, according to sources who've gotten calls.

...

Etienne's exit has been a long time coming, two sources familiar with the matter told CNN.

One source said Etienne "was not a good fit" for Harris' office and did not play a sufficiently active role in crafting a communications strategy for Harris' topsy-turvy first year in office.
She did not Position Kumala for Success.
Everywhere Kumala goes, it's just a Sea of People who Fail to Position Her for Success.
In fact, in all her life, there's only been one person who has Positioned Her for Success.
And that person? Willie Brown's Dick.
You can laugh, but:
WHAT HAVE
YOU
DONE TO POSITION
KAMALA HARRIS
FOR SUCCESS TODAY?
One thing I'll say in fairness: Yes, tagging Kumala as the Border Czar was Positioning Her for Failure. The border can be solved -- by restoring Trump's policies.
But obviously President Plopdroppings won't allow that.
These are the Democrat Party's future voters we're talking about.
TRIAL UPDATE:
Karol Markowicz @karol

Got a reliable tip that the Rittenhouse verdict is in and will be announced in the next hour.

12:28 PM Nov 19, 2021
But...
Posobiec is on Rekieta's Law live stream...

He checked with his source at the courthouse and they've heard nothing about verdict being in.
Posted by: Tami

posted by Ace at
12:16 PM
|
Access Comments