« AP: You Ugly Americans, Always Expressing Gratitude and Saying "Thank You"
|
Main
|
Homeschooling: Even Better Than You Think (Part 2) [Bluebell] »
November 23, 2021
Soup and Scholars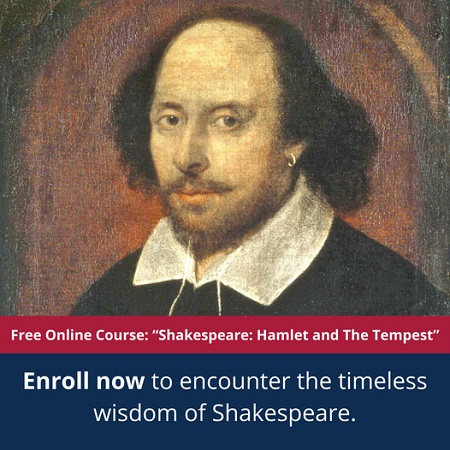 To study Shakespeare is to receive a grand education in human nature, as his characters reveal unforgettable lessons about human desire, choice, vice, and virtue.

And here's the Hillsdale course on Mark Twain.

And their 1776 curriculum
Did you see Bluebell's great post on homeschooling (Part 1 of 2)? I was impressed.
I have been sort of corresponding on social media with some people I don't really know who are homeschooling or who are preparing to switch to homeschooling, because they are tremendously alarmed about changes in the public schools. I also personally know some charter school teachers and people who home school, say, one of their kids while their other kids are in public school. I don't think homeschooling is necessarily an all-or-nothing proposition. Years ago, my cousin had "school time with Mom" after school with her kids. She was also in a group of parents who planned enrichment activities with their kids.
The common factor among all these parents and teachers is that they really pay attention to the education of children.
I am looking forward to Bluebell's second installment, which I think will be coming up soon.
Here, I would like to touch on some of the possibilities for replacing forgettable online content, dreary textbooks and modern middle school literary offerings (plus elementary and middle school porn) with classic books and classical education for both adults and children. I mean, some of the alternatives are grim and depressing. A home school setting makes these kinds of replacements much easier than they would be in a public school. The people who are trying to change the public schools are having some significant struggles. Yay, Bluebell for going the homeschool route!

But first, Thanksgiving is coming up. We can't eat turkey non-stop. For some reason, I have been thinking about soup.
Soup's On
Pumpkin pie was dissed in Sunday's Food Thread. I didn't see the proper serving technique for most pumpkin pie mentioned: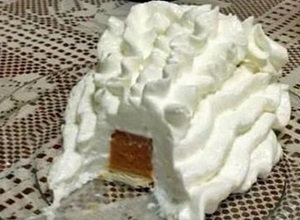 Fog is in the air here. People are slightly wet when they come in the house. The dogs are always muddy when they come in from outdoors. I don't feel like cooking much, especially with Thanksgiving prep underway. I have been thinking about soup. I noticed a request for Ace's Pumpkin sausage soup in Sunday's Food Thread. It uses canned pumpkin, but fancy folks could use fresh. A way to use Thanksgiving pumpkin (or winter squash) other than pie:
This is one of the best soups I've ever had. I've never hunted, but this is the kind of soup you want when you get home in the pitch darkness of 6:00 pm and want to eat and warm up.

I think of it as "Autumn in a Bowl."
There's also a tip for low-carb eggnog at the link above.
I also found a couple of different pumpkin soup recipes linked to the nic of one of the commenters at the Food Thread. The first is Cream of Jack-o-Lantern Soup.
It includes fresh pumpkin (you can use jack-o-lantern carving leftovers), tomato and green onion. You can add sausage if you like: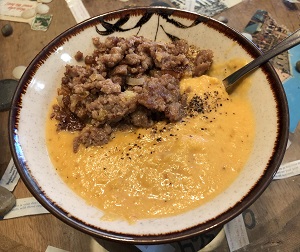 The second is more exotic, Cream of Coconut Jack-o-Lantern Soup:
This is a very different recipe from last year's cream of jack-o-lantern. That was a down-to-earth, homey recipe; this is more elegant. The ginger really puts it over the top. I keep fresh ginger in the freezer. When I buy ginger for a recipe, I peel what I don't need, chop it into about one-or-two-tablespoon chunks, wrap each chunk individually in plastic wrap, and put it all in a plastic bag in the freezer. When it thaws, it is very soft and easily mashed or finely chopped; it is not easily sliced, as it no longer has much in the way of solidity.

For all its elegance, this is still a soup made from the body parts of your Hallowe'en pumpkin, a device ostensibly meant to protect you from evil spirits. Last year I wrote "horror movies start this way", and... the 2020 election was only three days after Hallowe'en.

Take that as you will.
Are you thinking about soup, too? Got a recipe to share?
Classical Education
In addition to recipes, the blog with those two soup recipes above also included a link to this piece in the Federalist: How Rural Colorado Parents Created A 'No Politics' Public School In Just One Year:
The new public school went from idea to reality in just one year, opening K-8 with plans to grow into high school. As a classical school, it offers a low-screen, high-relationship environment and a focus on creative and critical thinking through careful attention to classic works and traditional approaches to math and science. These are things parents wanted that weren't available through the Woodland Park School District, which like many in the nation has become computer-centered over the last several years. . .
Dill and his wife are so committed to the concept of a great public school accessible to all in their community that they stopped homeschooling their twin eighth-grade daughters for it. So did others on their board, some hired as Merit teachers, and some who have enrolled their kids. The school offers Friday classes and other programming to homeschoolers as part-time students.

Homeschooling was working perfectly well for his family, Dill said, they just felt they could do more than take care of their own education needs - - they could also help others. As patriots, they needed to.

"I'm a rural kid from the mountains of Maine looking at the rural kids in the mountains of Colorado and saying, 'This isn't right, they need to be educated too,'" Dill said. "If our nation is ever to get better, we need better schools."
So, I guess if you have a spare 9,000 volunteer hours and lots of community support, you can turn your homeschooling arrangement into a public school more suitable that most which are currently available.
This is an American story about parents and community members working together. And they make a special effort to work with home schoolers. I see no mention of unions.
Why the emphasis on "no politics" at the school above?
I ran across an interesting thread on the SPLC's equivalent to a Christian youth camp, run through public high schools:
For grad school, I've been doing an evaluation of a program designed by the SPLC to increase awareness of topics like racism and social justice. The program has been implemented by local high schools, and it's presented as a weekend retreat.

The program is openly informed by critical race theory. They do not hide that information.

This program serves the same purpose as a Christian youth retreat. It seeks to deepen faith, promote internal reflection, and develop language that will enable evangelism.

So many parallels have been drawn between historical Christianity and the Woke (for lack of a better term). It's so clear it's a new religion, and this is just one more piece of evidence to support that claim.
I took a walk through Prague w/ a tour guide (she was a 10 y o when the regime fell). Her father was a safety engineer (the subsidized industry failed) who also worked at youth indoctrination camps. He repaired furnaces to survive. She always referred to them as "the communists"
Oh. And here are kids being separated by race in Manhattan. Yay, CRT!
What is "classical education"?
Discuss. Dozens of new classical schools launching next August.
The thing we are really looking for, though, is results. Whether from a "classical school" or from a home school using classical school principles and techniques.
Classic Books
Hillsdale has a free online course on classic children's literature.
Classic children's literature teaches readers of all ages to see more clearly the truth about the world and human nature. Through beautiful narratives and vivid characters, these stories prepare young minds to receive the truth and encourage them to fall in love with virtue.

C.S. Lewis argued that "a children's story which is enjoyed only by children is a bad children's story." In fact, the greatest children's literature not only delights young and old alike but also cultivates an imagination disposed towards right reason and virtuous action.
John Kass wrote a great piece that was published by the Chicago Tribune on the terrible prospect of erasing classic literature for kids.
Classic Western literature, from Homer to Shakespeare, Mark Twain and even Harper Lee, is now being canceled, much in the same way that the Islamic State group and early Christians destroyed ancient statues that offended them.

There is something quite barbarous about it all.

Just a few days ago, zealots in San Francisco began stripping "offensive names" from public schools. Names such as George Washington, Abraham Lincoln and even Democratic U.S. Sen. Diane Feinstein, who is a living witness to her own cancellation.

The stripping of names are public events. They pit aging, worried traditional liberals against a radical leftist movement that will devour them as surely as the relentless Bolsheviks devoured the more moderate Mensheviks.

But the purging of great literature often takes place quietly, among woke teachers and librarians. If the classics aren't exactly banned outright or burned, they have another way:

To place offending literature on the back shelf, out of the reach of the young, where they're lost to gather dust in the shadows. . .
Grace on Twitter is a great source for homeschoolers and classical schooling. Here is a thread on people's favorite books of ancient lore from around the world. Do you have favorite ancient stories?
Can we teach kids to get excited about old books and old bookstores? Even 100 year old textbooks? Imagine having kids this curious about the world:
Found some really cool 100+ year-old textbooks on my last thrifting expedition for books. First, a Latin primer for Hungarian students published in Budapest in 1912.
The alternative presented to the youths of today:
There was some dumb stuff written a hundred years ago. But still. If the choice is between "classical" and "postmodern", which type of education would you choose for your kids?
P.s. Maybe some of those homeschoolers might have time to learn a musical instrument.
Music

posted by K.T. at
02:45 PM
|
Access Comments