« Hannah Nikole-Jones: It's Okay to Make White School Children Feel "Uncomfortable" and "Erased" Because That's How Black Kids Feel
|
Main
|
Representative: Charities, and Possibly Government Agencies, Are Conspiring to Bring Illegals Into the Country and Secretly Transport Them Around the Country »
November 18, 2021
#BuildBackBrandon Bill Is Unpopular in Competitive Swing Districts -- and That's Before the Public Realizes It's a Huge Billion Dollar Boondoggle In Tax Breaks for the Left's Plutocrat Donor Base
Not, not "billion dollar." Billions upon billions upon billions of dollars in tax breaks for only the Democrats' plutocratic Ruling Class donors.
Democrats and the media -- who are just Democrats who have too many sex scandals and drug busts and DUIs to run for office -- keep claiming that the #BuildBackBrandon bill is so, so popular.
#BuildBackBrandon will save Brandon.
Steiner will come.
But it's not popular in swing districts:
Notably, a plurality of voters in these battleground districts oppose Biden's radical Build Back Better plan, including independents, who "are a net 18-points opposed" to the agenda, per the NRCC memo.

Coinciding with the president's plummeting ratings is the fact that Republicans have what the NRCC described as a "decisive advantage" on issues most important to voters -- border security, jobs and the economy, and inflation/cost of living.

"These were the only three issues to register in the double-digits," NRCC found.
#BuildBackBrandon lost even more support when pollsters informed survey respondents about it, using Republican attack lines.
Note that the public has heard nothing about this except what the leftwing Biden Propaganda Media has told them about this -- it's Good for Children and Everyone! -- so this is the first time these respondents are hearing that there might be downsides to this bill.
Among the least popular provisions of Biden's Build Back Better agenda is a natural gas tax, tax breaks to the wealthy, and paying illegal immigrants for children they carry into America:

76% of voters in battleground districts say they are more likely to oppose BBB knowing that it imposes a natural gas tax that will "increase home heating costs, electricity rates, and raise gas prices."

77% of voters in battleground districts are less likely to vote for a Democrat who "votes to give an eighty thousand-dollar tax break to wealthy homeowners in New York, New Jersey, and California, a move that would cost hundreds of billions of dollars, and overwhelmingly benefit the wealthy, not the middle class."

76% of voters in battleground districts oppose the package's proposal "giving $3,600 a year to illegal immigrants for every child they bring into America or give birth to after arriving."
Yes, the second-biggest spending item in this bill to "help everyday Americans" is in fact a huge tax break for the millionaires and billionaires living in blue cities in blue states.
If you recall, Trump limited the SALT (State and Local Tax) deduction from federal income taxes, which let millionaires and billionaires deduct most of the taxes they paid to their high-tax city and state government from their federal tax bill. Thus letting blue cities and blue states steal tax revenue from the federal government.
Trump limited that deduction.
Unless you were someone making over five or six million a year or something, this limitation didn't touch you.
But for the Democrats' ultrawealthy urban donors -- their real base -- it cost them a lot of money.
They had previously been insulated from the huge state and local taxes the blue governments they supported and funded imposed by the SALT deduction, so they could donate to Democrats who would impose these taxes on the middle class, knowing that they, personally, would not have to pay them.
Then Trump said: No, you're going to have to pay the taxes you fund, just like the middle class has to pay.
And then the Democrat Party freaked out.
The left wing, which always claims it just wants millionaires and billionaires to "pay their fair share," suddenly began shrieking as their rich-as-Croesus donors began paying their fair share.
And now: The Build Back Brandon bill gives the millionaires and billionaires an enormous tax cut.
Which the Democrats claim is a "tax cut for middle class families."
Even the leftwing propaganda press realizes this is a lie.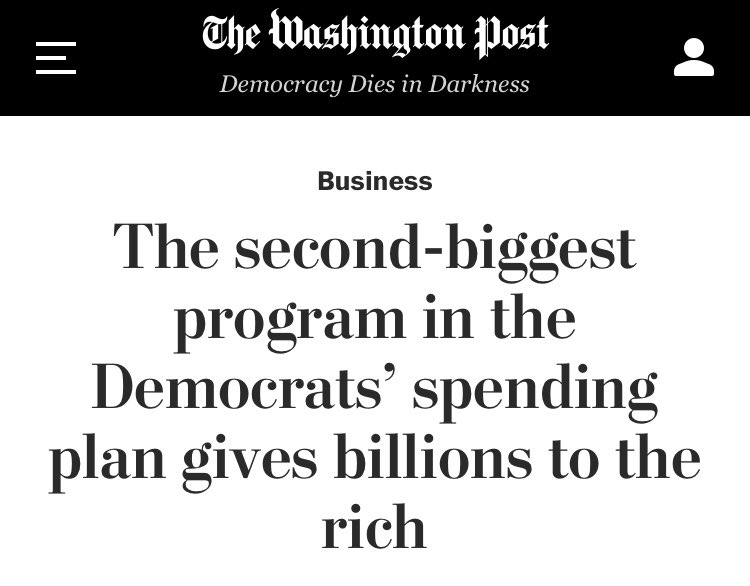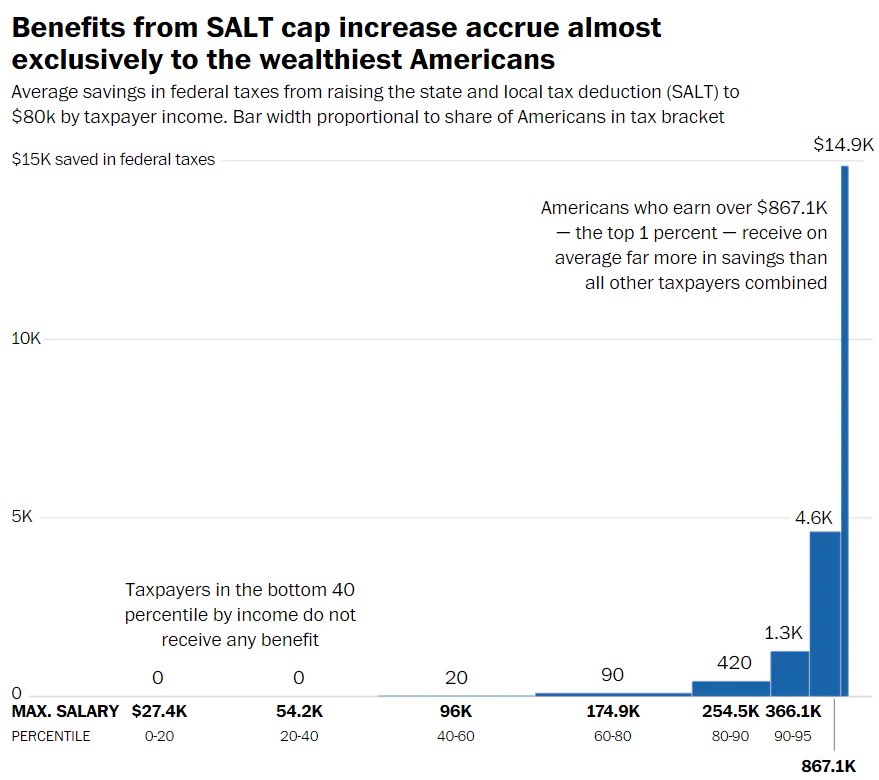 posted by Ace at
04:05 PM
|
Access Comments