« The Most Powerful Legislator In New Jersey Is About to be Deposed By a Truck Driver Who Spent $153.00 On His Campaign
|
Main
|
CNN Panel Comes to Slow Painful Realization That Democrats Just Might Be "Coming Across as Annoying and Offensive and Seem Out of Touch" and also "Moralizing" and "Self-Righteous" »
November 03, 2021
Leftwing 'Journalists" on MSNBC and CNN Insist that CRT Is Not Real and That This Is All a Racist White Delusion;
The Website of Terry McAuliffe's Own 2015 Virginia Department of Education Disagrees
Tristan Justice at The Federalist reports that the leftwing propaganda media spent last night swearing that critical race theory was all a fantasia of your twisted white-supremacist minds.
Joy Reid opined that "[finger quotes] 'education' is just code for 'white parents who don't like teaching their kids about race."

Outkick.com makes a good point: With Rachel Maddow stepping down from her nightly show to do a weekly one, Nicole Wallace and Joy Reid are now basically debuting on-air to replace her, and they're playing a game of I Can Out-Crazy You, Sister to get the job.
Or, maybe they both are just hysterical, sick bitches and really believe the psychopathic gibberish vomiting up out of their gullets. That's a good theory too, which this sad cvck at Outkick has utterly failed to consider.
BTW, former CNN SJW racist Jemelle Hill has her own theory about what drove the Virginia race. Can you guess what it is?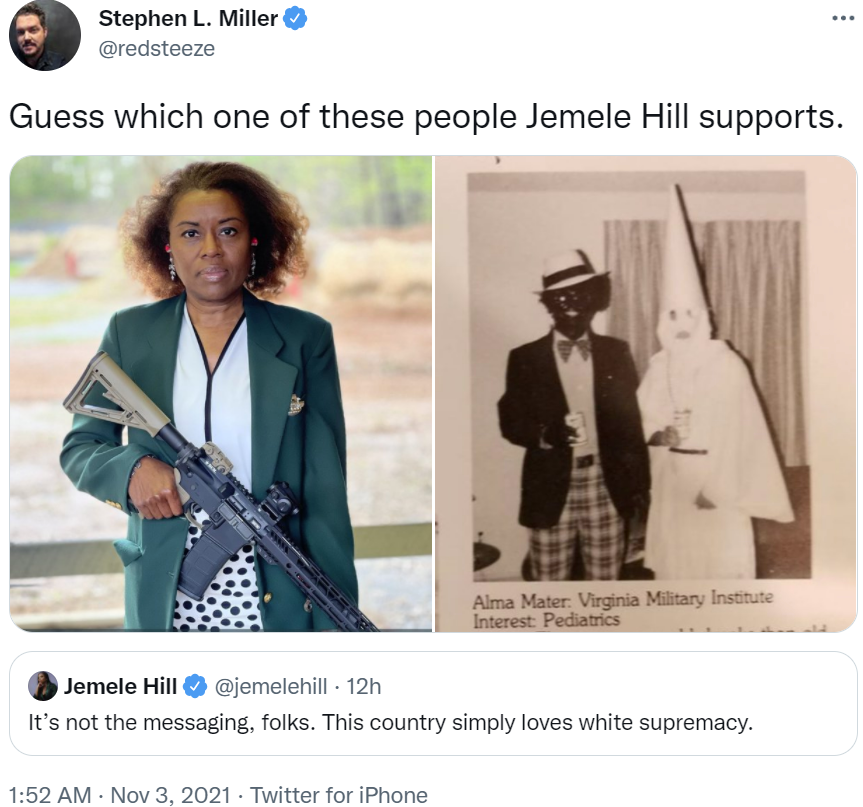 Well she also supports Virginia Democrat Attorney General Mark Herring, who confessed to wearing blackface -- er, "brown makeup" on his facial region -- in college.
When it comes to which blackface-wearing Virginia Democrat you wish to support, a toxic SJW like Jemelle Hill is spoiled for choice.
At The Federalist, Justice points out that Christopher Rufo already debunked the leftist lie that critical race theory isn't taught in Virginia schools: When Terry McAuliffe was governor in 2015, his own Virginia Department of Education directed teachers and principals to "embrace critical race theory:"
The New York Times just reported on a lifelong Democrat voting for Youngkin, because he heard his daughter's teacher instructing her that white men were "modern-day slaveholders."
"I'm a Hillary-Biden voter," Glenn Miller, a lawyer from McLean and frequent donor to both parties, said as he walked into a Youngkin rally in southern Fairfax County on Saturday night that drew more than 1,000 people. Mr. Miller, who has been active in local efforts opposing the elimination of race-blind admissions tests in schools and has spoken out against critical race theory, explained his tipping point: Working from home and hearing his teenage daughter's teacher make a comment during a virtual lesson about white men as modern-day slaveholders.
The unreliable imagination of a delusional racist!