« DC Comics Artist Dramatically Quits Company, Declaring DC Has "No Right" to Turn Heroes Into SJW Propaganda Figures
|
Main
|
The Libs of TikTok: A Growing National Concern »
October 22, 2021
Quick Hits
This leftwing propaganda operation proves two things:
1, they still rely on Trump for clicks.
2, they're terrified of DeSantis.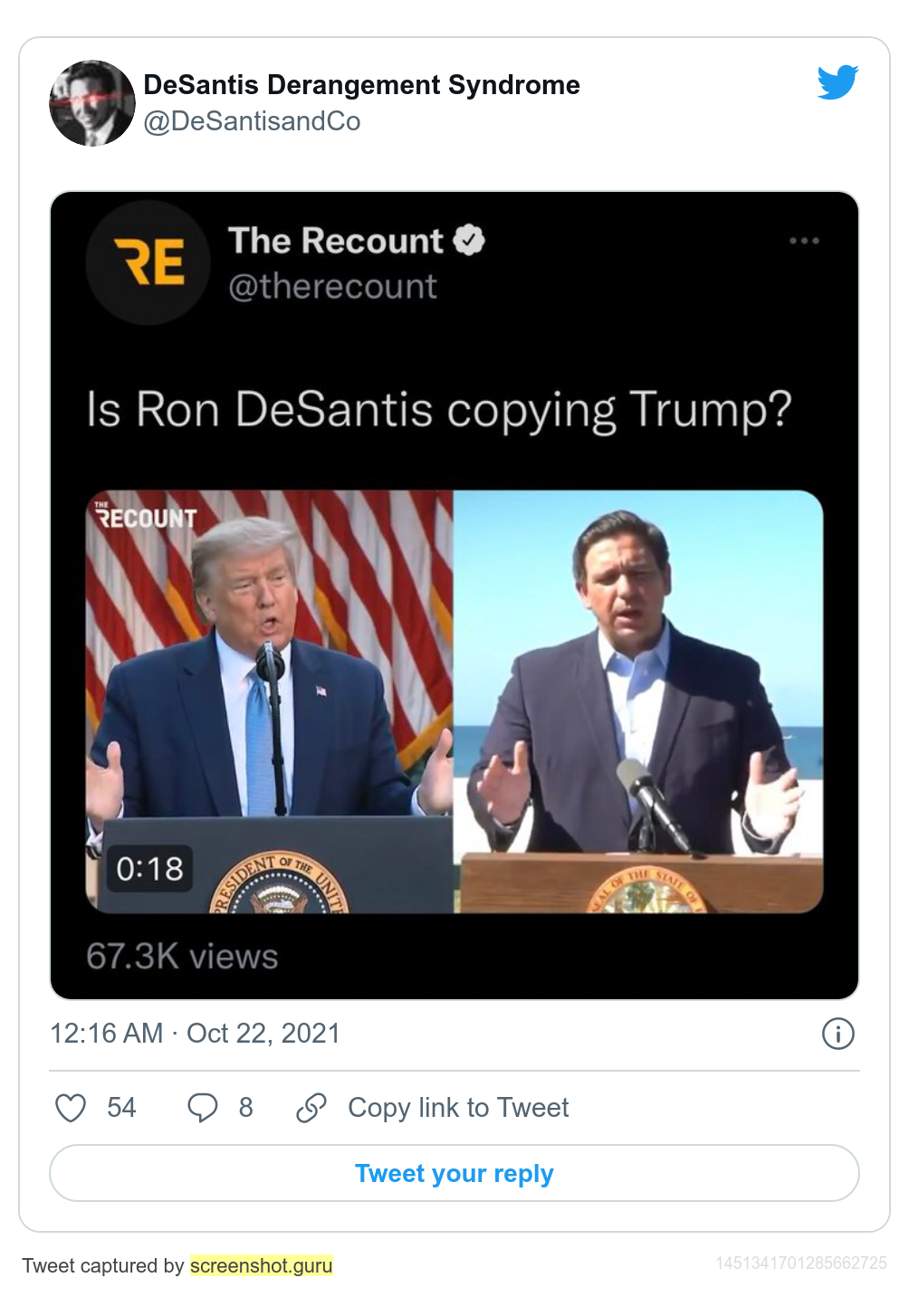 No politician ever moved his arms at his side before Trump, you know.
Disclose.tv @disclosetv

JUST IN - Putin compares the battle for equal rights in Western countries to Bolshevik dogmatism on the brink of absurdity and pleads for "rational conservatism" at the Valdai Forum.

Putin called it monstrous when children in the West are taught that a boy can become a girl.
I Believe Valdimir.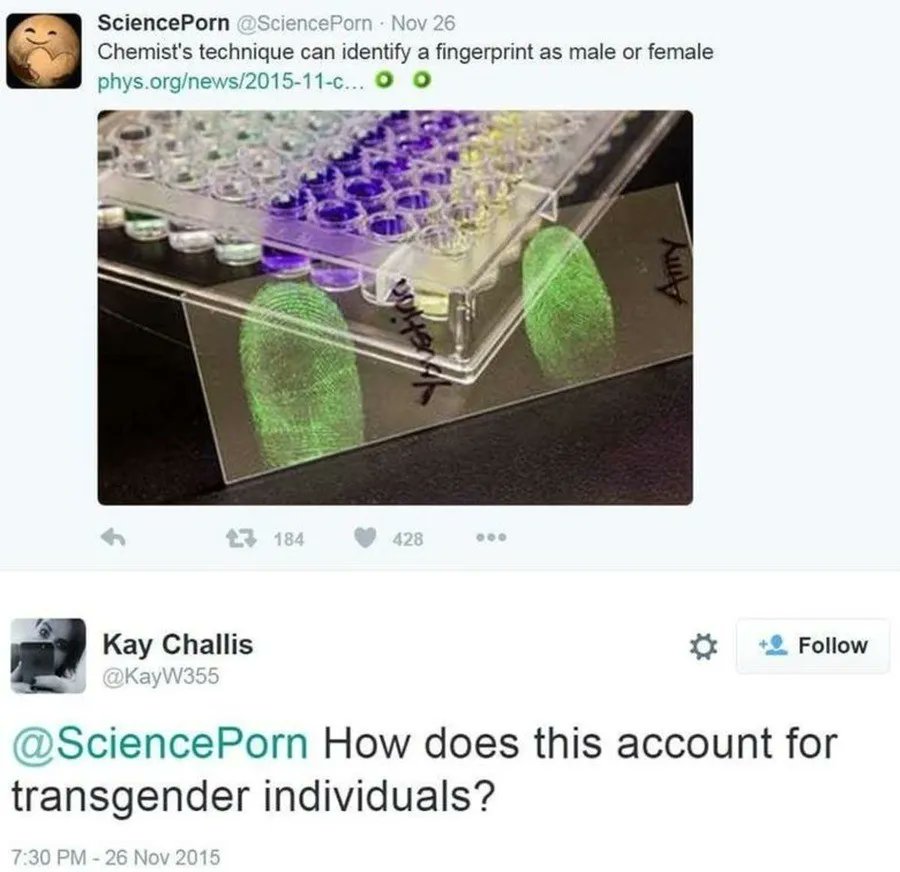 Via @OrwellNGoode.
No matter what the topic, everyone's first thought should always be: But what about trans people? How does this affect Trantifa?
Tucker Carlson analyzes the incredibly fake, non-humanizing video the White House put out of Kamala Harris' completely fake "Surprise" birthday party.
Brilliant -- New York City will bet eight billion dollars in pension funds on Green New Deal boondoggles.
Don't laugh -- you'll have to cover the lost money in about six years.
Rep. Alexandria Ocasio-Cortez's Green New Deal agenda is now governing the future of city pension funds, Mayor Bill de Blasio and city Comptroller Scott Stringer announced Thursday.

Self-described socialist AOC was on hand at City Hall Thursday as the city politicians, each with less than three months left in office, pushed $8 billion in investments to her Green New Deal agenda -- detailing their commitment of the Big Apple's pension investments to climate-friendly companies.

...


The mayor and comptroller on Thursday morning detailed a plan for three city pension funds to reach net-zero greenhouse gas emissions in their investment portfolios by 2040.

The blueprint includes a goal to double investments in renewable energy and "green real estate" to over $8 billion by 2025 and invest more than $37 billion in "climate solutions investments" by 2035, according to the mayor's office.
They should have made the safe bet and put all of their money into racehorses and pirate treasure recovery operations.
De Blasio is also removing a statue of Thomas Jefferson -- author of the Declaration of Independence, third president of the United States.
Hey, remember when Trump said they wouldn't stop with Robert E. Lee and would proceed to take down statues of George Washington and Thomas Jefferson?
What a racist that guy is, huh?
Note: "Racist" now means "someone who speaks an obvious truth the Ruling Class has decided is an anti-truth."
Public art officials in New York City voted unanimously earlier this week to remove a 188-year-old statue of Thomas Jefferson, author of the Declaration of Independence and third president of the United States, from the city council chamber at City Hall.

The decision is based on the fact that Jefferson owned slaves....

Not everyone supports removing the statue, and it has become an issue in the New York City mayoral race. [Mayoral] candidates Curtis Sliwa and Eric Adams both shared their thoughts on the matter.

"Do we suddenly wipe out the images, the markings, the names of all those great patriots because they were slaveholders and slave holding was quite common at that time?" Sliwa said.
Democrat candidate Eric Adams supported the vandalism, however.
Police recommend charges for the Krysten Sinema's antifa/LUCHA bathroom stalkers.
The Arizona State University Police Department is recommending charges over the viral bathroom confrontation between activists and Democratic Sen. Kyrsten Sinema this month.

Following an investigation by ASU police, the Maricopa County Attorney's Office, and Sinema's office, asked county prosecutors to charge four people with misdemeanors after interrupting a class and harassing the senator in a bathroom, said ASU police spokesman Adam Wolfe, according to an Arizona Mirror report Thursday.

The AP straight-up defamed YouTube comedian Vito Gesauldi by claiming he "shouted profanities" at Trantifa, and "pushed" them. In fact, he was completely polite and did not push anybody -- he was pushed by Trantifa.
Jesse Singal analyzed the photographs and video and declared that based on the video he could see, Gesauldi did not "shout profanities" during the moment of AP's photo.
So AP made a retraction -- they now say that Gesauldi did not shout profanities, at the moment of the photograph.
The heavy implication is that he shouted profanities at other moments -- and yet, strangely, AP can't seem to find video supporting that claim.
These people must be sued, and sued, and sued, and sued some more. You are not allowed to defame people with blatant lies just because you think Trantifa must be protected and must always be portrayed as the victim. You cannot claim someone committed assault just to protect Trantifa from the consequences of their violence.
Note that is the right-leaning comic "Dick Masterson," the former sparring partner of Maddox. At least until he cvcked Maddox by sleeping with Maddox's ex-girlfriend, hurting Maddox's little feelings.
Vito posted a video about the incident. Obviously, the whole intent was to show that Trantifa would get violent and nasty over any dissent, no matter how innocuous, polite, and silly.
Vito and Masterson proved that -- they proved Trantifa will physically attack anyone for saying something as innocuous as "Jokes Are Funny!" or "We Like Dave!"
The leftist propaganda media can't permit Trantifa to appear to be the aggressors in any confrontation, so they resort to blatant defamation.
The identity politics #Woke TV show "Y the Last Man," a show about all cis men disappearing from the earth (apparently the alien virus allows trans "men" and trans "women" to go on existing, for some reason) has been cancelled after seven episodes.
A producer doesn't understand why -- the show's all about gender identity! Who wouldn't love to spend an hour a week watching gender politics propaganda?!
CNN similarly uses the logic that We Have to Lie to Help the Good People Beat the Bad People, in excusing their serial lying about Joe Rogan taking "horse dewormer" -- Shut up, they explained; sometimes we have to lie to establish a Higher Truth.
Here's their statement, announcing that we shouldn't get bogged down in the minor details over who was telling the truth and who was lying -- we should focus on the important Propaganda for Public Health that CNN was attempting with their lies.
The heart of this debate has been purposely confused and ultimately lost. It's never been about livestock versus human dosage of Ivermectin. The issue is that a powerful voice in the media, who by example and through his platform, sowed doubt in the proven and approved science of vaccines while promoting the use of an unproven treatment for covid-19 -- a drug developed to ward off parasites in farm animals.

No, it was developed to ward off parasites in human beings. Like 80% of all drugs, it was then found safe and effective for animals as well.
This drug was awarded a Nobel Prize in medicine. Human medicine. Not vetrinary medicine.
See the shift? Let's not talk about what is true and what is false; let's just focus on our noble efforts to smite a Cultural Enemy.
The only thing CNN did wrong here was bruise the ego of a popular podcaster who pushed dangerous conspiracy theories and risked the lives of millions of people in doing so.
Let's not focus on the shabbiness of our endless lies.
Let's instead focus on the nobility of purpose of our endless lies.
Our Lies are justified because Our Lies Save Lives.
Eric Wemple, the Washington Post's media critic, notes that five of the six people pushing this lie were "reporters," anchors in fact, and not just stupid opinion hosts like Don Lemon. (Though Don Lemon, of course, also pushed the lie.)
He notes:
Yet CNN's statement sounds more like the work of an advocacy group than a journalism outfit. The "issue," actually, begins and ends with the integrity of CNN's content. If we take Rogan's prescription claim at face value -- and CNN hasn't challenged it -- then the network's coverage was slanted in some cases and straight-up incorrect in others.
More like an advocacy organization than a journalistic enterprise?
You don't say.
You.
Don't.
Say.
And by the way, how about analyzing the Washington Post's non-coverage of the Loudoun r4pes?
CNN is playing a dangerous game here. Joe Rogan is combative and has as much money as CNN's legal department -- he can afford to fund a lawsuit and refuse to settle. He can prosecute just for the principle and personal vindication.
He can take this through discovery and trial, and get his hands on all of CNN's internal communications about crafting these poisonous lies.
Joe Rogan is a coward if he doesn't. So I sure hope he mans up and does the right thing.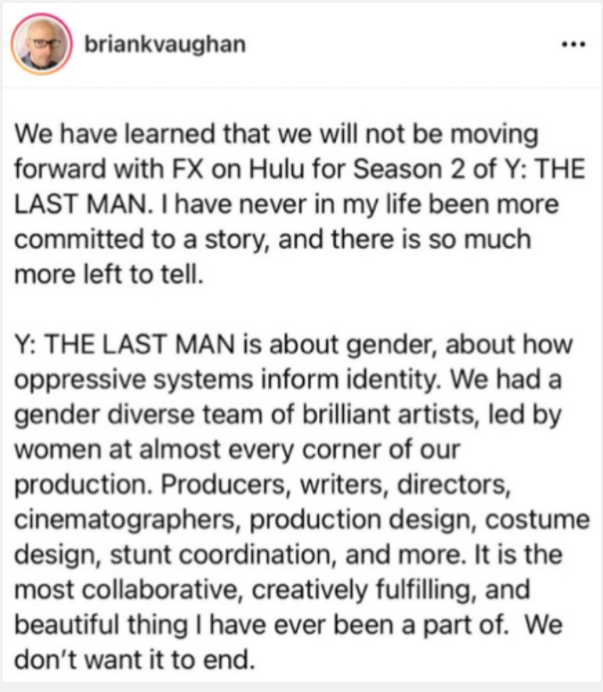 Comics MATTER w/Ya Boi Zack 3 days ago

I just don't understand why your Basic Cable TV show about gender identity politics failed to garner an audience.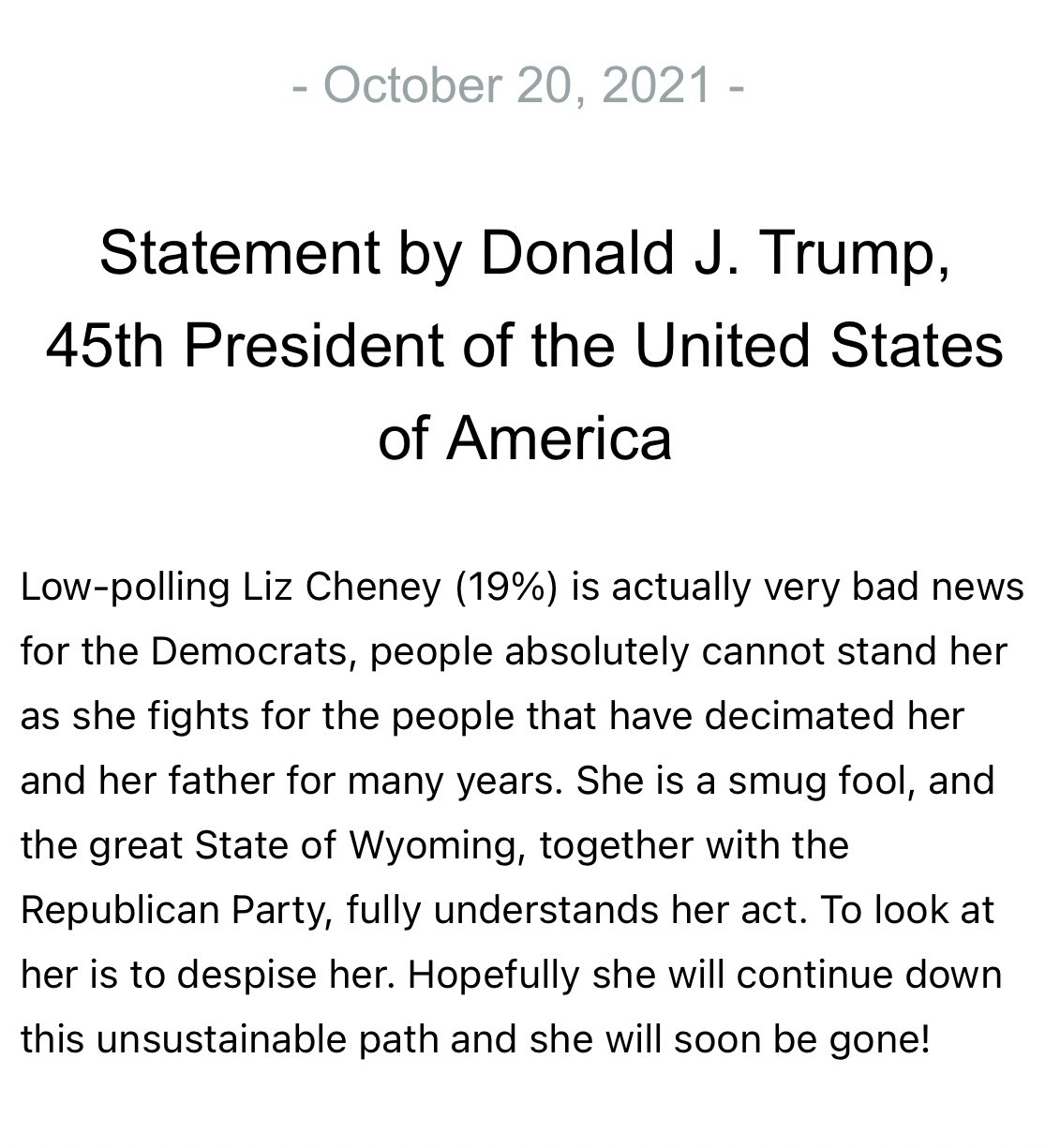 Mexican cartels are shooting at National Guard soldiers trying to protect the border.
Republican Texas Gov. Greg Abbott said Sunday that the border crisis is escalating into a border war as "aggressive" Mexican cartels shoot at National Guard soldiers at the southern border.
Border arrests are at their highest levels in American history.
It's October 20th and Customs and Border Protection (CBP) still hasn't released the September border apprehension numbers, but the Washington Post's Nick Miroff has seen them. The news for the Biden administration is not good. Fiscal Year 2021 is now the highest number of arrests at the southern border in the nation's history. In fact, when Miroff's piece first went up, it claimed this year's numbers were the highest since 1986, but he's now added a correction to the piece:

A previous version of this story incorrectly stated that Border Patrol arrests along the Mexico border reached their highest levels since 1986. Historic data shows fiscal year 2021's figure was the highest total ever recorded. The article has been corrected.

Miroff's piece points out that the Biden administration has tried to tap dance around the border crisis since the spring:

Illegal crossings began rising last year but skyrocketed in the months after President Biden took office. As CBP arrests increased this past spring, Biden described the rise as consistent with historic seasonal norms. But the busiest months came during the sweltering heat of July and August, when more than 200,000 migrants were taken into custody.

...

This is a historic failure and one for which Biden is directly responsible. The fact that he has spent the entire year avoiding the border shows he is far more concerned about his poll numbers than he is about fixing this problem. He's like a homeowner who decides to deal with a plumbing leak under the kitchen sink by staying out of the kitchen. That might work if you have reason to believe the leak will go away on its own, but according to a report from NBC earlier this month, things are about to get much worse.
Biden's own nominee for director of Customs and Border Protection even admits the border chaos is largely the consequence of Biden's policies.
Is Biden finally getting something right? Initial reports coming out of yesterday's Senate confirmation hearing for Tucson Police Chief Chris Magnus nominated to lead US Customs and Border Protection are encouraging. Magnus, under questioning from Republican senators, admitted that Biden's policies for the border have helped create the Biden border crisis. That is a step in the right direction.

Chief Magnus voiced support for Title 42, the Trump era policy that allows immediate expulsion of illegal migrants due to public health concerns. The spread of the pandemic coming from the southern border has been slowed thanks to Title 42. He understands the importance of continuing that policy and of the need to vaccinate illegal migrants against COVID-19 to protect Border Patrol agents as well as Americans when the migrants are released into the country.
Question for the media:
Do you, or does anyone in your family, or does anyone in your circle of friends, own a Truck Boat?
I think the media is so cluelessly out-of-touch that if a bunch of us claimed that owning a Truck Boat is a totally common thing that everyday Americans do, the media would believe us and start claiming "Well of course I've been in my cousin's Truck Boat on the Fourth of July..."
Incredibly, the Marine who took out the Soy Punks gets even cooler:

posted by Ace at
05:30 PM
|
Access Comments