ę Quick Hits
|
Main
|
The Merrick Garland Adult Learning Education Fund Cafe Ľ
October 22, 2021
The Libs of TikTok: A Growing National Concern
This red-blooded all-American man insists that if you want to have sex with a "trans woman," and furthermore a trans "woman" who still has his penis, and you really want to play with that Feminine Penis, that doesn't make you gay, because, it's just a woman with a big, hard penis.
We've seen this guy before telling people you can have sex with lots of men and still be straight. Straight guys just nut into each other all the time. It's like a handshake. No -- a manshake.
Here's The Boyscast discussing this guy's theory that you can s*** every d*** in a thirty mile radius and still be straight as an arrow.
By the way, Ryan Long does my favorite juvenile joke there. Whenever he's talking about some story about The Gays, he introduces it by saying, "Danny (his co-host), here's an important story for you."
* * *
Lower your expectations, plebes.
Stores are spreading out their limited supply of product to make the shelves look less bare than they really are. An example of that below, from Ashe Short (@AsheSchow).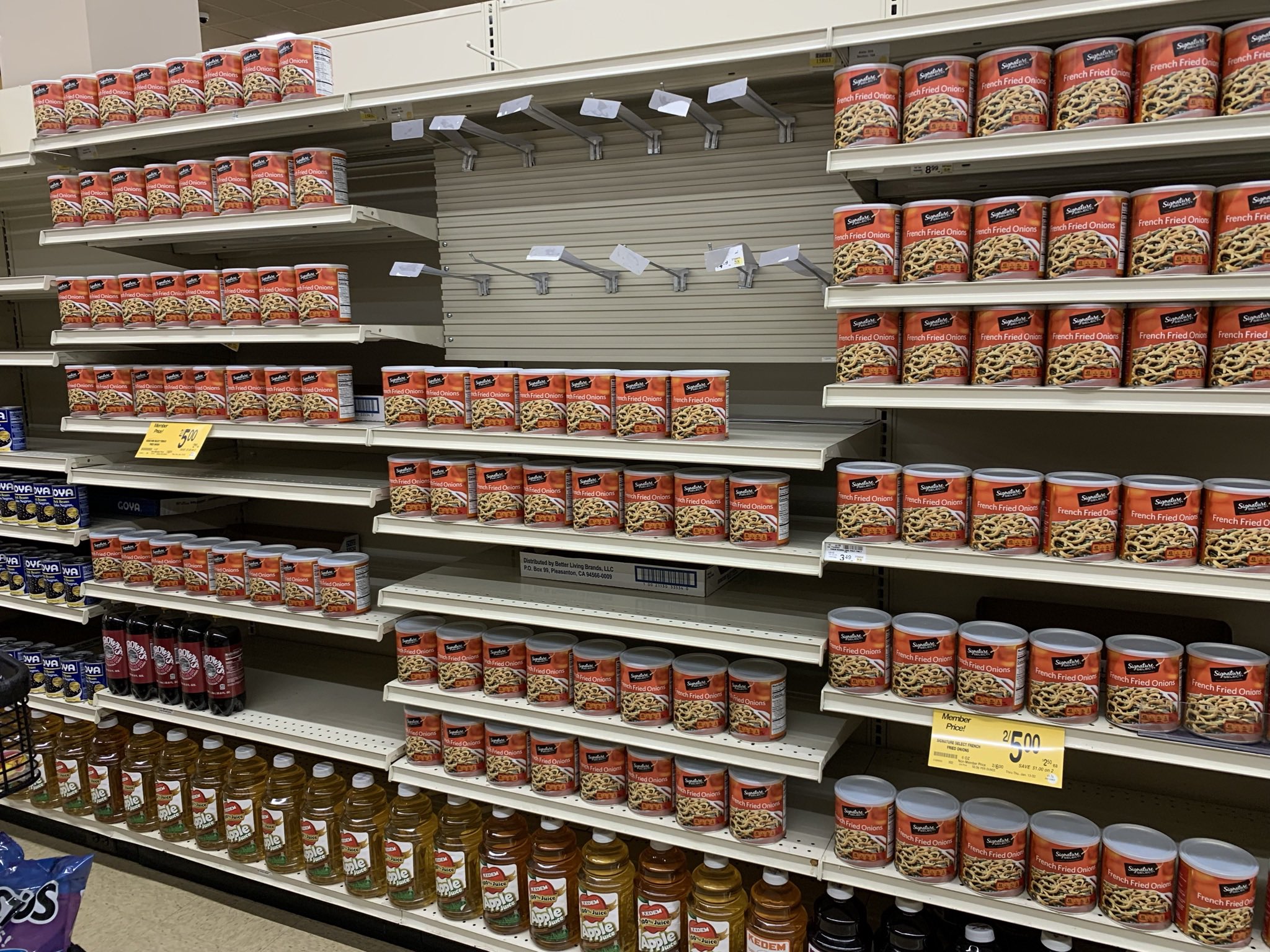 And from Amber Athey: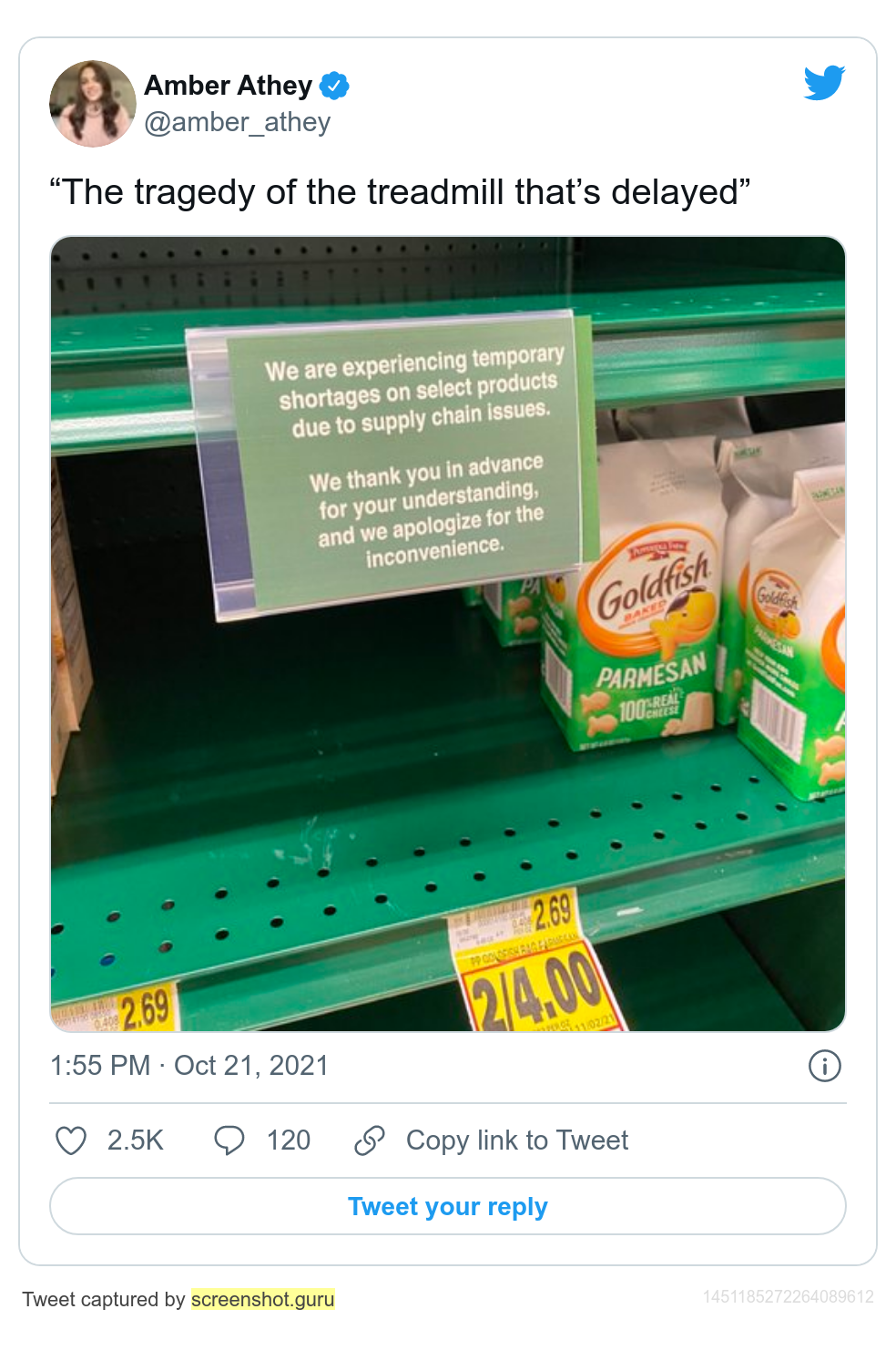 Remember, Peons: Know your place. Lower your expectations.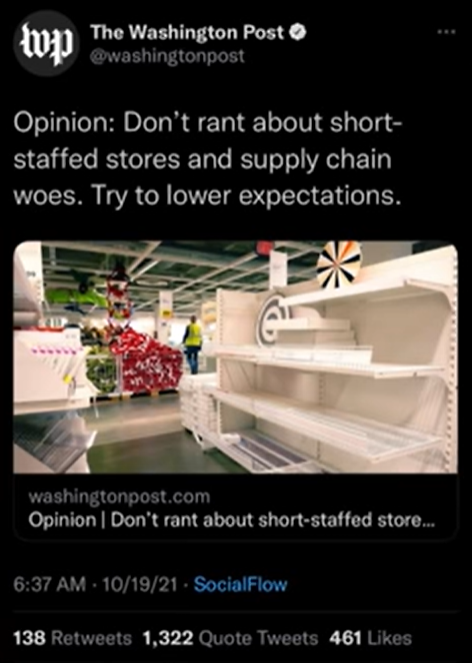 * * *

If you want to see how the government wants to treat you, look to how they treat the group they have the most direct power over -- children.
Children are a dry run for the adult population.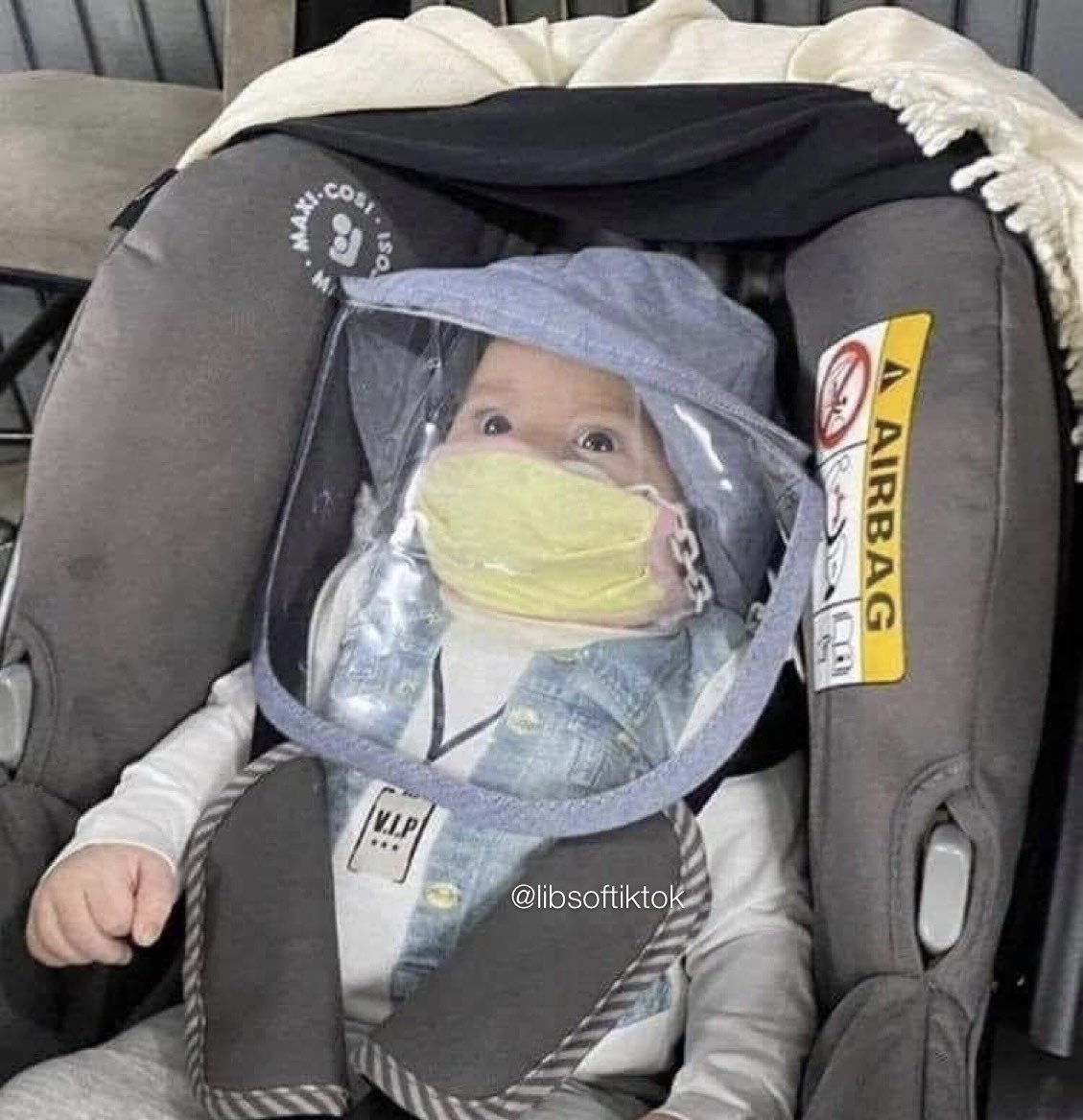 * * *

Trust your health care professionals. They're very, very smart.
* * *
Lesbian teacher cries as she announces she just "came out to my students." They're sixth graders. She says "It just felt right... it was so beautiful."
She claims that this was good for them because "they asked so many questions." See, it was a learning experience for the students, not a narcissistic personality disorder experience for her.
Here's another Teacher of the Year contender, being recorded by her giggling students.
Via this account, these quotes from a Medium post by a teacher attacking her students, and the parents who (over)pay her salary.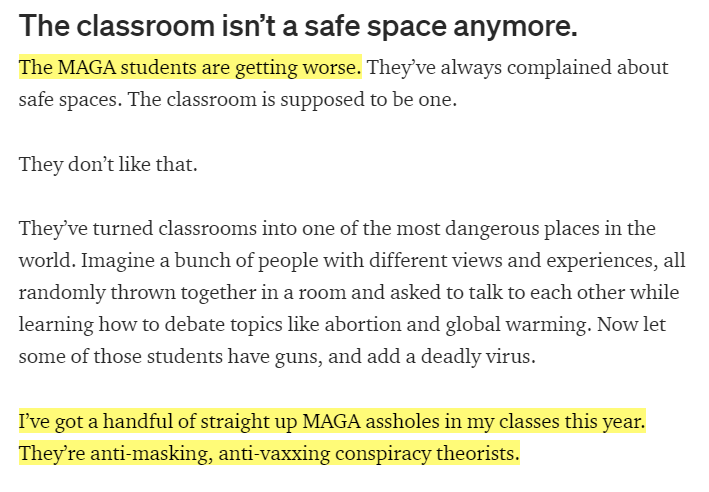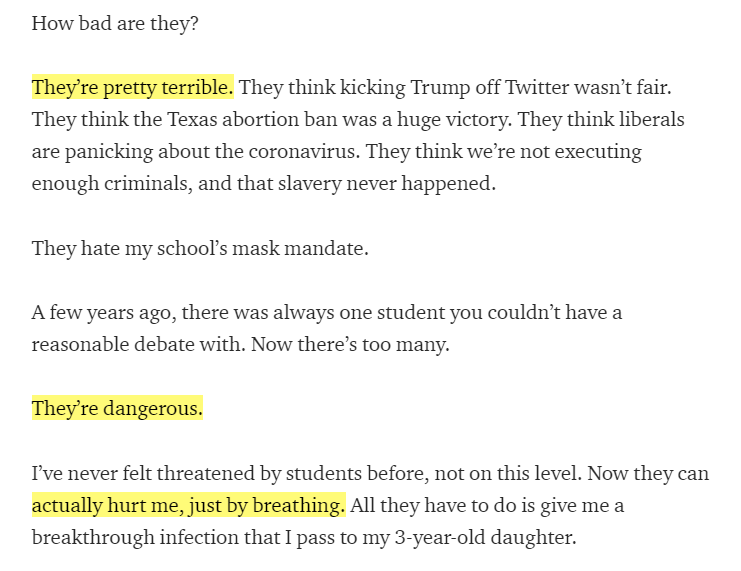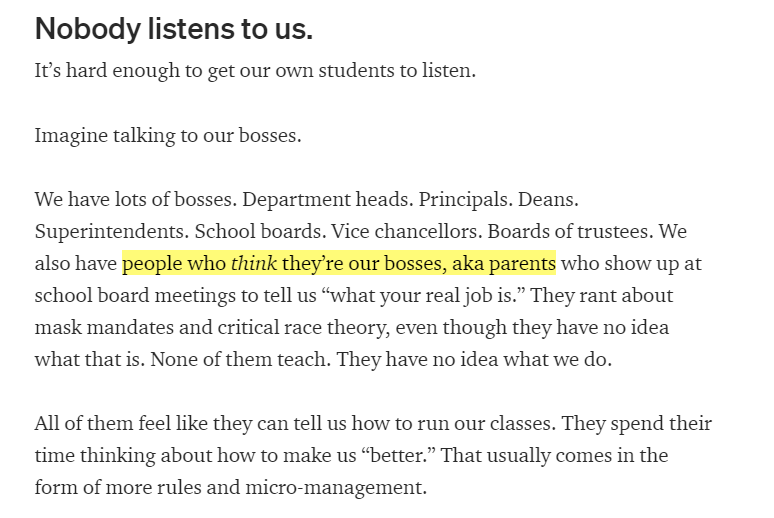 The teachers unions must be dissolved, and tenure eliminated. And everyone still drawing salaries while reading the paper all day in a "rubber room" fired and forced to earn a living for once.
* * *

Has it been too long since you've heard someone invent a new niche form of asexuality? Then boy, do I have a surprise for you. "Reciprosexuals" -- they don't feel sexual attraction towards someone until that person shows sexual attraction towards them.
We have again discovered a new sexuality that covers most of the normal straight population. Yes, some people do suddenly find a sexual interest in someone else only after that person has expressed an interest in them. It's kind of common, actually.
* * *

A transgender working at Marvel and DC -- or, at least, until recently working for those SJW pits of despair -- announces that he will convert all of your children to transgenderism.
Hey, Kids!!! Comics!!!
* * *

You know the Woke 8-Year-Old story that leftist parents tell about their supposedly #WokeAF spawn?
Well now leftists are telling Woke 8-Year-Old stories about themselves.
* * *

I'm going to just paraphrase this ugly troll: "I have never felt the comforting weight of a man on top of me."
Another case of the Medusa Complex.
* * *
This angry women claims to be a "he/they," and also says she's "going above and beyond" to help you get her pronouns right by putting them in her bio.
Wow, talk about going the extra mile.
"There is no f***ing excuse for people to misgender me."
Except for... you know, refusing to play along with schizophrenic delusions.
* * *
Fat Activist of doubtful sexual identification identifies chairs as fat-phobic.
* * *

This pyrsyn of color -- a "microaggressions researcher" -- is angry that diversity training that beats up on white people is still "centering white people."
* * *

Lisping guy in the hospital, who just got "genital confirmation surgery," is angry that they won't give him harder drugs to control his pain and screams that this is "medical racism."
* * *
Transgender "woman" is doing the very minimum possible to appear to be a woman says it's "intentional" if you "accidentally" misgender him, because you "haven't done the work to deconstruct" how you view men pretending to be women.
* * *
Monsters proudly talk about raising their baby "Zoomer" without a gender.
* * *

Ugh, white leftist women Karens are the absolute worst. The worst.
I mean, seriously: the worst.
* * *

Not all people featured on Libs of TikTok are libs. Some are normal people reporting on what leftists are doing. Like this black teacher who reveals the "racist" gifts given to her by her school district -- a Black Educators Matter mask, an I Heart Being Black pin, and a bizarre greeting from some organization that prays to an African pagan god.
A government funded school district is sending this shit out.
(She also has her own parody twitter account making fun of her fellow woke teachers, but the gifts from her school district are real.)
This woman is being kicked out of the military for refusing to get the vaccine, and suggests you contact soon-to-be-former-military-people about possible jobs.
* * *
They make it hard to forget that transgenderism is a mental illness. If you don't get that nasty sentiment: this man is angry that his mother got breast cancer.
No, that's not the part he's mad about. He's mad that his cancer-stricken mother got a masectomy, which he calls "top surgery," before he did.
* * *

Should white people be allowed to own property? Should America be allowed to exist?
Spoiler: No.
An alternate viewpoint: Also no.
* * *

Back when you were allowed to say that the election is rigged, and that voting machines are being hacked:
The meme is real:
Even more real:

posted by Ace at
06:30 PM
|
Access Comments