« Netflix Fires Trans Activist Who Led Walkout
|
Main
|
Quick Hits »
October 18, 2021
Daniel Craig Says He Goes to Gay Bars to Avoid the "Aggressive D***-Swinging" in Straight Bars
Hot off his final adventure as James Bond in No Time To Die, actor Daniel Craig has revealed that he prefers going to gay bars, rather than general drinking establishments, because it allows him to avoid "the aggressive d*** swinging [found] in hetero bars."


Speaking with Palm Restaurant Group Executive VP Bruce Bozzi on the latest episode of his SiriusXM radio show 'Lunch With Bruce,' Craig disclosed that he has "been going to gay bars for as long as I can remember."

According to the Bond star, "one of the reasons" he prefers gay bars is because he does not "get into fights in gay bars that often," which he attributes to the lack of "aggressive d*** swinging [found] in hetero bars."

"I just got very sick of it, as a kid, because it was like... I don't want to end up eating in a punch up. And I did," he added.
Sounds like he wanted to eat something else up, though.
Craig is married to Rachel Weisz and before that to another woman, though he's been pushing the idea that Bond Is Gay thing for a while.
In the meantime, of course, Superman Is Gay.
They've also dropped "the American Way" from his creed. Now Superman will fight for "Truth, Justice, and a Better Tomorrow."
They've been extremely reluctant to have Superman say he believes in the American Way for a long time, though.
And to that end of making the world better: He's transitioning to Greta Thunberg. This is the cover of an upcoming Gay Superman comic: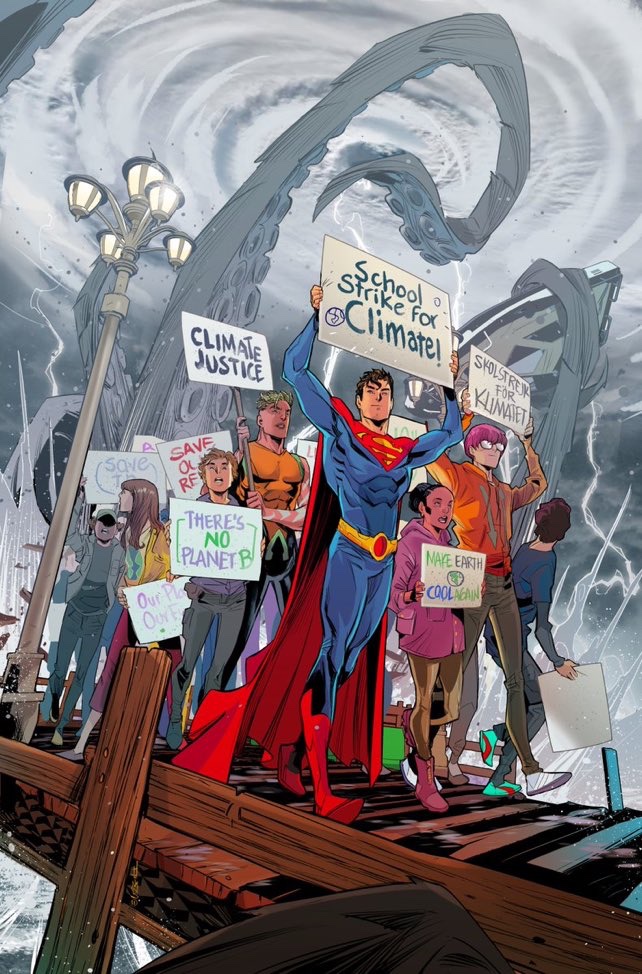 Below, the unbearably smug writer DC charged with making Superman gay laughs at people who object to the change.

Both the CNN soyboy and this comics writer SJW laugh about the public not even knowing that this isn't Superman himself, but Superman's son, Jonathan Kent.
About that:
Until the last few months, Jonathan Kent was never called "Superman." He was called just "Jonathan Kent," or "The Super-Son."
Never Superman. Because he wasn't Superman.
But DC and Warner Bros. sent the real Superman away from earth. He's no longer the Superman of Earth.
They had previously sent Jonathan Kent into some kind of time warp, aging him up from being a 13 year old kid into being a full-grown man.
So now, as a full-grown man, Jonathan Kent, who had never before been called "Superman," is now called that, and has a new book calling him Superman (or, "Superman: Son of Kal-El.")
Why did they do all this? They moved Superman off of the earth precisely so that when they launched their newest straight-to-gay converted character, they could call him Superman, and mislead the public into thinking they'd made Superman gay.
They wanted the headline "Superman is Gay." They screwed around with Superman, giving him some stupid mission in another solar system, just so the role of Superman on Earth would be vacant. Then they elevated the Super-Son to Superman and made him gay.
All to get the viral twitter headline "Superman is Gay."
And then, having done everything in their power to tell the media and the general public that Superman Is Gay, they then turn around and chuckle, "Ha-ha, stupid normies who don't read comics, it's not Superman who's gay, it's this other person we're now calling Superman who is gay."
They deliberately deceived the public to get some virtual pee-pee touches on twitter, and then they scorn the public for having been deceived??
By the way, barely anyone reads comics any longer, so why would anyone know this?
These assholes are laughing at 99.999% of the population.
The 99.999% of the population that isn't even aware they still print comic books, except when they run a viral marketing initiative to get retweets on twitter.
They do this viral headline trick all the time. Back in like 2010, they made "The Green Lantern" gay, and put that out into the media to get some buzz going for The Green Lantern.
But The Green Lantern they turned gay wasn't the Green Lantern you know. He wasn't Hal Jordan. He wasn't even one of the other earthling members of the Green Lantern core, like John Stewart or Guy Gardner or Kyle Rayner.
No, the "Green Lantern" they turned gay was the original 1930s character who didn't even have a science-fictiony green power ring, but instead... a magic trainman's lantern.
And his magic lantern did not have the flaw of not working on anything that was green.
It had the flaw of not working on anything... made of wood.
So unless you've been reading comics since 1941, you probably don't even know who this gay supposed Green Lantern even is.
But they got their headlines.
And they're doing the same thing now, with the added dickishness of laughing at people who don't bother with these miserable juvenile comics for not knowing they're so uncreative that they just spin out variation after variation of the same character.
And by the way, in case you think turning Jonathan Kent gay isn't any big deal: before turning him gay, he was himself a very popular character.
And a straight character. Dated lots of girls, and we saw his thought-balloons talking about liking girls.
But now he's been gay forever, they've decided.
So now any fans of Jonathan Kent realize they never even knew the character at all.
I myself use that headline because if DC and Warner Bros. want the public to believe their flagship comic book character is gay, I'm willing to amplify their cheap gimmicky deception.
And if that depresses the already-low interest in the Superman IP, oh well.
Ooops! Ooopsie!
I'm not going to pay for any more Bond or Superman films because I Don't Feel Represented on the Screen.

Bonus: Speaking of Greta Thunberg.

posted by Ace at
04:42 PM
|
Access Comments