« Food Thread: Autolyse For The Win And Infused Gin For The Loss!
|
Main
|
Sunday Overnight Open Thread (10/17/21) »
October 17, 2021
Gun Thread: Headed to Texas Edition!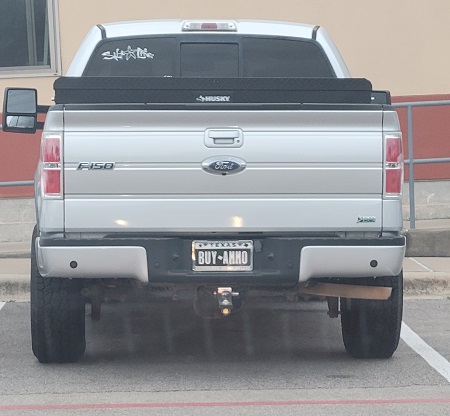 h/t Guy in Texas
Howdy, Y'all! Welcome to the wondrously fabulous Gun Thread! As always, I want to thank all of our regulars for being here week in and week out, and also offer a bigly Gun Thread welcome to any newcomers who may be joining us tonight. Howdy and thank you for stopping by! I hope you find our wacky conversation on the subject of guns 'n shooting both enjoyable and informative. You are always welcome to lurk in the shadows of shame, but I'd like to invite you to jump into the conversation, say howdy, and tell us what kind of shooting you like to do!
Last week I mentioned making a list of all the things I wanted to take to Texas and which I had left at the farm the last time I was there. I am happy to report I made a quick trip to the farm this week to pick them up, so I am all set for my maniacal drive to Corsicana. Mission accomplished! If you happen to be on I-81 or I-40, get out of the way! Weasel is coming through!
With that, let's get to the gun stuff below, shall we?
******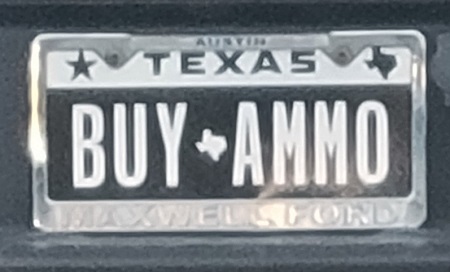 Programming Note: Next Sunday is going to be a travel day for me, and if everything goes according to Plan A I will post the thread at the normal time. Apologies since this week is mostly videos, and thanks in advance for understanding if next weekend's content includes material you have seen before.
Sunday Update: I just spent 12 1/2 hours in the car, and I need to get something to eat and uncurl my fingers from clutching the steering wheel all day. I will probably be in and out of the thread tonight, so please don't burn the place down!
Texas MoMe
IMPORTANT: I am linking the syllabus for the Introduction to Mid-Range Rifle Clinic here. If you are attending, please download the file, print it out, and bring the copy with you. It will be very helpful for you to have a hard copy and follow along during the classroom portion of the clinic. I am going to try and have a few spare copies available, but I plan to do a lot of things that never end up happening, so please bring a copy with you.
I am also going to post the schedule of the TXMoMe shooting stuff one last time in case you missed it.
Handguns Friday 22nd, 11am - 4pm. The program will cover range safety and the basics of a proper handgun stance, grip, sight alignment and trigger discipline, and will repeat throughout the day. There will also be targets available for those who want to try a variety of available weapons. You are welcome and encouraged to bring your favorite firearm if you like, and please consider bringing a little extra ammo to share since a big part of the fun is the ability to try other Moron's weapons.

Saturday 23rd, 11am - 4pm. Open range with the handgun presentation repeating throughout the day.

Rifles
Friday 22nd, 8am - 4pm. We start at 8am with a presentation on mid-range shooting concepts conducted in a classroom setting on the carport. Please bring a pencil, copy of the syllabus and pocket calculator if you are interested in participating. The topics covered include range safety, interior and exterior ballistics, practical exercises in computing firing solutions, and working with a coach or spotter. The presentation usually lasts until lunch, after which we will head to the range and engage targets from 50 to 700 yards. There will be separate targets setup for plinking at close range if that's what you like to do.

Saturday 23rd, 8:30am - 2pm or thereabouts. Open range. If you want to shoot, get there early as most of us want to head up to the main event and join the party around lunchtime. I will be available until around noon on the range to work with shooters, tell funny jokes, and generally act like a buffoon.

Important note In past years, we have tried to limit the size of the rifle class by having people register, and this year we are simply welcoming anyone who would like to attend. If you want to come and simply observe, you're absolutely welcome to do that too. Please be at the ranch by 7:45am Friday, as the presentation begins at 8am sharp. If you would like to shoot, bring a rifle and ammo. It can be any reasonable caliber, but please, no AP or incendiary ammo of any sort. I will also bring a couple of my practice guns and a very limited supply of ammo for those. You can improve your chances of getting a turn with one of them by bringing either .308 Winchester (168gr and up) or 5.56x45mm (70gr and up) ammo.
******
First up our pal Ed L shares the results of a recent range trip.
First is a 1994-95 .38 Colt Detective Special (last of the breed) at 10 yards w/ 130 grain FMJ. Target shows the results of a mix of aimed and rapid fire. Obviously, rapid fire isn't my thing to do with a snubbie at 10 yards.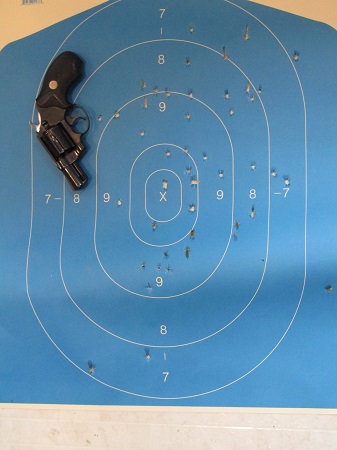 Next is the HK SP5. Blue target is at 10 yards with a mix of aimed shots and double taps. Next target is at 20 yards, again a mix of aimed shots and rapid double taps. Ammo is 124 grain 9mm +P with frangible flat nosed ammo. Any fails here are on the shooter, not the weapon. The SP5 has the SB Tactical Brace and MP5 diopter sights replacing the end cap and notched rear sight the SP5 originally shipped with. This is one of the best pistol caliber carbines available, but its also got the highest price if one sees what these are going for on Gun Broker.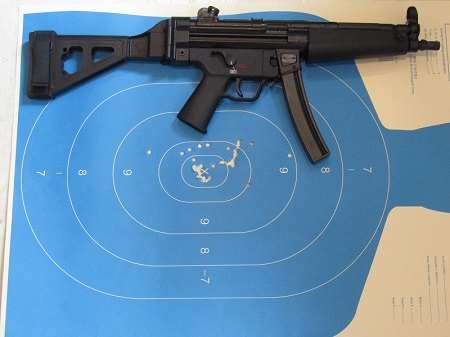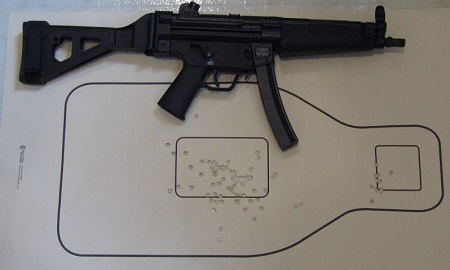 Nice, Ed L, and thank you for sharing! Very nice weapons and great shooting. Some of you may recall a video from Weasel Acres featuring my buddy's H&K MP5 in full-auto.
Any other MP5 fans out there? Why yes, yes there are! Our pal redc1c4 shares a video he found on the history of this weapon.
Thanks redc1c4!
******
M1 Rifle
By now you should have realized I really like old military training films. I found these videos some time ago, but they are looooong. Like one hour long, each, so save them to watch on a rainy day.
M1 marksmanship training film Part 1:

M1 marksmanship training film Part 2:

******
Next up our pal Doof found a great video on a guy building a benchrest rifle as an Eddie Van Halen tribute.
Great video, thanks Doof!
******
Next, our pal WTM shares an article on the Tommy Gun and the St. Valentine's Day Massacre
******
I say it all of the time, but the .22LR is a very capable (and fun!) training round, and here's a video of just that.
The cartridge is fun and economical to shoot, and offers all of the same elements of grip mechanics, sight alignment and trigger squeeze as larger calibers at a fraction of the cost. I cannot recommend the .22LR for practice or general plinking enough!
******

The Babylon Bee tackles gun selection!
******
Gun Basics 101
Q: Weasel, I bought a gun and I am buying ammo. Where to I keep it?
A: Why, you want to lock the gun up in a safe, but make sure it's readily accessible to shoot bad guys.
Here's the She Equips Herself lady with her recommendation.
These safes aren't cheap. Here is a link to (I think) the Vaultek safe model featured in the video. It's pricey at over $300, but it looks solid. There are a ton of different opinions on safe types and applications, so watch the video and ask questions to determine what the right solution is for you.
******
Cigar of the Day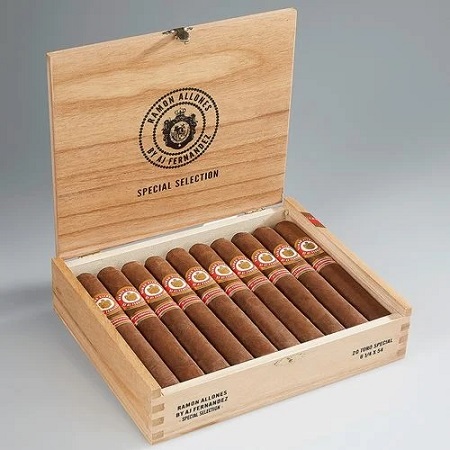 This is a cigar I really like, the Ramon Allones Special Selection. This happens to be the Nicaraguan edition by AJ Fernandez, but they are also still made in Cuba. Both are delightful!
******
Link-O-Rama
I'm really very seriously not kidding around anymore. Buy Ammo
AmmoSeek - online ammo search tool
GunBot - online ammo search tool
SG Ammo
Palmetto State Armory
Georgia Arms
AmmoMan
Target Sports USA
Bud's Gun Shop
***Mail Bag***
This week our pal f'd shares the proper method of old hard drive disposal. Shoot 'em!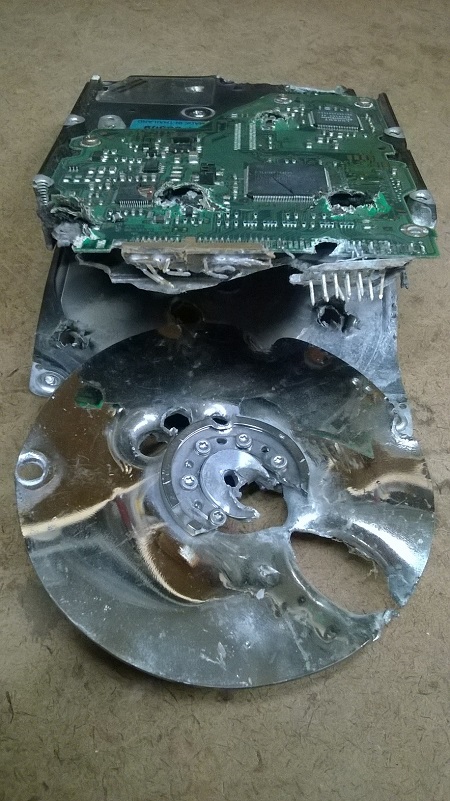 ******
Please note the new and improved protonmail account gunthread at protonmail dot com. An informal Gun Thread archive can be found HERE. Future expansion plans are in the works for the site Weasel Gun Thread. If you have a question you would like to ask Gun Thread Staff offline, just send us a note and we'll do our best to answer. If you care to share the story of your favorite firearm, send a picture with your nic and tell us what you sadly lost in the tragic canoe accident. If you would like to remain completely anonymous, just say so. Lurkers are always welcome!
That's it for this week - have you been to the range?


posted by Weasel at
07:00 PM
|
Access Comments