« The Morning Rant: Minimalist Edition
|
Main
|
Maniac Goes on Rampage In Norway, Targeting Citizens With a... Bow and Arrow »
October 14, 2021
CNN Medical Reporter Sanjay Gupta Appears on Joe Rogan's Podcast, and Gets Grilled About Why CNN Lied About Him Taking a "Horse Dewormer"
When Joe Rogan caught covid, he took a course of monoclonal antibodies as well as Ivermectin. I think he also took HCQ.
All were prescribed by his doctor.
When he bragged he'd shrugged off covid and was healthy after three days, the leftwing media, including the Clickbait Nonsense Network CNN, claimed he had taken a "horse dewormer."
This was a complete lie, of course. Ivermectin is in fact prescribed by veterinarians for horses and cows as an anti-parasitic, but it's also prescribed to humans, and of course Joe Rogan got the human form of the drug.
Not the horse form.
Nevertheless, the Clickbait Nonsense Network called it a horse dewormer.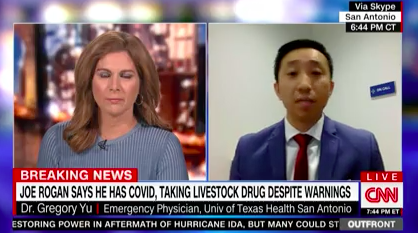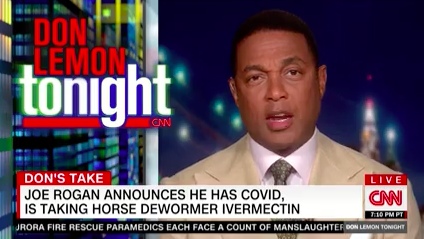 This was a defamatory lie. It's so defamatory that Rogan is considering suing CNN for defamation.
Sanjay Gupta made an ill-advised trip to Joe Rogan's podcast where he was forced to answer uncomfortable questions about his employer's constant "gleeful" lies and defamations.
"By the way, I'm glad you're better," Gupta said.

"Thank you," Rogan responded. "You're probably the only one at CNN who's glad... The rest of them are all lying about me taking horse medication."

"That bothered you," Gupta grinned.

"It should bother you too," Rogan shot back. "They're lying at your network about people taking human drugs versus drugs for veterinary."

"Calling it a 'horse dewormer' is not the most flattering thing, I get that," Gupta conceded.

"It's a lie," Rogan pushed back. "It's a lie on a news network... and it's a lie that they're conscious of. It's not a mistake. They're unfavorably framing it as veterinary medicine."
That language by Rogan makes me think he's consulted a lawyer about the basis for a lawsuit.
"Why would they lie and say that's horse dewormer?" Rogan asked. "I can afford people medicine motherf---er. It's ridiculous! It's just a lie! Don't you think that a lie like that is dangerous on a news network when you know that they know they're lying?... Do you think that that's a problem that your news network lies?"

"What did they say?" Gupta asked.

The podcast host first told Gupta that his ivermectin was "prescribed to me by a doctor," forcing the CNN correspondent to say the drug "shouldn't be called" horse dewormer.

"Does it bother you that the network you work for out and out lied, just outright lied about me taking horse dewormer," Rogan grilled Gupta.

"They shouldn't have said that," Gupta admitted.

"Why did they do that?" Rogan asked.

"I don't know," Gupta responded.

"You didn't ask? You're the medical guy over there!" Rogan exclaimed.

"I didn't ask," Gupta said. "I should've asked before coming on this podcast."


Gupta denied Rogan's claim that CNN made the claims with "such glee" before playing a clip of "OutFront" anchor Erin Burnett calling ivermectin a "livestock drug."

"I don't think Erin had glee," Gupta reacted.

"Well, it's more Brian Stelter who was the gleeful one," Rogan replied, referring to CNN's leftwing media guru. "The point is that's a lie."

"It can be used for humans! I get it," an uncomfortable Gupta exclaimed.

"Not just could be used for humans- is often used for humans along with all the other drugs that I took. All human drugs," the podcast host said. "They know it's a human drug and they lied. It's defamatory."

"Yeah, they shouldn't have done that," Gupta reiterated. "I don't know if it's defamatory."

"I bet it is," Rogan asserted. "It's a lie."
Rogan wanted to know what else the Clickbait Nonsense Network might also lie about to please its ultrapartisan shitlib viewers:
"My point is you're working for a news organization. If they're lying about a comedian taking horse medication, what are they telling us about Russia? What are they telling us about Syria? Do you understand that that's why people get concerned about the veracity of the news?" Rogan pressed Gupta before the CNN correspondent, again, conceded he did not take a horse dewormer.

posted by Ace at
12:03 PM
|
Access Comments