« Maniac Goes on Rampage In Norway, Targeting Citizens With a... Bow and Arrow
|
Main
|
California Bleeding: Walgreens Closes Five More San Francisco Stores, Citing The City's Policy of Tolerated Thieving as the Reason »
October 14, 2021
Federal Judge Orders the DOJ's Department of Civil Rights to Open Probe Into Treatment of January 6 Protesters
Julie Kelly is one of the only real journalists in the country, and maybe the only one reporting on systematic DOJ abuse of the J6 protesters.
The United States is now engaged in systematic torture of US citizens.
In a major rebuke of the Justice Department and D.C. Department of Corrections, District Court Judge Royce Lamberth today found the jail's warden and director of the Department of Corrections in contempt of court for refusing to turn over records related to the care of Christopher Worrell, a January 6 detainee who suffers from non-Hodgkin's lymphoma and a broken hand. He has been incarcerated under a pre-trial detention order sought by Joe Biden's Justice Department and approved by the court's chief judge since his arrest in March; Worrell has been in the D.C. jail used specifically to house January 6 defendants since April.

Lamberth scheduled the hearing on Tuesday after D.C. Jail Warden Wanda Patten and DOC Director Quincy Booth failed to comply with his October 8 order to submit the evaluation by an orthopedic surgeon, who determined in June that Worrell needed surgery for a broken hand he suffered in May, and also to submit Worrell's medical requests related to needed cancer treatments. Jail officials and attorneys representing the department claimed the screw-up was a miscommunication but Lamberth rejected their argument. "I don't accept that explanation," Lamberth said. "No one noticed in jail that he's sitting there in pain all the time? Does no one care?"

Worrell's attorney, Alex Savron, told Lamberth his client is being subjected to "cruel and unusual punishment" in the jail. A medical team recommended that Worrell start receiving six months of "intense" chemotherapy and radiation but jail officials were vague as to how they would care for Worrell's side effects including ongoing pain and nausea.

Lamberth called the jail's treatment of Worrell "inexcusable" and questioned aloud whether Worrell was being treated differently because he is a January 6 defendant. (I have reported here for months how the constitutional and human rights of January 6 detainees have been routinely violated at the D.C. jail.)


Just The News reports this quote:
Lamberth said D.C. officials failing to turn over medical records is "more than just inept and bureaucratic jostling of papers," the Post reports.

"I find that the civil rights of the defendant have been abused," Lamberth said. "I don't know if it's because he's a January 6th defendant or not, but I find this matter should be referred to the attorney general of the United States for a civil rights investigation."

Lamberth also suggested that the U.S. Marshals Service may have to move inmates from the D.C. jail to other detention facilities if they are receiving improper treatment.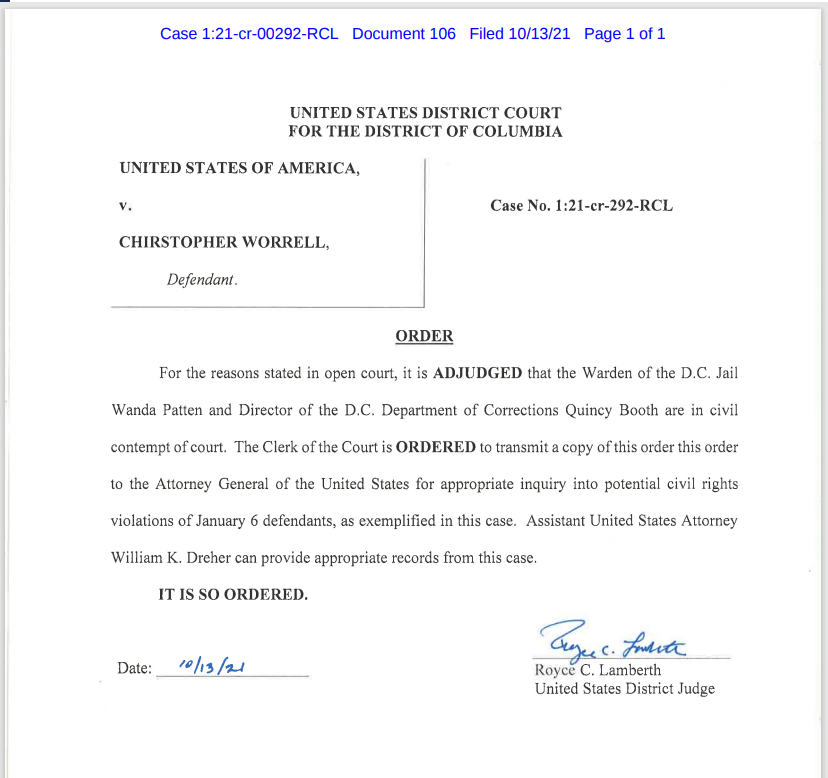 Meanwhile, lefties cheer as another judge -- an Obama appointed judge -- sentences J6 protesters to more time than prosecutors are even asking for.
A federal judge in Washington has repeatedly sentenced people who stormed the U.S. Capitol to more prison time than prosecutors sought, saying that even people who were not violent should face consequences for joining the unprecedented assault.

In the past week, U.S. District Judge Tanya Chutkan has imposed sentences ranging from 14 to 45 days on four people who pleaded guilty to unlawful parading and picketing inside the Capitol building on Jan. 6 -- a misdemeanor offense.

"There have to be consequences for participating in an attempted violent overthrow of the government, beyond sitting at home," Chutkan said at one of the hearings.


...

Chutkan, a former public defender appointed to the federal judiciary by former President Barack Obama, last week sentenced another defendant who admitted to the misdemeanor charge, Matthew Mazzocco, to 45 days in prison.

That court hearing marked the first time that one of the judges overseeing the hundreds of Jan. 6 prosecutions imposed a sentence that was harsher than what the government asked for.

Remember: NeverTrump propagandized for third term of Obama.
We will #NeverForget, NeverTrump. You will never be allowed to occupy a position of power or influence again.


posted by Ace at
02:05 PM
|
Access Comments